For every sewist who is a vehement fan of computerized sewing machines, you'll find another who is equally dedicated to mechanical ones. But which is better?
In this article, we'll be comparing the two types of sewing machines head to head.
What's the difference between mechanical vs computerized sewing machines?
In essence, a computerized and a mechanical sewing machine do the same thing: they are both sophisticated pieces of equipment that allow you to sew garments, décor items, and quilting projects. However, these two types of sewing machines' features and functionality have some key differences.
A mechanical sewing machine is simpler than a computerized one, with more basic operation and fewer features. This simplicity makes them easier to use and more approachable for beginners, but it also limits the sewing techniques and projects you can execute.
To select a stitch or to set the stitch length and width on a mechanical sewing machine, you just have to turn a knob. On the other hand, on a computerized machine, you adjust the settings using a small, inbuilt computer screen.
For this reason, the number of features, including built-in stitches, is limited by the dials and knobs on the machine. Computerized sewing machines can have an almost limitless range of features, including hundreds of built-in stitches.
Computerized sewing machines can also have a large number of automatic features that are fantastic time-savers.
Mechanical sewing machines: an overview
Mechanical sewing machines are often seen as more traditional or more basic than computerized models. However, some people prefer mechanical sewing machines and will use them their entire life, never feeling the need to "upgrade" to a computerized machine.
Mechanical sewing machines models vary greatly in terms of the range and number of features. They can be built with solid metal frames or lightweight plastic ones.
The key defining feature of mechanical sewing machines is that they do not have a computerized display for selecting features, nor are their functions run by a central computer system. Rather, all functions are controlled manually using dials and switches.
Although mechanical sewing machines are simpler to operate, this doesn't mean they work on out-dated technology. Modern mechanical sewing machines include the latest in sewing technology, and some models even have automated features such as automatic needle threaders.
Pros and cons of mechanical sewing machines
Like everything in life, mechanical sewing machines have their own set of benefits and disadvantages. Let's take a look at the pros and cons of these types of machines.
Pros:
Easy to use: Mechanical sewing machines have basic operations that are simple to use, even for novice sewists. They are ideal for beginners because you don't need to worry about learning how to use a complex machine and can focus on sewing techniques and developing your skills.
Familiarity: Most sewists learn to sew on a mechanical sewing machine, particularly those who learned to sew decades ago. Although modern mechanical sewing machines have new and updated features, they essentially work the same as their counterparts 20, 30 or even 50 years ago. Therefore, a mechanical sewing machine will feel comfortable and familiar.
Affordable: Mechanical sewing machines are typically cheaper than computerized ones, and you'll find a range of mechanical machines with very reasonable price tags.
Low maintenance: The absence of motherboards and other electronic parts makes mechanical sewing machines easier to maintain than computerized ones. Issues are easier to avoid as long as you perform basic maintenance such as cleaning and oiling your machine, and are generally more simple to fix.
Cons:
Fewer stitches: Computerized sewing machines can have dozens or even hundreds of stitches, while mechanical models only have a handful of different stitch types. This makes certain sewing techniques impossible.
No automatic functions: Mechanical sewing machines are limited to manual functions, which are more time-consuming. You may find that it takes you longer to complete projects on a mechanical sewing machine, which can be frustrating for bulk sewing.
The Janome 2212 is a reliable, versatile, and beginner-friendly mechanical sewing machine. It is a fantastic introductory model: even a complete novice will be able to navigate their way around this machine.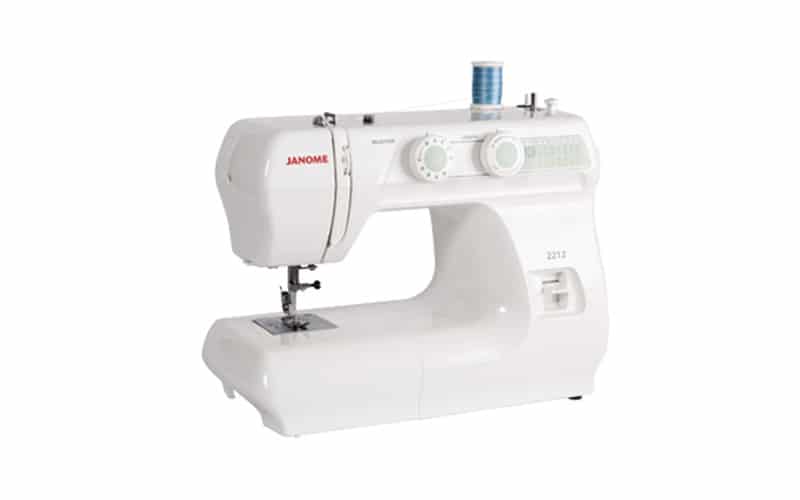 Although a compact and lightweight machine, the Janome 2212 has a powerful motor capable of handling sturdy fabrics. It is a very affordable machine that offers great value for money and comes with a good range of included accessories.
This machine comes with 12 built-in stitches, including a straight stitch, overcasting stitch, tricot stitch and knit stitches. This is a relatively high number of stitches for a mechanical sewing machine and makes it suitable for a range of fabrics and projects.
Other impressive features include a free arm for sewing small and fiddly objects, an extra-high lift presser foot and two vertical, reverse stitch function, and retractable spool pins.
The Janome 2212 is easy to use, with the stitch-selector dial conveniently located on the front of the machine, accompanied by a clear stitch chart. It also features a push-pull bobbin winder that makes winding perfect bobbins a dream.
This versatile machine is suitable for a wide range of fabrics, from a light silk to heavy upholstery. It also has a drop-feed function that allows for free-motion sewing.
For more information on features and functions, read our full Janome 2212 review.
Electronic sewing machines: an overview
Electronic sewing machines, also known as computerized sewing machines, contain a central computer system that runs all of the functions and workings of the machine. These functions are controlled through a computerized display, typically an LCD screen.
Depending on the model, the display can be black and white or full-color. Some models have LCD touch screens.
They can have a large number of features, from dozens of automatic buttonholes to automatic needle start/stop and built-in embroidery designs.
Computerized sewing machines are highly versatile, allowing you to perform a large range of sewing techniques and a variety of projects. However, beginners and less tech-savvy sewists may find them difficult to use.
Pros and cons of computerized sewing machines
As with mechanical sewing machines, computerized machines have their own pros and cons.
Pros:
Packed with features: These vary depending on the model, but many computerized sewing machines have a large number of features, some that allow you to complete more complex tasks and others that make sewing more efficient. Common automatic features found in computerized sewing machines include automatic needle up/down, automatic thread cutter, automatic tension, and locking stitch.
Better results: Among the many features found in computerized sewing machines are functions that will help to improve the quality of your work and give your project's better results. For example, some electronic models will recommend the optimal stitch type, length and tension for the fabric you are using, helping you to produce perfect stitches.
Versatile: You can execute a large range of different projects on a computerized sewing machine, from garment and heavy-duty sewing to quilting and embroidery. You'll be able to work with a large range of fabrics, multiple layers, and perform a variety of sewing techniques, all on the same machine.
Specialized machines: On the other hand, if you are looking for a specialized machine to hone your craft in a particular area, you'll be able to find the perfect computerized model. For example, quilters will love machines like the Brother HC1850 while the Singer Quantum Stylist 9960 is specifically designed for embroidery.
Cons:
They can be overwhelming: Some sewists love all the features, functions, and color touch screens found in computerized sewing machines. However, others can find these rather overwhelming, especially if they are not comfortable with technology. Technophobes or simply the less tech-savvy will find mechanical sewing machines much easier to use.
You may pay for features you don't need: 200 built-in stitches and a bunch of other features may sound impressive, but you don't actually need these if you are only going to use a few stitch types and basic sewing techniques. If you will only be doing simple sewing, it is a waste to pay more for a more complex machine.
They become out dated quickly: With technology developing rapidly, you may feel compelled to update your computerized machine after five or 10 years. On the other hand, a good mechanic machine can last literally a life time.
Affordable, versatile, and packed with features, the Brother CS6000i is a great all-rounder that will suit sewists of all levels. From one of the most recognized sewing machine manufacturers in the world, this machine has a range of features and comes with a large number of accessories.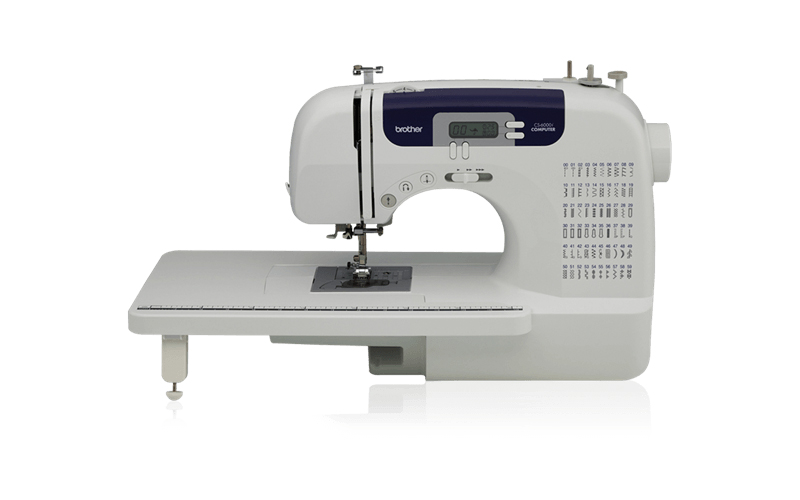 The C6000i features an LCD screen that allows you to choose between 60 different built-in stitches. This machine's user-friendly, streamlined interface is easy to use, even for novice sewists.
It has push-button controls to start, stop, reverse, and change speed without using the pedal that is a great time-saver. Other time-saving features include adjustable sewing speed, automatic needle threader, and needle up/down stop position selector.
The Brother CS6000i is designed to excel equally as a sewing and quilting machine. This model has an extra-wide work table for bulky quilts and comes with a walking foot for quilting as well as a quilting guide.
Interested in learning more? Check out our full review of the CS6000i , as well as our round-up of the best computerized sewing machines.
So which is better?
Each type of sewing machine has its benefits and drawbacks, and the choice between a computerized and a mechanical sewing machine largely comes down to individual preference.
A mechanical sewing machine is more than capable of executing simple projects, alterations, and repairs. It is also arguably easier and more straightforward to use, at least for people who aren't that keen on technology!
On the other hand, computerized sewing machines have more features and functions, allowing experienced sewists to execute more complex projects and to beginners to develop their skills. Overall, computerized machines are more versatile and more efficient, thanks to their time-saving features, though they can also be more overwhelming.
Wrapping up
The most important factor in choosing between computerized and mechanical sewing machines is personal choice. Having said that, in general terms:
Mechanical sewing machines are best for beginners and those who are not very comfortable with technology, who only need to do basic sewing and alterations
Computerized sewing machines are best for advanced sewists, quilters, embroiderers, and anyone who wants to develop their skills. They are also more efficient so ideal for semi-professionals and anyone who sews large volumes of projects.
If possible, test out a machine of each type before you make your final decision, to see which type of sewing machine you prefer!
Share this article on social media if you know your friends and family would also love to learn more about computerized vs mechanical sewing machines!