If you've just unboxed a brand-new sewing machine you're undoubtedly eager to put it to work! What better way to try out your machine and practice your skills than with a free sewing pattern?
Looking for a project that does not require sewing? Check out this no-sew fleece blanket tutorial.
Where to find free sewing patterns
Long gone are the days when you'd need to pay for sewing patterns at your local fabric store, or send off for a pattern through a catalog. These days you can find a wealth of free patterns online.
That's just one of the advantages of living in the age of the internet!
Here are some of the best ways to find free sewing patterns:
Round-up posts like this one! Have a read through popular sewist's blogs and Google for terms like "free skirt pattern" or "free sundress pattern".
Kindle unlimited. Sometimes Kindle offers free books on unlimited: sewing books may contain free patterns so it's worth checking these out.
Pinterest. Browse through sewists' boards on Pinterest and you'll find a wealth of project inspiration as well as free patterns.
Reddit. There is an active sewing community on Reddit, where, along with other sewing-related discussions, they often share patterns. Likewise, sewists often share patterns on other message boards where they discuss projects and tips.
One of the big advantages of being able to access so many different sewing patterns online is that you do not need to be limited by your current interests. Why not browse through the resources mentioned above to find some out of the box ideas?
You may be inspired to try something new or explore a style you've never considered before!
8 free sewing patterns
Scouring the internet for free sewing patterns can be lots of fun, and you'll find plenty of inspiration along the way. However, it can also be time-consuming, and if you're a beginner it can be difficult to know what to look for.
To make your life a little easier, we've collected eight fabulous and free sewing patterns. If you prefer quilting, check out our round-up of the modern quilt patterns, as well as easy quilt patterns for beginners.
1. Money belt
Have you ever wished your gym gear had more pockets for carrying your essential items? Or looked for a convenient way to keep your money and cards safe while exploring a foreign city on vacation?
This cute money belt is perfect for keeping your cash safe while you're traveling. You can also use it as a running belt to keep valuables secure when at the gym or going for a run.
The pouch sits on your hips and has zippered pockets for securing and organizing your precious items. The elastic strap can be adjusted to fit any waist size, so this pattern is one size fits all.
The belt is designed to fit snugly against your body, so that whether you wear it on the front or the back it will be invisible underneath your clothes. This is important for keeping your cash and cards safe from pickpockets when traveling.
Even with the slim design, it's roomy enough to fit even a large smartphone, as well as cash, keys, coins and more.
You can make your very own money belt with this easy and free pattern. Use the fabric of your choice, but something like a heavy nylon taffeta is ideal.
Because the pattern requires small pieces of fabric only, you can even use old scraps if you have some suitably-robust ones lying around! With a couple of zippers, elastic, buckle and a few other materials, you can whip up your own money belt on your sewing machine in no time!
2. Quilted tote bag
Who doesn't need a nice tote bag? A roomy tote bag is handy for heading to the gym, the library, the beach, or out shopping, letting you avoid single-use plastic bags.
This tutorial shows you how to make a cute and roomy tote bag in a few simple steps. It is suitable for beginners and you can make it in a few hours if you're reasonably confident using a sewing machine.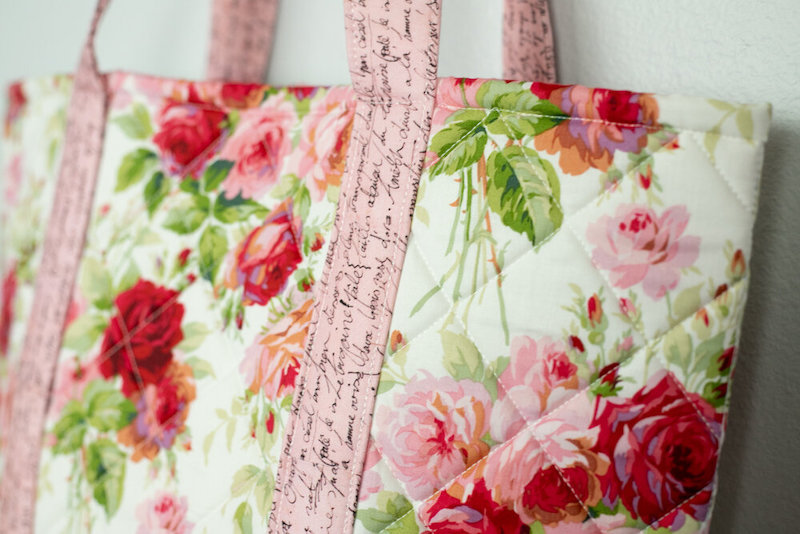 The tote is built using a flexible foam stabilizer that gives the bag its sturdy shape. The design features a cute strap feature and top stitching for a quilted look.
Don't worry, you don't need any quilting experience or a specialized quilting sewing machine. This pattern uses simple sewing techniques to create the quilt-like appearance reminiscent of some designer bags.
You can also skip the quilting entirely to save on time or create a different look for your tote. This tote looks great made with a bright print, but you could use any kind of fabric depending on your own personal style.
The tutorial and instructions is also available in a downloadable PDF that is optimized for printing.
3. Simple tote bag
If the tote bag looks a bit complex or you're looking for an even sturdier tote, try this super-easy option. This bag has a simple, straight-forward design that makes a nice, big tote bag suitable for carrying just about anything!
This design has a canvas base that makes it sturdy and capable of handling even heavy items like books. The canvas is also less likely to show dirt easily, particularly if you use a dark colored canvas.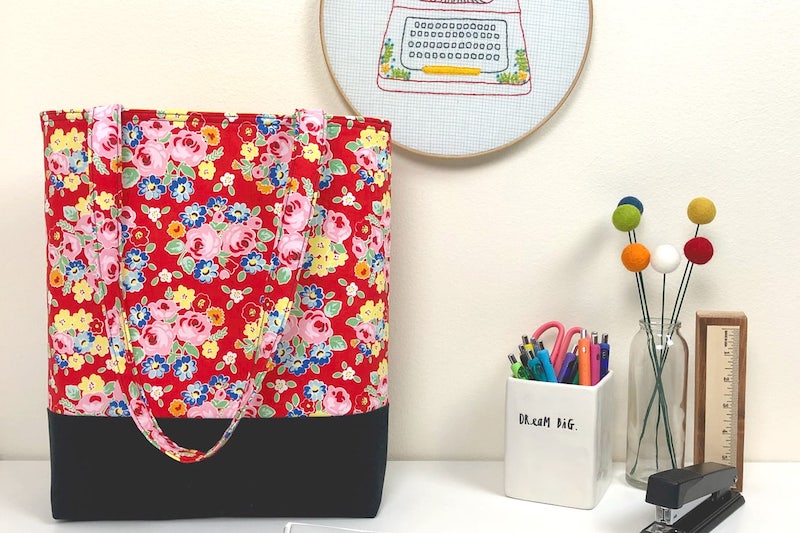 You reinforce the structure of the bag with fusible fleece and medium weight interfacing. This makes a very hardy bag that will serve you well for a long time.
The simple design of this tote works well with a loud, graphic print, though of course you can use virtually any kind of fabric according to your preference.
The easy and free sewing pattern comes with clear instructions. The pattern is easy to cut out as the bag uses simple, rectangular shapes.
After fusing the fleece and interfacing, it is equally easy to stitch together on a sewing machine, with only straight seams involved!
4. Baby Knot Bow Headband
This gorgeous little knot bow headband makes the perfect gift for any baby toddler. It's an adorable accessory that every parent will love.
Better yet, this headband is easy to make. It uses a knit fabric such as jersey or interlock, which makes the headband comfortable to wear – an important consideration, particularly for young children.
You will need to have the right sewing accessories, such as a ballpoint needle, stretch thread and a walking foot for your sewing machine. However, with these tools in hand, sewing this headband is a breeze.
The pattern was originally available in sizes from newborn to two years. However, it's now been expanded to include small child, child and teen/adult size.
Ready to make a knot bow headband for yourself or as a gift? Head here for the free pattern and instructions.
The tutorial includes not only the pattern and instructions but also fabric requirements, recommendations and helpful tips. There is even a video tutorial to guide you through the process.
5. Infinity Scarf
An infinity scarf is another versatile accessory that also happens to be easy to make. This is an excellent way to add a pop of color to your wardrobe and add something extra to any outfit, not to mention keeping you warm!
An infinity scarf is essentially one big loop that you wrap around your neck a couple of times. It creates a stylish, draped appearance that works equally well with jeans as it does with more elegant attire.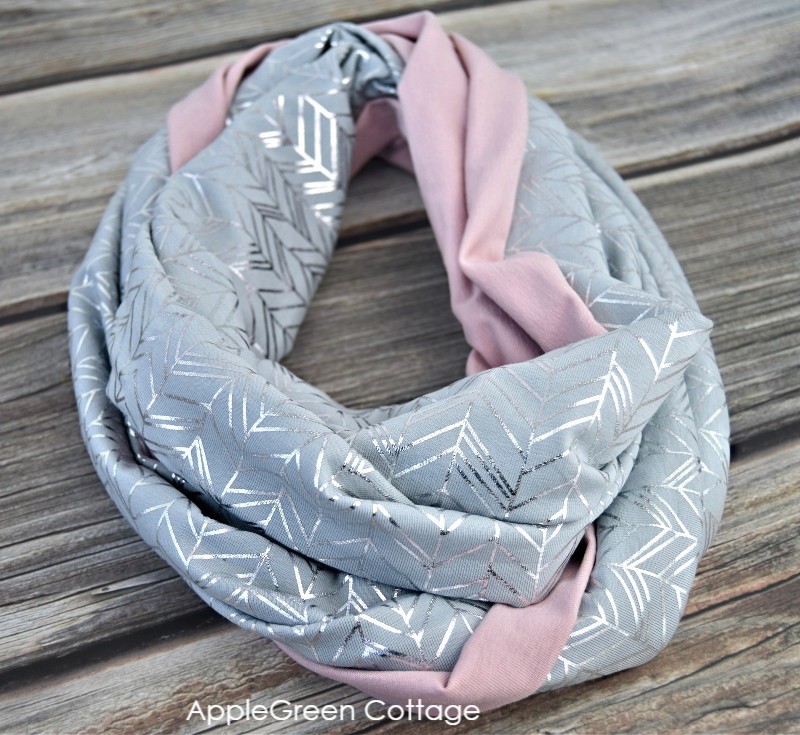 Additionally, being a closed loop, this scarf will not fall off or trail down and get in your way. Made from light, comfortable fabric (the tutorial recommends a stretch jersey knit), the scarf is ideal for spring and fall, or a cool summer evening.
This beginner-friendly tutorial will show you how to make your own infinity scarf. The pattern is not only easy, but also quick to sew.
The scarf is reversible, so by using contrasting fabrics you basically get two scarfs for the price and effort of one! You can customize the scarf to your own personality and style through choosing fabrics that resonate with you.
Different fabric choices will also change the weight of the scarf: you can make a warmer accessory by using thicker double knots, or a lightweight scarf with double gauze or rayon.
An infinity scarf is also a great project to practice serger skills, as using an overlock stitch will help create clean, professional-looking edges.
6. Eyelet Peplum Top
Peplum tops have been one of the biggest trends in fashion in recent years. If you're a beginner sewist you probably think this type of garment is way beyond your ability.
This innovative tutorial allows you to make a cool peplum top with just a t-shirt and some eyelet fabric. This is not so much a full pattern, but as the site calls it, a "refashioning".
Refashioning means you don't need to worry about building the structure of the shirt, which is quite tricky. Instead, the structure is already there for you to build on.
It also creates a cool and trendy garment that you can dress up or down. The eyelet fabric adds an extra layer of interest that elevates this garment, and the pattern has extra panels on the side to help the peplum hang nicely.
The tutorial recommends you use a v-neck white t-shirt with white eyelet fabric, but you can play around with different styles, colors and fabrics to see what results you get. This simple project is easily made in an evening, so why not get creative?
7. DIY Kimono
A kimono-style top is a stunning item that can be paired with jeans or shorts, thrown over a swimsuit at the beach, or dressed up with a pair of heels. You can make your own DIY kimono from an old kimono, robe, or loose fitting shirt. Be getting creative, you can repurpose a forgotten item in the back of your closet or take advantage of any amazing print on second hand garment.
This DIY Kimono is a little more advanced than most projects on this list. It is most suitable for intermediate sewists who are confident using a sewing machine and finishing edges.
The level of difficulty will also depend on the fabric you're working with, with slippery or stretch fabrics being trickier to sew.
However, with the help of this tutorial you'll be able to make your kimono in a few hours. It has clear instructions on how to take the old item apart and pin, then sew the pieces together to make a stylish kimono.
The tutorial has step-by-step instructions complete with plenty of pictures that clearly shows you how to make your own kimono.
Using a dress form can be helpful for this project. And if you don't have one, it is easy to make your own DIY dress form at home.
8. Belt Bag
A belt bag or a fanny pack is a useful accessory for a range of accessories. It's great when running errands, on vacation or spending time outdoors – basically anytime when you need to keep your hands free.
This belt bag is much bigger than the travel belt at the top of the list, though it is also less secure as it sits on the outside of your clothing, resting on your hip. The zipper and snap closure will keep your valuable safe though, and this bag makes a stylish accessory!
This beautifully-lined bag is sturdy and resistant, and is an excellent way to practice beginner to intermediate-level sewing skills such as inserting a zipper, inserting interfacing and dealing with heavy-duty fabrics.
You can download the pattern for free here, but for the full sewing instructions you'll need to buy the relevant digital issue of the Sew News magazine.
Summing Up
Sewing projects are the best way to practice your sewing skills, not to mention this allows you to create a range of garments and useful items.
Unless you're an experienced pattern-maker, to make a stunning scarf, bag, or shirt you'll need a pattern. Luckily, this doesn't need to cost the earth, thanks to a large number of free patterns you'll find online.
Do you know some fellow sewists who'd love to get their hands on some amazing, free sewing patterns? Go ahead and share this list with them!