The Brother SE600 is a newly-released model from one of the biggest names in sewing machines, replacing their vastly popular sewing and embroidery machine, the SE400. This machine really stands out when it comes to its embroidery features, though it has some other charms as well.
Overview of the Brother SE600
The Brother SE600 is a compact, computerized machine that is ideal for both sewing and embroidery. It comes with a range of features that make it easy to use, allowing you to execute even complex embroidery designs.
This versatile machine can be used for a number of sewing techniques, including garment sewing and quilting. It really comes into its own when it comes to embroidery, with dozens of in-built designs and the ability to upload more to the machine.
Brother is one of the world's most well-known and reputable sewing machine brands. They make a range of different kinds of sewing machines, as well as other electronics such as printers and office equipment.
They are probably most famous for their computerized sewing machines loaded with handy features to make sewing easier and more efficient. This model is an updated version of the extremely popular Brother SE400.
Features and Benefits of the Brother SE600
The Brother SE600 is a compact, lightweight machine, but it is packed with features. These make it not only easy to use, but also extremely versatile.
What we like:
Compact and lightweight – The design is lightweight and compact, making it easy to move around
Color LCD screen – The bright LCD screen makes for easy viewing, and at 3.2 inches it's easy to see
Built-in embroidery designs – The embroidery designs built in to this machine make for easy creations, allowing you to edit and preview designs on the screen
Extendable work table – The extendable work table means you'll have plenty of room to work, keeping your fabric stable as you maneuver it through the machine
What we don't like:
No hard case included – Even though it's extremely compact and lightweight, the SE600 doesn't include a hard case, so you'll have to purchase one separately
Easy to use
This computerized sewing machine is simple to use, thanks to its large number of helpful and straight-forward features. This includes a color LCD touchscreen that, at 3.2 inches, is larger than previous models.
This large touchscreen is easy to navigate, making it simple to select the correct stitch type and size, as well as choose between the built-in embroidery designs. The Brother SE600's controls are well-positioned and clearly marked making it intuitive to use.
Compact and lightweight
Although packed with features, the Brother SE600 comes in a very compact form. This small machine is very lightweight.
This makes it easy to transport, perfect for taking with you to a sewing class, or to a sewing bee. Unfortunately, it doesn't come with a hard case, but it is not difficult to find a suitable case for purchase separately.
Built-in embroidery designs
The Brother SE600 comes with 80 built-in embroidery designs. Each can be viewed and selected by simply using the LCD touchscreen.
A high-tech feature of this machine is that it allows you to edit and preview embroidery designs on the touchscreen. This allows you to customize the designs to suit your needs, as well as get creative and make your own, unique designs.
Whether you are customizing a design or using one of the standard options, being able to preview it on the screen allows you to see what the design will look like. You can select from various colors which is very helpful in visualizing the end result before you commit to a thread color.
Embroidery lettering fonts
The Brother SE600 comes with some fine embroidery lettering fonts. In total, there are six distinct embroidery lettering fonts, giving you plenty of choice for your embroidery projects.
Each font has stitches for every letter in upper and lower case, as well as numbers and symbols. This is perfect for not only monogramming, but also sewing names or even whole phrases or quotes.
The letters, as with all of the stitches on this machine, are produced to a high level of quality.
4 x 4 large embroidery work area
The Brother SE600 can embroider areas up to 4 inches by 4 inches. Its embroidery work area accessory keeps a section of fabric this size stable, letting you sew stunning, uninterrupted embroidery designs.
This area will be more than sufficient for most embroiderers. However, if you're looking to do very large designs, such as to produce items commercially, you will need to look for a professional-level embroidery machine.
Versatility
As you can see, the Brother SE600 is well-suited to embroidery. However, this machine is highly versatile, and will also serve garment sewers and quilters well.
It has 103 built-in stitches, including a range of decorative stitches such as hearts and scallops. This is a good number of stitches for such an affordable machine.
There are eight different built-in buttonholes, giving you plenty of options when making shirts and other garments.
The machine comes with eight different presser feet, including:
buttonhole foot
zipper foot
button sewing foot
This makes it suitable for a variety of fabrics and sewing techniques. Embroiderers will also love the included embroidery foot and monogramming foot.
You'll also find that the Brother SE600 is great for quilting. Its features, such as the needle stop up/down setting and automatic thread cutter, make it easy to change sewing direction and quickly move between seams when quilting.
The Brother SE600 also comes with an extendible work table, ideal for larger projects like quilts. This, combined with the large throat space, creates a sizeable 6.4 inch by 4.1 inch work area, giving you plenty of room to work with bulky or voluminous fabrics.
Automatic needle threader
Among the Brother SE600's ease-of-use features is its automatic needle threader. Traditionally, you would need to thread the needle of a sewing machine manually, often taking several attempts to get the thread in the right position. This was the source of much eye strain, not to mention frustration.
This model's automatic needle threader, however, avoids this hassle by quickly and easily threading the needle for you. All you need to do is place the bobbin thread in the guides, pull a lever, and the machine will be threaded for you instantly.
Brightly-lit work area
The Brother SE600 has LED lights that brightly illuminate the sewing area. This means you can work in any light and will be able to see what you're doing clearly.
This is ideal for intricate designs or tricky projects, as well as avoiding eye strain from struggling to see dark thread on dark fabric.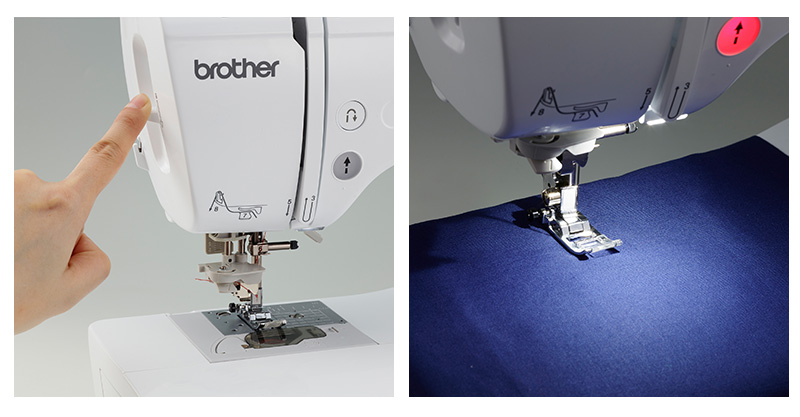 Drop-in bobbin
The Brother SE600 also has a drop-in bobbin that is much easier to use than a front-loading version. This straight-forward design is much easier to load, which is a good time-saver as well as making life easier for beginners in particular.
The bobbin is also jam-resistant, helping to avoid tangled threads that can cause the machine to lock up or create unsightly issues such as birds' nests.
USB support
The Brother SE600 comes with a USB 2.0 port for uploading more embroidery designs. This means that you can download any design you find online, or even create your own.
Then, all you need to do is connect the machine to your computer or a memory stick and transfer your design. This means you'll have limitless embroidery designs at their fingertips!
Free arm
This machine also has a free arm feature. This is a removable section that reveals a smaller sewing area allowing you to feed tubular shapes through the machine while keeping the fabric flat.
This means that you can sew small, circular items and features such as sleeves with ease, while keeping your seams neat and even.
Alternatives to the Brother SE600
If you're thinking about buying the Brother SE600, it is worthwhile considering the other comparable machines that are available, including a very similar model from the same brand.
Brother SE600 vs. SE625
The Brother SE600 and SE625 are very similar models, but with some important differences. Both are computerized sewing and embroidery machines.
Both models have the same 4 inch by 4 inch embroidery area and a big, color LCD screen. They both have built-in embroidery designs, as well as coming with the ability to upload further designs using their USB ports.
They even have the same number of built-in stitches (103), as well as sharing several ease-of-use features, including an automatic needle threader, free arm, and drop-in bobbin.
The main distinction between these two sewing and embroidery machines is the embroidery designs. The Brother SE600 comes with 80 built-in embroidery designs, while the SE625 has 200 designs available on its included CD. Some of the designs on the Brother SE625's CD are particularly charming, too.
This gives enthusiastic embroiderers more designs to choose from, although both machines have the ability to upload designs via USB. Therefore, the number of designs is essentially limitless on either machine.
Other than that, the only notable difference is the price: the Brother SE625 is slightly more expensive than the Brother SE600. With the extra cost you'll get more embroidery designs.
There are also slight differences in the appearance of the two models, with different colored panels on the front of the machine. However, the overall size and shape of the two machines, as well as their controls, are otherwise identical.
Wrapping it up
The Brother SE600 is small and portable, versatile, and reliable, with a very reasonable price tag. It is easy to use: beginners will find it a breeze, while experienced sewers will love its time-saving features.
This model is well suited to many types of sewing, from garments to quilting. However, it's true strength undoubtedly lies in embroidery. With a large embroidery sewing area, 80 built-in designs, and a USB connection for unlimited potential, the Brother SE600 will be any embroiderer's dream.