Are you a beginner quilter and looking to make your very first quilt? Check out this list of easy quilt patterns ideal for the novice quilter. Best of all, each and every pattern listed here is completely free!
How to pick a good quilt pattern for a beginner
One of the biggest challenges for beginner quilters is knowing which pattern to choose. There are so many quilt patterns out there, so things can get pretty overwhelming.
What's more, quilting projects can vary greatly in terms of level of difficulty and the techniques they use. So, if you choose the wrong pattern, you may soon find yourself pulling your hair out as you try to make it work!
The first thing you want to look for when choosing an easy quilt pattern is basic shapes. Specifically, look for patterns made up of large squares, rectangles, or triangles, with straight lines only and no matching points.
Also, think about the number of blocks involved in the quilt, and look for a pattern with fewer blocks. The more blocks a quilt has, the more cutting is involved, making it much more time-consuming! A simple pattern with fewer blocks means you'll spend less time cutting and can get straight to sewing. Basic shapes with straight lines will also make it quicker and easier to sew.
Finally, consider the size of the quilt before settling on a pattern. Larger quilts take longer to make, so starting with a smaller quilt means you'll be able to finish it even if you're new to the art form.
This will give you a sense of achievement, and you can then move onto your next quilting project.
10 Free quilt patterns we recommend for beginners
Here are 10 great (and free!) patterns that are perfect for beginners. Of course, this doesn't mean that you can't make them if you're an experienced quilter: these simple yet stunning designs are rewarding for all levels!
1. Zigzag chevron quilt
This zigzag chevron quilt is so easy it is suitable for even absolute beginners. The design has chevron zigzag lines made of basic rectangle shapes, as well as plenty of negative space to practice your quilting.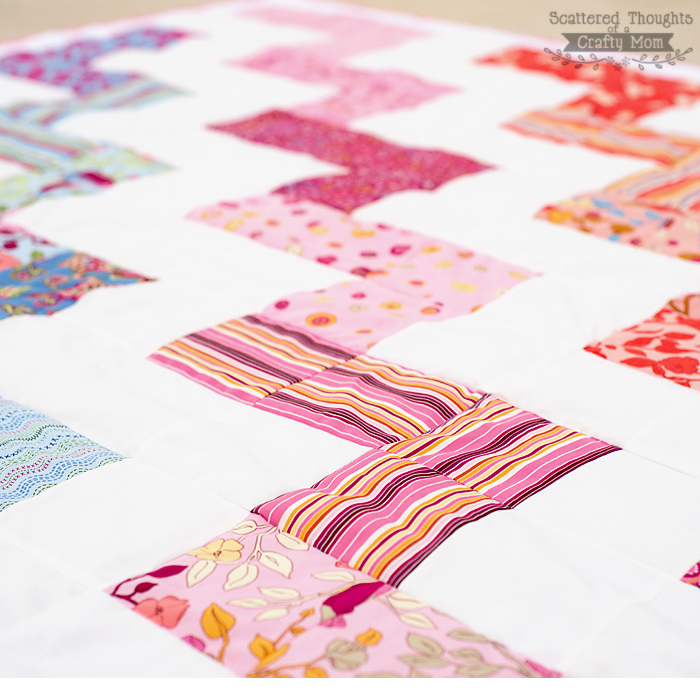 The pattern uses precuts: fabric that is pre-cut in various shapes. These are generally more expensive than buying yards of fabric, but are also much easier for quilting as they require much less cutting and preparation.
The other advantage of precuts is that if you're just getting started and don't have a large stock of different fabrics, you'll instantly get a range of fabrics. This pattern is designed for charm packs of precuts, but can be made with 5 inch square pieces of fabric.
Get your free pattern for the zigzag chevron quilt here.
2. Pixel heart quilt
This modern design uses basic square shapes to create a large, pixelated heart. This creates a high-impact result and is easy to make – perfect for beginners!
The pattern suggests you can use this for the backside of a quilt. However, this stunning design would make a lovely wall-hanging or quilt in its own right.
Like the zigzag chevron quilt, this pattern is designed to be made using precut charm squares.
It comes with instructions for making a large heart that is 28 by 24 inches, or a "gigantic" version of 85 by 72 inches. The variations use two-inch and five-inch charm squares, respectively.
Check out the pattern here to make your own pixel heart quilt.
3. Jelly roll jam quilt
This jelly roll jam quilt is designed to use jelly roll pre-cut fabric. Jelly rolls are pre-cut into strips that are 2.5 inches wide.
This allows you to use a range of prints and colors. You can use your jelly roll to explore a color or print theme, or mix it up to create a glorious explosion of colors and textures.
The jelly roll jam quilt is easy to make, thanks to its straight lines and repetition of the same shapes.
You can get the jelly roll jam quilt here.
4. Half square quilt
As the name suggests, this quilt is made up out of sequences of half squares. Half squares of different fabrics are sewn together to form squares, and these are bordered by strips in a neutral color.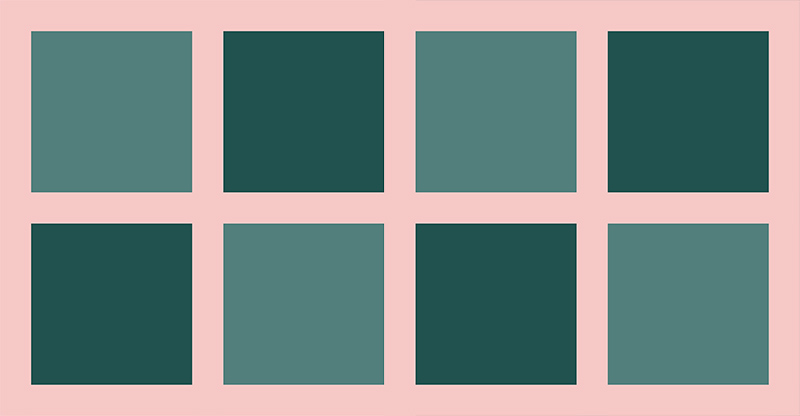 The simple yet impactful design is perfect for beginners. It's easy to sew with straight lines and basic shapes, and is also ideal for playing with prints and color.
The small half squares are also great for using up old scraps of fabric.
You'll find the pattern and instructions here if you're ready to get started on your own half square quilt.
5. Color explosion quilt
This bright, modern quilt looks complicated but is actually easy to make. Beginners will love the basic half-square triangles and straight lines.
The design makes clever use of color to create an ombre effect and an explosion of color.
This block pattern uses 16 fat quarters and suggests having warm colors on one side of the quilt and cool colors on the other. However, you can use whatever tones you like and enjoy the different effects this creates!
This quilt is made up of flying geese and HST blocks, meaning that you can practice these classic quilt blocks as you sew.
To make your own color explosion quilt, grab the pattern here.
6. Easy beginner's quilt
Designed specifically for first-time quilters, this design is fun and modern. It has basic patchworking but without the intense stitching typically seen in quilting.
This pattern is also binding-free, giving you a chance to practice the basics of quilting before you graduate to more tricky details. There'll be plenty of time to practice those later!
As a nice touch, the quilt is finished off with hand-tying, a traditional quilting method that goes back to Amish settlers.
You'll find this easy pattern here.
7. Squash blossom quilt
This quilt is actually a giant quilt block: the whole project is one big squash blossom quilt.
The squash blossom quilt block is a traditional design steeped in southwest aesthetics. On a massive scale, this creates a dramatic and graphic design that looks amazing in bold colors.
The large shapes make it quick and easy to sew together. At the same time, there's plenty of negative space for you to practice your decorative stitching.
For a closer look at the squash blossom quilt, check out the pattern here.
8. Layer cake coin quilt
This pattern gets its name from the layer cake squares that come together to make a full quilt. If you don't have a layer cake, you can also use fat quarters, yards of fabric, or scraps you have lying around.
The layer cake quilt is easy to make and works well if you use eight or so different fabrics in complementary colors. You can also experiment with contrasting tones for a more dramatic effect.
This quilt pattern is suitable for beginners, and comes together very quickly, as a simple, straight-line design.
Ready to make your own layer cake coin quilt? Head here to grab the pattern: all you'll need to do is sign up to the blogger's mailing list and you'll get the pattern for free.
9. 4-patch slice quilt
The 4-patch slice quilt has a cool slice-through design, with lines cutting through the fabric patches and all the way through the quilt.
This creates a unique and interesting effect on the quilt that is deceptively simple: it looks complicated but is actually very easy to make.
The pattern's easy-to-follow instructions show you how to put together blocks of squares, and then turn these into triangles with the "slice" through the middle. You can then arrange the blocks to create a chevron, lattice, or diamond patterns.
You can use as many different types of fabric as you like, and play with color and texture to create your own unique quilt! You could use this pattern several times to make quite different-looking quilts, while practicing your skills at the same time.
If you'd like to give the 4-patch slice quilt a go, check out the pattern here.
10. Patchwork duvet cover
Perfect for a little girl or boy's bed, this fun patchwork duvet cover pattern uses triangles to create a geometric chevron design. The pattern is straightforward to make and simple enough for beginners.
Depending on how you place the blocks, you can create different results and virtually make a new design. The chevron pattern is also ideal for playing with color and fabric: you can experiment with different styles to achieve completely distinct looks!
Depending on your fabric choice, the duvet cover could be suitable for a child of any age, or even an adult – it's up to you.
This pattern is for a duvet cover, but can easily be adjusted to make a quilt if you'd prefer. Be sure to check the measurements, though, as this pattern is based on a standard Australian single duvet size, which is different to the US sizing.
Ready to get started on your own patchwork duvet cover? Get the pattern here.
Where else to find free quilt patterns
Looking for even more beginner-friendly patterns, or some more advanced projects to get your teeth into once your skills progress?
Pinterest has a wealth of free patterns and tutorials for quilters: search for the "free quilt pattern" pin. You'll find a huge range of free patterns for quilts of all kinds. However, the drawback of Pinterest is that you have no guarantee of the quality of the pattern.
If you'd like a curated list with recommended patterns, round-up blogs (like this one!) are the way to go. There are a number of blogs and sites with lists of recommended patterns – check out this article if you're looking for more amazing, beginner-friendly patterns.
You can also check out our recent round-up article of the best modern quilt patterns.
Where to purchase quilt patterns
If you can't find what you're looking for among the numerous free quilt patterns out there, you may want to take a look at some paid options.
Amazon has a huge range of quilt patterns, starting at around $10 and covering all levels and styles. As with any product, one of the advantages of buying a quilt pattern on Amazon is that you can check the many reviews from other users. This helps you to double-check whether the pattern is right for beginners.
There is also a variety of quilting books on the market that offer tons of different patterns, ideas and designs.
Another great place to buy beginner-friendly quilt patterns is Etsy. Here you'll find even more affordable quilt patterns, often created by quilting experts and enthusiasts.
On the other hand, as a beginner quilter you may not want to invest in quilting patterns just yet. Luckily you can find plenty of free quilt patterns online to help you to develop your skills.
Final Thoughts
When you're starting out as a quilter, it is important to practice your new skills by making a complete quilt – after all, that is what quilting is all about!
Tackling your first big project can be pretty intimidating, so it is equally important that you choose a beginner-friendly pattern. If you opt for anything too complicated you'll simply end up frustrated, instead of developing your skills.
The wrong pattern choice early on could even put you off quilting entirely, and it may be years before you attempt another quilt. Instead, dive into one of the free patterns on this list and soon enough you'll have a beautiful quilt to show for it, and a true sense of achievement!
If you've found this list of easy quilt patterns useful, please do share it with your fellow quilters; it might just inspire your friends to start quilting!