Viking Husqvarna is one of the biggest names in sewing machines.
In 2006, Viking merged with two other sewing machine giants, Singer and Pfaff to form SVP (Singer, Viking and Pfaff). They have since gone from strength to strength, producing high-quality, reliable machines with a range of high-tech features.
In this Viking sewing machine review, our overall favorite is the Emerald 118. However, there are some other great models depending on what you're looking for.
The 5 best Husqvarna Viking sewing machines
Husqvarna Viking's long history of creating great sewing machines continues today, with a range of models to suit various skill levels. From affordable options for beginners to advanced machines that integrate cutting-edge technology, they have machines for sewing, embroidery, quilting, and more.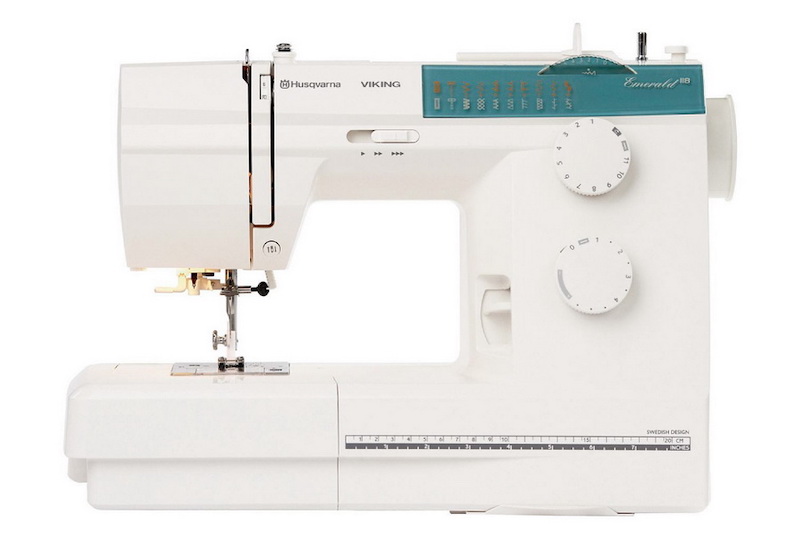 What we like:
A great all-rounder, this machine is user-friendly, with enough features to keep advanced sewers happy, while not overwhelming beginners.
A top-quality and reliable electronic machine, the Emerald 118 will cater to the needs of most sewers, with 18 different stitches and 70 stitch functions in total. Along with practical and basic stitches, there are decorative options, stretch stitches and more. It also has a setting to allow drop feed or free motion sewing.
Features include:
one-step buttonhole
top-loading bobbin
thread cutter
built-in needle threader
The Emerald 118 also comes with eight snap-on presser feet to suit a variety of fabrics and sewing techniques. Its handy sewing guide reference chart helps you to identify the correct presser foot, foot pressure, stitch length and width and thread tension for the fabric and technique you are using.
The Emerald also comes in a 116 model, which is very similar to the 118 but has fewer features most notably two less stitches, no speed control and lacks the needle up/down button.
Another great little feature is the drop-in bobbin. This allows you to quickly check how much thread is left on your bobbin without having to remove it, saving you time and energy. This also makes for easy winding of the bobbin.
Speaking of easy operation, the Emerald 118 is also very easy to thread, too! It is pleasantly light-weight with a built-in handle, making it easily portable to take to sewing bees or sewing class.
It also comes with a hard cover to keep it protected during storage or transport.
What we don't like:
On the down-side, this model has manual tension adjustment only, which can be a bit of a hassle and confusing for beginner sewers.
Also, the drop feed lever is quite inconveniently placed on the back of the free arm.
However, these are minor criticisms: overall, the Husqvarna Viking Emerald 118 is a great all-round machine for beginners to more advanced home sewers.
The Emerald 188 is a great all-rounder, but other Husqvarna Viking models may be better suited to your purposes. If you're looking for a more affordable machine as a beginner, or want to be able to quilt or embroider as well as sew, check out these models below.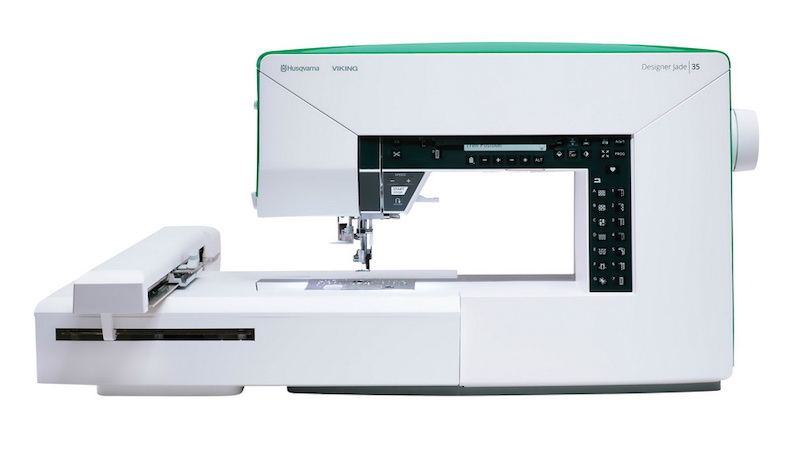 What we like:
The Jade 35 is a functional, user-friendly combination sewing and embroidery machine that comes with an affordable price-tag.
Packed with a large number of functions and features normally reserved for machines twice its size and weight, this model is a compact powerhouse.
The Jade 35 control panel includes functions such as:
needle up/down
sewing speed adjust
design stop and fix
reverse/lock stitch
alternative view
To use embroidery functions, you simply attach the embroidery unit, which easily slides on and clicks into place.
Next, simply insert the flash drive into the USB port to access the embroidery designs. You'll be able to see the pattern and thread colors through the machine's screen.
Like the Emerald 118, the Jade 35 has a transparent bobbin holder so you can easily check your bobbin thread.
Other features include:
drop-feed control switch
on-board stitch selection
large needle plate with multiple seam lines
This machine is also extremely portable, being very lightweight and having a unique pack-away feature. Once you mount the accessories compartment and lock it in place, the machine is covered and ready to carry, effectively becoming its own carrying case.
What really sets the Jade 35 apart is the combination of sewing and embroidery modes with a high number of functions and features in each mode.
If you are looking for a machine that can effortlessly sew and embroider, as well as being highly portable, this is the machine for you.
What we don't like:
The main drawback to this machine is the noise. It is very noisy in embroidery mode, even at slower speeds.
Also, you could say that this machine has almost too many features. So many, in fact, that in order to fit all the buttons on the front panel, some have been pushed into awkward positions.
Finally, keep in mind that you will not be able to use the sewing mode when the embroidery unit is attached. However, the unit can easily be taken on and off, so this is not too much of a hassle.
What we like:
The Husqvarna Viking Jade 20 is notable for its stunning design, as well as the great features and performance we've come to expect from this brand.
Designed for ambitious beginners, this is a versatile and affordable sewing machine. However, this doesn't mean it is short on features.
The Jade 20 has an impressive 82 stitches for users to choose from, with up to 7mm stitch width.
Other great features include:
built-in needle threader
six different button-hole styles
presser-foot recommendation feature that tells you the perfect presser foot to use for your selected stitch
This model also has a dual-LED light to allow you to better see what you're sewing, improving precision and reducing eye strain.
The Jade 20 also runs quietly, making for a more pleasant sewing experience not just for you, but everyone around you!
What we don't like:
Although aimed at beginners, this machine has manual thread tension adjustment only. Incorrect thread tension can lead to fabric bunching, or the bobbin thread "looping" through to the topic of the material.
Beginners who are struggling to find the correct thread tension can test it by sewing on a scrap piece of fabric, and then lowering or increasing tension by one half of a setting until they find the correct tension.
What we like:
From Husqvarna's beginners' H-Class line, the E20 is one of the brand's most affordable models. It represents great value for money, being a high-quality machine with a good number of features for the price tag.
Some of the features that will be especially valuable to beginner sewers include:
one-step buttonhole
easy threading
These features and more will make your life easier, freeing you up to focus on improving your sewing technique.
With 32 different stitches including various decorative options, the E20 has sufficient variety as you advance with your sewing technique. Other stitch options include a range of utility and stretch stitches to suit a variety of fabrics.
Finally, the adjustable presser foot will help you to handle any type of fabric with ease.
What we don't like:
With stitch length up to 4mm and stitch width up to 5mm, this range is not a broad as some other Husqvarna Viking models. This may limit sewers tackling more complex or unusual projects.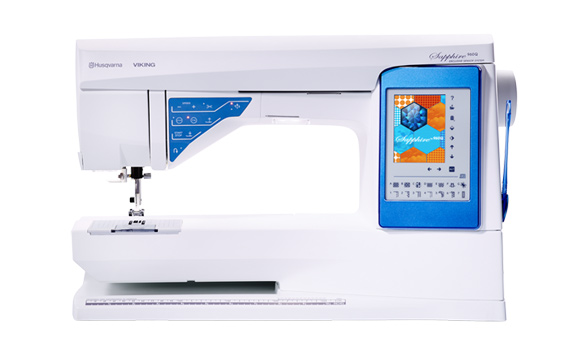 What we like:
One of Husqvarna Viking's more advanced models, the Sapphire 960Q is a versatile sewing and quilting machine that is packed with features and functions.
With an amazing 777 different stitches, including nine perfectly-balanced buttonholes and two eyelets, this model has you covered for just about any sewing or quilting project. Its 29 different needle positions also make it extremely versatile.
This model also comes with a full-color, interactive touch screen and a USB port. The screen allows you to load different designs, access the machine's many functions, and get quick on-screen help for any issues you have.
The Sapphire 960Q includes some of Husqvarna Viking's legendary high-tech functions, including the SewingAdvisor™, upper and lower thread sensors, automatic thread tension adjustment, and side motion sewing.
What we don't like:
As you may expect from the number of functions and features, the Sapphire 960Q is not the cheapest machine on the market. However, intermediate to advanced sewers who spend a lot of time on their machine will find it worth the investment.
Why should I buy a Husqvarna Viking sewing machine?
Husqvarna Viking has a strong reputation for producing quality sewing machines. The latest models offer great value for money with cutting-edge technology that aims to provide an easy, professional-level sewing experience to the home sewer.
Designed with the discerning home-sewer in mind, the brand has a long tradition of producing reliable, user-friendly, and high-tech machines. In this way, its models are comparable to its sister brands, Singer and Pfaff.
The brand targets slightly higher-end users, though some of their models are aimed at new sewers, and many of their machines fall within affordable price points.
Although founded nearly 150 years ago in Sweden, Husqvarna Viking sewing machines are no longer made in Europe, all models are now manufactured in China. However, this has not affected the quality of its machines, which continues to be reliable and efficient.
Husqvarna Viking product lines
Husqvarna Viking sewing machines are split into several product lines.
Previously, machines were released under the flowers line, with models with names such as the Rose, Orchidea and so on.
More recently, the company introduced its jewels line, with products being named after precious stones. These machines use cutting-edge technology to offer a range of handy features and have been well received by sewers and reviewers alike.
The brand's H-Class line has models aimed at beginners, while the Huskylock line features specialty machines such as sergers and coverstitch machines.
Features and benefits of Husqvarna Viking sewing machines
Husqvarna Viking sewing machines offer some great features, especially for the price tag. Some of their patented features include their SewingAdvisor™, Infodisplay™, StitchSystem™, and SensorSystem™.
The SewingAdvisor™ will select the ideal settings for you, meaning you don't need to worry about which stitch, length, width, thread tension, sewing speed, or foot pressure to choose. All you need to do is input the fabric type, weight, and sewing technique you want to use, and the SewingAdvisor™ will do the rest!
Husqvarna Viking's StitchSystem™ chooses the best thread delivery method for the thread and sewing technique you are using.
Fabric feed is controlled by the SensorSystem™, which detects the thickness of the fabric to ensure a perfect feed.
The brand has a range of machines to suit various purposes and skill levels, with even the advanced models user-friendly enough that beginners will be able to use them.
Husqvarna Viking also offers great on-going customer support, so you can be assured of assistance in addressing any issues you have along the way.
What do I need to know when buying a Husqvarna Viking sewing machine?
Husqvarna Viking sewing machines are only available through authorized dealers, so you may need to search around to find a dealer near you. This applies to second-hand sewing machines also.
It is important to buy only from an authorized dealer, as otherwise, technical support will not be available. This applies to both new and used models.
If you're considering one of Husqvarna Viking's advanced models, also keep in mind that these require a high degree of technical skill. Even if you are an experienced sewer, you will likely need training to learn how to use the specific model.
How much should I pay for a Husqvarna Viking sewing machine?
Husqvarna Viking sewing machines certainly aren't the cheapest you'll find on the market. However, considering the quality of these machines and their high-tech features, they represent good value for money.
Prices also vary depending on the model you choose. Although most Husqvarna Viking machines are pitched at intermediate to advanced sewers, they offer a few products more suited to beginners l.
Prices start from around $200 for entry-level machines in the H-Class line and go well into four figures for more advanced models.
Wrapping It Up
For us, the best overall Viking sewing machine to suit most sewing projects and skill levels in the Emerald 118.
The Jade 35 is a great machine for those looking to switch between sewing and embroidery, and when it comes to advanced sewing and quilting you can't beat the Sapphire 960Q.
For beginners looking for an affordable machine, both the Jade 20 and the H-Class E20 are great choices.
However, for a great all-rounder that is user-friendly with enough functions and features to suit beginner to advanced sewers, you simply can't beat the Emerald 118.
Do you have a Husqvarna Viking sewing machine? Feel free to share your experiences in the comments section!