This computerized sewing machine from Singer is packed with features, yet is so user-friendly that it is accessible even to novice sewers.
It also has a very affordable price-tag, far lower than comparable machines from other brands.
Our Singer 9960 review will look at the many features of this sewing, embroidery and quilting machine, and it's few drawbacks.
Singer Quantum Stylist 9960 Review Overview
The Singer Quantum Stylist 9960 is a computerized sewing machine that punches well above its weight, with a huge number of features for a low price.
It fills a similar niche to the Singer 7258, but with even more user-friendly features, accessories, and offering even greater versatility. This is why we included the Singer Quantum Stylist 9960 in our roundup of the best sewing machines for beginners.
Singer has a long and proud history of producing cutting-edge sewing machines, being one of the world's oldest and most respected sewing machine brands. They were the first sewing machine manufacturer to make a portable machine, and, much later, the first computerized type of sewing machine.
This machine is part of the latest generation of high-tech machines available at an affordable price point.
The Singer Quantum Stylist also comes in 9980 and 9985 models, which offer more stitches and improved computer features such as a larger LCD screen and a stitch selector advisor.
The 9985 model has 960 built-in stitches and the 9980 820 stitches, compared to the 9960's 600.
If you want to learn more, check out our Singer Quantum Stylist 9980 review.
This video is from Singer, but it gives you an in-depth look at the Quantum Stylist in aciton.
What we like
600 built-in stitches, including 13 one-step buttonholes
18 presser feet for sewing, embroidery and quilting
Automatic threader and thread cutter
Extension table included for quilting and large sewing projects
Heavy-duty full metal frame
What we don't like
Large and heavy
Cannot connect to a computer or memory device
The Singer Quantum Stylist 9960 has a large number of functions and features you wouldn't normally find in a machine in this price range.
Singer Quantum Stylist 9960 Design & Ease of Use
Like many modern Singer sewing machines, the Quantum Stylist 9960 is extremely easy to use. A computerized machine, it has a color touch screen panel where you can select the stitch you want as well as adjust the stitch length and width.
The display even shows you what the selected stitch will look like at each stitch length and width. This means you can easily judge which stitch size is best, without having to do some test stitches on a scrap of fabric first.
The flip up panel on the top of the machine showing each stitch's corresponding reference number is also a handy feature. With 600 stitches in total, this will help you to find the one you need on the LCD screen more easily .
As an extra time-saver, there is also direct stitch selection on the front of the machine with eight most common stitches.
Automatic needle threader
User-friendly features include an automatic needle threader and thread cutter.. You place your spool thread through the guides, push the lever, and the machine will thread the needle for you.
This is great for eliminating eye strain, as well as being a big time-saver: once you know how the automatic needle threader works, you can literally thread the entire machine in seconds.
Needle up/down setting
This model has a needle up/down feature that allows you to set whether the needle stops in the up or down position. This gives you much greater control when sewing, allowing you to pivot and maneuver when quilting or doing intricate work.
Transparent drop-in bobbin
Another handy feature is this machine's drop-in bobbin. The bobbin case is transparent, meaning you can easily see when your bobbin thread is running low.
This is so much easier than having to re-thread your bobbin every time you want to check this, or running out of thread in the middle of a seam!
Automatic thread trimmer
The machine's thread trimmer button means you can cut both the spool and bobbin thread at the push of a button when you've finished a seam.
This is a big time saver and means you can immediately start sewing your next seam.
Automatic tension selector
Another great asset of the Singer Quantum Stylist 9960 is the automatic tension selector. Finding the right tension setting can be a challenge for many sewers, leading to common problems such as fabric puckering, and uneven or looped stitches.
This machine will automatically select the correct tension for the type of fabric and stitch you are using, meaning you don't need to worry about remembering to change the tension setting (or finding the correct one) in order to have neat, even stitches.
How versatile is the Quantum Stylist?
The Singer Quantum Stylist 9960 has a staggering 600 built-in stitches. This is a large number of stitches by any estimation, but particularly considering its relatively low price point.
These include basic, stretch, and decorative stitches, as well as stitches for quilting, home décor, and crafting. With so many stitches, you'll be able to sew a wide range of projects in different styles and using various fabrics.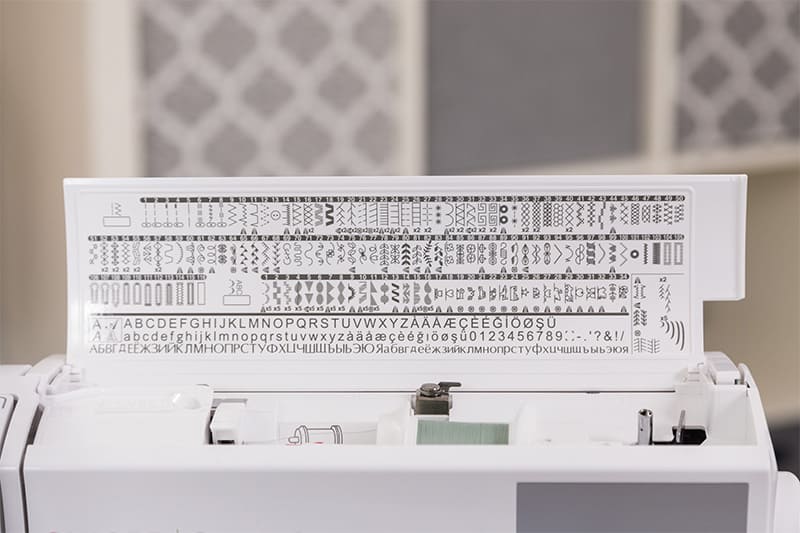 The touchscreen shows the default settings for each stitch, allowing you to change these if you wish. This is great for beginners and others who don't want to worry about finding the right setting, as well as offering freedom to the more adventurous.
This large variety is further increased by the ability to mirror image or elongate many of the stitches, making the possibilities almost endless!
Large variety of one-step buttonholes
The Singer 9960's built-in stitches also include an impressive 13 one-step buttonholes. This variety is great for sewers who make a lot of shirts or similar items, meaning they have a variety of buttonhole choices depending on the type of garment and the end wearer.
Together with the included buttonhole presser foot and this model's buttonhole underplate, sewing buttonholes on your shirts and other fashion projects is a breeze.
Adaptable to many different presser feet and needles
This model comes with 18 presser feet, meaning you'll be able to handle a range of fabrics and sewing techniques.
Along with the presser feet you'd expect to need for sewing, quilting and embroidery, the Quantum Stylist 9960 also includes less common varieties such as a cording foot, satin stitch foot, adjustable bias binder foot, and button sewing foot.
If you like sewing with a twin needle for stretch fabrics or for extra strength, you find the twin needle setting very useful. 
This electronic setting lets you reduce the stitch width so that the needles don't hit the pressure foot while sewing.
Control sewing speeds to suit your purpose
The speed control setting is another great, user-friendly feature that allows users to set their max sewing speed.
This means that you don't need to worry about fine-tuning the speed through the foot pedal, but can enjoy faster or slower sewing speeds depending on the kind of stitch or project you're sewing.
With a sewing speed of 850 stitches per minute, this is not the fastest machine out there, but speeds are more than capable of satisfying even advanced amateur sewers.
You can also choose whether to "drive" the machine using a traditional foot pedal, or the on/off switch. The choice will come down largely to personal preference, as well as for different types of sewing you may find one or the other more suitable.
For example, the on/off switch is great when sewing embroidery, particularly fonts, whereas many sewers prefer the higher level of control using the foot pedal when sewing seams or quilting.
Can you use the Quantum Stylist for Embroidery
As well as fashion sewing, this machine comes with a range of features for embroidery.
Many of its 600 stitches are decorative stitches suited to embroidery. These include 34 decorative stitches and letters, numbers, and characters in five different alphanumeric fonts, meaning you can personalize your sewing or quilting projects.
This model also comes with a darning and embroidery foot for flawless embroidery on a variety of fabrics.
This machine is suited to decorative embroidery on garments, table cloths, and other home décor items. Unlike many embroidery-specific machines, however, it does not come with a USB port or similar to import new embroidery patterns.
How Well Does It Handle Quilting?
The Singer Quantum Stylist 9960 is not just for sewing and embroidery, it's well set up for quilting too. A walking foot is included with the machine, perfect for quilting projects.
It has an extension table that gives you a larger sewing area when set up, allowing you to maneuver quilts or other large projects
Durability
You may not think it, given the large number of computerized features, but this is actually a very durable model. It is made with a solid metal frame, making it a strong, heavy-duty machine that will last a long time.
You'll be able to sew stubborn fabrics such as upholstery for the occasional project, although it is not specialized for this purpose. But it can be a good sewing machine for leather projects.
It is also well-suited to sewing multiple layers of fabric. This is not just because of its durable frame, but also as the machine will automatically adjust to the number of fabric layers.
The heavy frame also holds the machine steady, meaning you won't need to worry about skipped stitches and other issues.
Problems and Issues
The solid metal frame, although great for durability, does make this machine rather large and heavy. This means it is not ideal if you like to travel with your machine to class or elsewhere.
The large number of stitches may be overwhelming to novice sewers, who may also find the more complicated and difficult stitches difficult to perfect, especially when sewing at higher speeds.
A fix for this is to set the stitching speed to the slowest setting when doing more complex stitches.
For embroidery there is also no way to connect to a memory device or your computer for embroidery patterns. Therefore, those looking for this specific feature are better off investigating high-end embroidery machines.
Alternatives to the Singer Quantum Stylist 9960
If you aren't yet sold on the Qunatum Stylist, here are a few similar machines to compare.
Singer 9960 vs Brother SE600
Brother is one of Singer's biggest rivals when it comes to sewing machines.
Brother's equivalent to the Singer Quantum Stylist 9960 is the Brother SE600, being a feature-packed computerized sewing and embroidery machine.
Both sewing machines have a color LCD touchscreen, extendable work table, and a range of features. One notable difference is that the Brother SE600 has only 103 built-in stitches compared to the Singer 9960's 600 stitches.
However, the Brother SE600 does come with 80 distinct built-in embroidery designs. The Brother machine also allows you to download additional designs through the machine's USB port, which the Singer 9960 does not.
In terms of the cost, these two sewing machines sell for a very similar price.
The Brother SE600, although also suitable for sewing, is really geared towards embroidery, whereas the Quantum Stylist 9960 is really an all-round sewing, quilting and embroidery machine.
Read our full Brother SE600 review.
Singer 9960 vs Singer 7258
A slightly more basic, though still very reliable and versatile computerized sewing machine from the same brand is the Singer 7258.
The 7258 has a meager 100 stitches compared to 600, lacks the color touch screen, and comes with less accessories. It is also not geared towards embroidery or quilting, designed for basic and garment sewing.
However, the Singer 7258 has many of the same user-friendly features such as an automatic needle threader, variable sewing speed, and automatic stitch selector, at a very affordable price, even less than the Singer 9960.
Read our full Singer 7258 review.
Singer 9960 vs Juki HZL F600
The Juki HZL F600 is another versatile machine with loads of features for sewing, quilting and embroidery. It also has several professional-level features you don't find on many home sewing machines, such as a knee-lifting lever, box feed mechanism for even fabric feed, and steel feed dog.
There is also a big difference in price, however, with the Juki HZL F600 being more than double the price of the Singer 9960.
The Juki is an excellent machine for intermediate to advanced sewers, particularly those looking for specialized embroidery features. The Singer 9960, however, will suit most needs for half the cost.
Read our full Juki HZL F600 Sewing and Quilting Machine Review.
Wrapping it up
If you're looking for a versatile computerized sewing machine packed with features without the hefty price tag, the Singer Quantum Stylist 9960 is for you.
With a large number of stitches, features, and accessories, the Singer 9960 is suitable for many types of sewing, embroidery, and quilting, at a fraction of the cost of some machines with comparable features.