If you are looking for a powerhouse sewing machine for heavier fabrics at a great cost, look no further than the Singer Heavy Duty 4423.
In this product review, we will look at some of the 4423's best (and worst) features, what accessories it comes with, and address some of the common questions of the machine.
Singer 4423 Heavy Duty Sewing Machine: Product Overview
If you have any experience with sewing, you've probably heard of the Singer brand.
As one of the most popular and well-known sewing machine makers for the last 150 years, you are sure to find at least one of their machines on the shelf of any craft store.
The 4423 is one in a line of four heavy-duty sewing machines made by Singer. Each one is affordably priced and well constructed. The 4423 has the lowest price point, but it is worth noting that it is the same as its counterparts in terms of power, speed, and durability.
The 4432 – one of the more expensive models – has more built-in stitches and accessories than the 4423, but the machines are otherwise equally matched.
We have also reviewed the 4432, so be sure to check it out for more information on that machine.
Key features and benefits
The Singer Heavy Duty 4423 has a number of great features that make it stand out from the competition, but it also has its drawbacks.
What we like:
Affordable
All-metal chassis
Extra high presser foot lift
Strong motor
1,100 stitches per minute
LED lighting
What we don't like:
Limited stitch options
No walking foot accessory
Some complaints of faulty machines failing shortly after purchase.
All-metal body
One of the easiest ways to identify a heavy-duty machine over a regular sewing machine is the case. Most heavy-duty machines use an all-metal case, and the 4423 is no exception.
The 4423 has an aluminum body to help dampen the vibrations of its stronger motor and to increase the durability and longevity of the machine.
The frame inside the machine is also metal, which means it is less likely to break and can take a bit of rough treatment.
Strong motor
Like the other machines in the Singer heavy-duty line, the 4423 has a strong 1.0 amp motor that allows you to sew through a much larger variety of materials than a regular sewing machine.
Stitch speed
The best part about the 4423 is that its larger motor allows it to go fast.
At 1,100 stitches per minute, the 4423 is twice as fast as a regular household machine of the same cost, which typically average about 500-600 stitches per minute.
So not only can you sew through thicker materials with the 4423, you can finish your projects in half the time.
Extra high presser foot lift
The 4423 has extra clearance with the presser foot when you need to sew bulky or heavy materials, or if you are sewing through several layers at once.
This feature is excellent for users who want to free motion quilt, since half the battle of using a non-industrial sewing machine for quilting is getting the material to fit under the presser foot.
Automatic needle threader
The built in needle threader allows you to quickly and painlessly thread the needle.
Bright LED lighting
Unlike the rest of Singer's heavy-duty machines, the 4423 comes with bright built in LED lighting.
Good lighting is a must with a sewing machine (especially a fast one) so that you can see exactly where your needle is going.
It is definitely a strange feature to omit in their other models, so we are glad they at least decided to include it in the 4423.
Steel needle plate
Adding to the surprising amount of metal on this budget machine, Singer made the needle plate from smooth stainless steel.
Not only does this allow the fabric to feed through the machines more easily, it adds to the overall durability of the machine.
Adjustable presser foot pressure
If you plan to use a variety of different fabrics in different weights, the adjustable presser foot pressure function ensures that they will all feed and sew flawlessly.
You can, of course, leave it in its default multipurpose settings for easier use, but the 4423 will produce better results if you learn to adjust this setting for each different fabric.
23 built-in stitches
The 4423 comes with 23 different built-in stitches:
1 buttonhole stitch
6 basic stitches
4 stretch stitches
12 decorative stitches
This gives you a good selection for many different projects and allows you to use the 4423 for a multitude of different applications.
One step buttonholes
If you plan to make garments with your 4423, the one step buttonhole functions will prove useful.
You can easily make perfect buttonholes with this function:
Select the buttonhole stitch.
Attach the included buttonhole presser foot and slide the switch on the presser foot to determine the buttonhole size.
Press the foot pedal until it is complete.
The machine does not have a function to stop automatically once the buttonhole is complete, so be sure to keep a close eye on its progress so that you don't ball up the thread at the end of the buttonhole.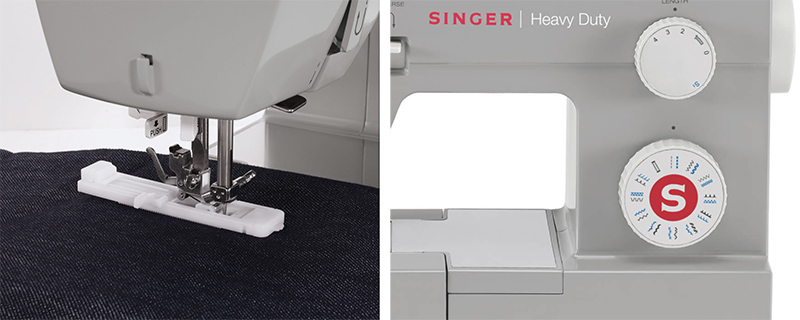 Free arm
Another excellent feature for clothes making is the 4423's detachable arm. This allows you to finish off cuffs, pant legs, and other circular projects.
Drop feeds
The ability to drop the feed dogs makes the Singer Heavy Duty 4423 an excellent choice for free motion sewing.
This is especially helpful if you plan to use the machine for quilting.
Included accessories
The Singer Heavy Dutŷ 4423 comes with a handful of essential accessories to get you up and running quickly.
Let's take a look at what was included in the box:
Four presser feet
The included presser feet are varied enough to help you finish most projects you start.
Standard foot
Buttonhole foot
Button sewing foot
Zipper foot
The Singer heavy-duty machines do not come with a walking (even) foot attachment unless you buy the most expensive model (the 4452). If you are interested, check out our Singer 4452 review as well.
This is not particularly helpful with a heavy-duty machine that is meant to work with thicker materials and several layers of fabric.
It would have been far better to cut something like the button sewing foot than to exclude an even feed foot on a machine that is so obviously built for it.
Dust cover
A good dust cover is essential for keeping dust and debris out of the machine between use.
The cover that comes with the 4423 is soft sided. If you plan to do any traveling with the machine, you will need to invest in a better hard-sided case.
Other tools and accessories
The 4423 also comes with a selection of tools and accessories meant to help with everyday use and maintenance.
The seam ripper, quilting guide, and extra bobbins and needles are enough to get you set up and started quickly.
The lint brush and screwdrivers are perfect for typical maintenance tasks like cleaning out the feed dogs and bobbin case.
FAQs
Let's take a look at some of the most common questions people ask about this machine.
What can it handle? Can I sew thick materials like leather? What about thin materials?
You can sew all of those things if you utilize the right settings and accessories. You'll need thick needles for heavier materials, such as a #15.
You can use Singer 4423 sewing machine for leatherwork, but you'll need to use diamond-tipped needles. Users have reported being able to sew through multiple layers of garment leather, while some insist they have even worked through belt leather on the 4423. Either way, a proper leather needle is a must.
For lighter materials, use a lighter needle. Also make sure to adjust the presser foot pressure to something more suitable for light fabrics and you shouldn't have any problems.
Can a beginner use this machine?
Yes, it is fairly simple in design and closer to a regular sewing machine than most other heavy-duty machines. We included Singer 4423 in our roundup review of best beginner-friendly sewing machines.
The speed may be off-putting at first, since the foot pedal is a bit touchy, but beginners should adjust pretty quickly.
Can you quilt with this machine?
Yes, you can do free motion quilting if you lower the feed dogs. You will be limited on your project size since this machine has a standard (read: small) throat size.
This is supposed to be a durable machine but I've read reviews that it only lasted some users a month! Is this even worth purchasing?
There are indeed some negative reviews about the longevity of the machine. However, it is impossible to know whether the machine was truly a lemon or if they misused it.
Did they try to sew thick material with the wrong needle? Did they try a thick material without first testing the limits of their machine? Either scenario can result in a burnt up motor.
Even so, there are many more positive reviews than negative, so yes, it is most likely worth purchasing if it fits your needs and budget.
Plus, it comes with a 90-day warranty for any manufacturing defects, so you can have any issues fixed free of charge.
Try it, run it hard for your first three months to make sure nothing is wrong with the machine before the warranty runs out, and enjoy it!
Is this machine easy to move? How heavy is it?
For how much metal is in this thing, it is surprisingly lightweight. At under 15 pounds, you shouldn't have any issues moving it around your home.
It should even be fine for traveling if you get a sturdy case.
Does the motor have speed control?
Yes, it has a speed controlled motor. It comes with a foot pedal for controlling your stitch rate.
Some users have complained that the foot pedal is too sensitive and goes too fast too quickly, so keep in mind that it will take some time to get used to it.
But really, when a machine is twice as fast as a regular machine, it is a given that it will have an adjustment period.
Wrapping it up
That is everything you need to know about the Singer Heavy Duty 4423 sewing machine. If you still have any questions, feel free to leave them in the comment section below!