Are you looking for a quality sewing machine capable of producing professional results and handling heavier fabrics without the cost of an industrial machine?
If so, a heavy-duty sewing machine may be the perfect option for you!
Top 5 heavy-duty sewing machines
We've reviewed the top 5 heavy-duty machines currently on the market, and ordered them from highest price and quality to lowest.
Read our full Juki TL-2000Qi Sewing And Quilting Machine Review.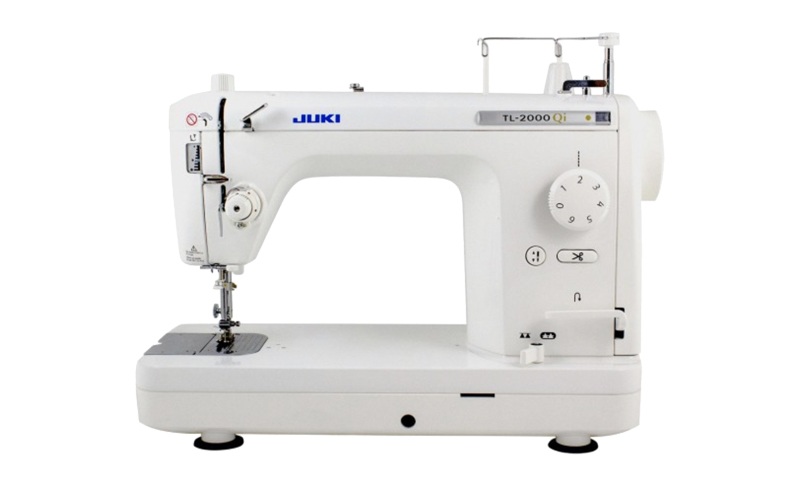 The Juki TL-2000Qi is easily one of the most powerful heavy-duty machines on the market.
It has a number of special features that make it ideal for quilters specifically, but the TL-2000Qi is enough of a workhorse to power through almost any application.
It has a strong motor that reaches an impressive 1,500 stitches a minute. It can also handle much thicker materials than a regular sewing machine like denim, leather, and canvas.
With a 9" throat, removable extension table, and a walking foot and quilting foot included, the TL-2000Qi is a quilter's dream come true.
It also has a hands-free presser foot control and thread cutter so that you don't have to worry about taking your hands off a large project to fiddle with controls.
The only real drawback of the Juki TL-2000Qi is that it only has one stitch option, so if you need any specialty stitches, you will need an additional machine.
Still, the TL-2000Qi's stitch quality is divine. You get perfect, professional stitches every time. It is clear that Juki wanted the TL-2000Qi to do one thing extremely well, and it certainly delivers.
To learn more about the Juki TL-2000Qi sewing machine, check out our in-depth review of it.
Read our full Janome HD3000 Heavy-Duty Sewing Machine Review.
The Janome HD3000 is a perfect combination of strength and versatility. If you need something that can power through most materials while still offering a nice selection of stitches, the HD3000 is an excellent choice.
It has a hard plastic case, which is an unusual feature for a heavy-duty sewing machine. However, the inside is entirely metal. Even the gears, which are typically made of nylon, are metal in the HD3000.
Using metal insides means that the machine will likely last for decades if maintained properly (the nylon gears are prone to breaking).
The plastic case was likely chosen to offset the weight of the all-metal insides, but the HD3000 is still far too heavy to carry around comfortably, so pick a good spot to set it up and be prepared to leave it there.
The plastic case also doesn't have the same vibration dampening effect that a metal case has, so the HD3000 is going to be noisier than other heavy-duty machines.
In its entirety, the HD3000's case is merely a small issue that is made up for with the machine's other exceptional features.
With a 1.0 amp motor, the HD3000 is capable of sewing 850 stitches per minute. This is going to give you a slightly quicker sew time over a regular machine, which only generates about 500-600 stitches per minute.
The stronger motor is also going to allow you to use thicker materials than a regular sewing machine, so if you want to sew things like denim and leather, you can do so with the HD3000.
The HD3000 comes with 18 built-in stitches – a respectable number for a heavy-duty machine. This gives you a bit more versatility and is ideal if you plan to sew things like garments, which require a larger variety of stitches depending on the materials used.
The HD3000 also comes with six presser feet, most of which are perfect for sewists. They focus on special hems, zippers, buttonholes, and other clothes-making needs.
If you'd like to learn more about the Janome HD3000's features and accessories, be sure to read our comprehensive review of it.
Read our full Janome HD1000 Mechanical Sewing Machine Review.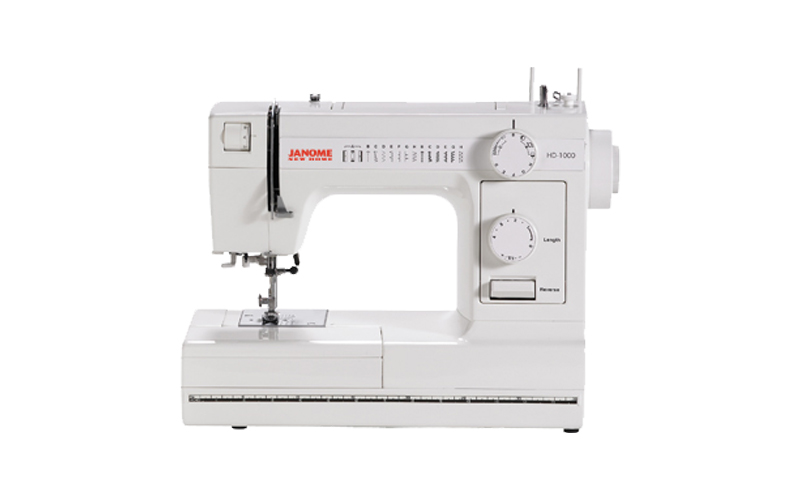 The Janome HD1000 is the cheaper, pared down version of the HD3000. They share many similarities, but the HD1000 has fewer functions and accessories than the HD3000.
That's not to say the HD1000 isn't a capable machine, because it is a powerhouse in its own right and available for a much more budget-friendly cost.
It has the same 1.0 amp motor and 850 stitches per minute sewing speed as the Janome HD3000. In terms of what it can sew through and how fast it can sew, the HD1000 is on par with its more expensive counterpart.
The chassis is made from aluminum instead of plastic. While that is good news for the durability of the outside of the machine, that likely means that the HD3000's all-metal gears and mechanisms are missing from the HD1000.
The strong motor is great for sewing through thick materials and several layers of fabric. This makes it ideal for small quilting projects (since the throat is standard size and therefore too small for a large blanket) and garment making.
The HD1000 comes with four different presser feet and all the standard accessories to get you started. It does not come with a walking foot, but you can buy one separately from Janome.
One thing that frustrated some HD1000 (this is the case with the HD3000 as well) users is that Janome still uses some of the same functions as the older machines from the 70s and 80s.
For example, the Janome HD1000's needle must be threaded left to right instead of right to left like modern models. This can be a source of frustration and confusion for users who are used to modern machines.
The differences are easy to adapt to once you get used to it. Janome suggests that even seasoned sewers read the user manual so they aren't confused by the dissimilarities.
Want to know more? Check out our full review of the Janome HD1000 here.
Read our full Singer 4432 Heavy Duty Sewing Machine Review.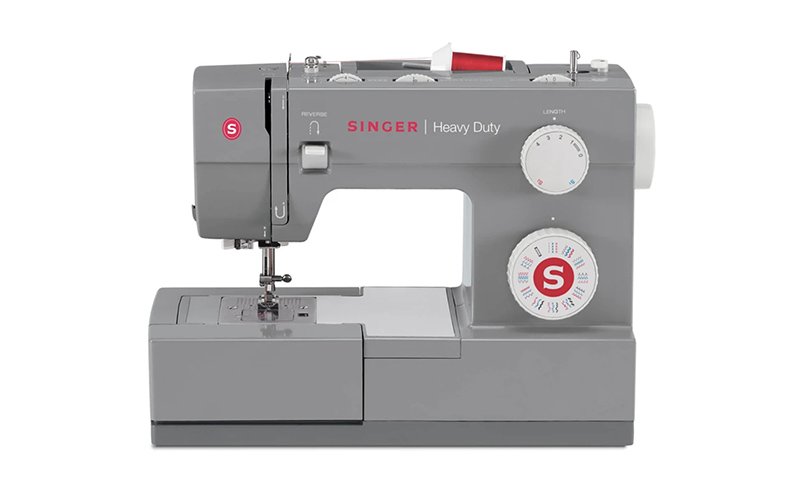 The Singer Heavy Duty 4432 is one of four models in Singer's heavy-duty sewing machine line.
The Singer heavy-duty machines were made to be a cheap (and therefore accessible) line of machines so that anyone with any budget could have access to a quality high powered sewing machine.
The 4432 is the strongest of the Singer heavy-duty machines, but it is not the most expensive. The 4452 is the top model, but it is the same exact sewing machine as the 4432. The only difference is that the 4452 comes with extra accessories. If you want to learn more, check out our Singer 4452 review.
Singer does not give an actual measurement of power behind the 4432's motor. Instead they claim that it is 60% stronger than a regular sewing machine.
Since a regular sewing machine typically averages about 500-600 stitches per minute and the 4432 is capable of sewing 1,100 stitches per minute, Singer's claim appears solid.
The 4432 comes with 32 built in stitches, which gives users a great range of functions with their machines. It has basic stitches, stretch fabric stitches, and decorative stitches to tackle any type of project.
With an all-metal chassis, steel inner frame, and steel needle plate, the 4432 has a lot of metal.
That means the machine will dampen some of the vibrations and noise from the strong motor. It also means the machine will last longer and be able to withstand more abuse than a regular sewing machine.
The 4432 does not have LED lighting like some of the other Singer heavy-duty models. It seems like a strange feature to cut, since bright lights are fairly standard on even the cheapest sewing machine models.
The 4432 has fairly standard included accessories: four presser feet, spare needles and bobbins, and basic maintenance tools. It unfortunately does not come with a walking foot attachment. You either have to buy one separately or purchase the 4452 for slightly more money.
If you want more details about the Singer Heavy Duty 4432, take a look at our individual review of it.
Read our full Singer 4423 Heavy Duty Sewing Machine Review.
The Singer Heavy Duty 4423 is one model down from the 4432. They are nearly identical except for a few key features.
The 4423 sews 1,100 stitches per minute and comes with the same included accessories as the 4432.
The 4423 comes with 23 built-in stitches – 9 less than the 4432. The two models have the same number of basic and stretch stitches, so Singer cut out some of the decorative stitches for the lower models.
It has all the basic features of the other Singer heavy-duty machines: all metal chassis, automatic needle threader, adjustable one step buttonhole function, and extra high presser foot clearance.
The 4423 is the only Singer heavy-duty machine to come with LED lighting near the needle. Again, this is such a strange feature to omit, but it is even stranger to do so for the more expensive models while adding it to one of the lower end models.
Since the included accessories are the same as the 4432, this model does not come with a walking foot attachment either. Be sure to buy one separately from Singer if you feel you need one, or opt for the Singer Heavy Duty 4452 which comes with one.
You can find out more information about the Singer Heavy Duty 4423 in our individual review of it.
FAQs
If you still have some questions about heavy duty sewing machines, don't worry. We've answered some of the most common ones.
What is a heavy-duty sewing machine?
Now, after all this talk of different heavy-duty sewing machines, you may be asking: but what is a heavy-duty sewing machine?
Explained basically, a heavy-duty sewing machine is a mid-range machine that is stronger than a regular household machine but not as strong as an industrial machine.
Heavy-duty machines typically have an all-metal body, a strong motor, extra high presser foot lift, and limited stitch options.
They typically have a motor with around 1.0 amp or more power, and a stitch speed between 800-2000 stitches per minute.
They are more durable than an average sewing machine and can sew thick fabrics like denim, canvas, and garment leathers.
They are also easier to quilt with because most of them have an extra high presser foot lift to fit large fabric "sandwiches" under the presser foot with ease. Plus, the larger motor means easier feeding and less skipped stitches on a thick stack of fabric.
An average household sewing machine can handle most of the day-to-day sewing tasks, but when it comes to heavy-duty projects, you might want to consider a heavy-duty model instead.
A regular sewing machine typically has a plastic case, an average motor, and leisurely stitch speeds.
A regular machine averages 500-600 stitches per minute with a 0.5 amp motor. Most of them can't handle things like denim or leather because such materials cause too much strain on the motor.
Regular machines typically have a wider variety of built-in stitches than a heavy-duty because heavy-duty machines aim for quality over quantity with their stitches.
If a heavy-duty machine isn't strong enough for a project, then an industrial machine is needed.
An industrial machine is a highly expensive sewing machine meant to tackle tough projects. They cost thousands of dollars and are designed with professional sewers in mind.
They can sew through multiple layers of heavy leather, hard plastic for things like sports knee pads, parachute material, and much more.
They usually only have one stitch option and no speed control on their motors unless you install the mechanism yourself.
Essentially, industrial machines are made to sew through almost anything while a heavy-duty machine is a gateway machine to heavy materials.
Most people will never need an industrial machine unless they plan to sew leather bags, parachutes, boat covers, etc.
A heavy-duty machine is typically more than enough power for even many professional sewers. Some Janome HD3000 users even use it in place of their industrial.
Which machine should I get?
If you are sold on the idea that a heavy-duty sewing machine is the right choice for you, you may still be wondering which machine you should buy.
Well, it depends on what you plan to use the machine for once you purchase it.
If you want to quilt, you can technically do it with any of the five machines we chose to review, but the Juki TL-2000Qi makes the most sense. It is made for quilters with its 9" throat, hands-free functions, extension table, and included quilting and walking feet.
If you are a sewist looking for something to make garments with, the Janome HD3000 is the obvious choice. Its all-metal insides included hemming feet and strong motor ensure that you will still be making clothes with it years from now.
If you just want something a bit more powerful than what you have for things like hemming jeans or fixing your favorite leather jacket, either the Janome HD1000 or the Singer 4432 would be a great choice.
If you want something for any of those above reasons but really can't afford most of our listed recommendations, try the Singer Heavy Duty 4423. It will be a nice entry machine to get you started in whichever field, and you can get one of the more expensive options later if need be.
What should I look for when buying my heavy-duty machine?
There are a few features to look for when buying your heavy-duty machine.
Look for a sturdy build. This usually means an all-metal chassis, but it can also mean a sturdy metal frame or insides.
Some heavy-duty machines don't have a variable speed motor, meaning they only go one speed (and it is usually fast), so make sure your machine comes with a pressure controlled foot pedal or speed control.
You'll also want an extra high presser foot lift. All of the models recommended above have it, but some of the other machines on the market do not. If the presser foot only lifts as high as a regular sewing machine, it negates the usefulness of a heavy-duty machine, since you can't sew heavy materials unless you can fit them under the presser foot.
Look at the number and type of built-in stitches. Make sure the machine has what you need for the type of projects you plan to do. Since these machines are mechanical, there is no way to add necessary stitches later like you can with a computerized machine. So it's important to know what you need before buying.
As far as accessories go, it's always nice when a machine comes with a walking foot (also known as an even feed foot), but if your machine does not include it, make sure you can purchase one separately. Even if you don't buy it right away, it is an invaluable tool to have when working with many layers of fabric or thick materials.
Be sure to also look at the warranty. Many will give you a 20+ year warranty on certain parts, but some also give you a brief warranty for any factory defects. Use your machine heavily within the time frame of a short warranty to be sure it will last. If you need to have it repaired outside of that window, you will have to pay for parts, labor, and possibly the shipping fees for sending it to the company.
Finally, make sure it is priced well for the features and that it fits into your budget. A heavy-duty machine will last you for many years, so the extra upfront cost is worth it. Just be sure that it is a price you are comfortable with.
Can I still sew light fabric with a heavy-duty machine?
Absolutely. Many heavy-duty machines sew light fabric just as well (if not better) than a regular sewing machine. You will just need to make sure you swap out your heavy-duty needles for something more suitable for light materials.
Some models also allow you to adjust the pressure of the presser foot for better feeding of thin or delicate materials as well.
That is another feature to consider when buying if you plan to sew with a lot of light materials like rayon, satin, or lace.
Speaking of needles, do I need special ones for a heavy-duty machine?
It depends on the type of materials you are trying to sew.
When you are using it for normal weight fabric, a standard sewing needle is fine. Fine or thin fabrics usually fare better with a small needle.
When you are sewing through thick denim or canvas, you'll need a bigger needle. Try for #15 or higher.
If you are doing any leather work, you must use a diamond-tipped leather needle. Anything else won't be able to puncture the material and you run the risk of breaking your needle, your motor, or both.
Is a heavy-duty machine even worth it? Should I just go with an industrial machine right away instead?
Again, it depends. What do you want to accomplish with your machine? If it is ultra heavy work with very thick materials, then yes, you should go with an industrial machine.
But if you are planning to use mostly soft or medium-weight leather, a heavy-duty should work fine for you.
Some users who have both types of machines actually prefer their heavy-duty machine over their industrial. This was certainly the case with the Janome HD3000, which had quite a few users swearing that it performed better with leather and denim than their industrial machines.
Wrapping it up
Well, there you have it! A comprehensive look at the best heavy-duty sewing machines on the market, everything you need to know about heavy-duty machines in general, and why you should buy one.
Still have questions? Let us know in the comment section below!