Every sewist dreams of having their own sewing or crafting room where they can create. The layout, color, design, or clever use of space can make all the difference, so in this post we're going to look at the best sewing and craft rooms for decor and organization inspiration.
Unique sewing room ideas
Whether you are blessed with a large room or just have a small corner to work in, the perfect sewing space can boost your productivity and stimulate your creativity.
We've gathered together the coolest and most interesting sewing room ideas to get you inspiration for your own sewing space.
This space provides a wealth of inspiration for sewists and crafters who only have a small space to work in. In particular, it shows you how you can maximize your storage space in a sewing corner.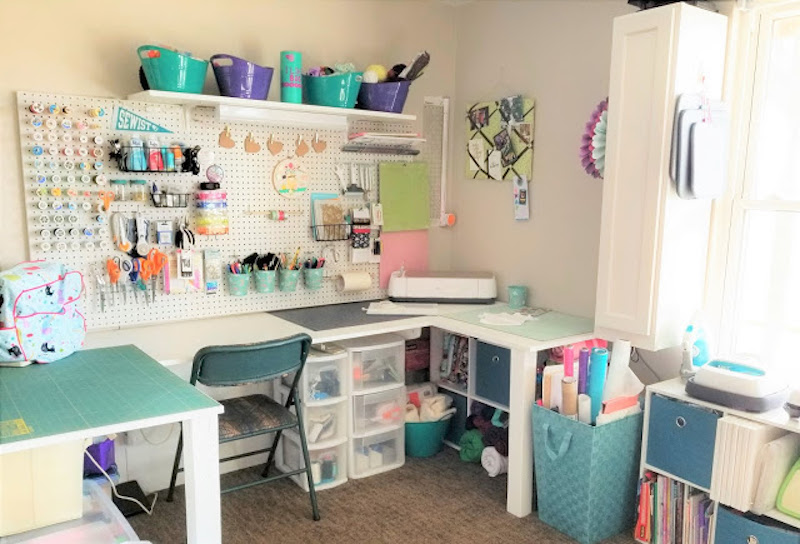 This hyper-organized sewing corner makes exceptional use of its limited space with a variety of innovative organizational elements. It makes use of modular storage in various sizes for efficient storage of everything from fabric and rolls of paper to spools of thread.
Work surfaces wrap around the space in a U-shape, with plenty of room for cutting, sewing, and crafting. Our favorite part is the large pegboard on the wall, which keeps sewing accessories neatly organized while in easy reach at all times.
Sew Simple Home even shows you how to build this sewing corner for yourself with a step-by-step tutorial with stacks of photos.
Every sewist knows the pain of trying to keep your fabrics organized. It is easy to build up a large stack of fabric, whether leftovers from old projects or that cute print you found on sale but haven't gotten around to using yet.
This fabric filing cabinet is an innovative way to keep your fabrics organized, and a much better alternative to those messy piles on shelves or cluttering your workspace. Instead, this filing cabinet idea lets you "file" your fabric by draping folded fabric over file folders and storing them vertically in filing cabinet drawers, very similar to files.
This is such a great idea: so simple, yet so effective! The fabric is neatly organized, and you can easily see what you have with a quick peek in the draw.
You'll need to make sure you use acid-free file folders to avoid bleaching or otherwise damaging your fabrics: The Thinking Closet recommends acid-free Pendaflex file folders.
This studio is great inspiration for anyone who loves their cutting machines. It features a large cutting table in the center of the room that not only provides a large workspace, but allows you to work from every angle.
What we really love here is that the cutting table is not a normal table or desk, but rather it has been made using two IKEA bookcases laid on their sides. This means that you have a bunch of additional storage for in the modular shelves under the cutting table.
In an extra-clever twist, the cutting table has a small space between the shelves and the table top for storing large pieces of paper or flat pattern sheets. This was done by building a MDF table top with one and a half-inch spacers between the bookshelves and the table top.
The table is even topped with dry-erase board that lets you write down notes or quick measurements!
It is important that you feel inspired in your crafting or sewing space, and this crafting corner is sure to get those creative juices flowing! This is a fantastic example of how you can decorate and personalize even a small space to make it the perfect place to work.
This crafting corner is the perfect blend of functionality and ambience, with a mix of organizational and decorative items. Craft and sewing supplies are neatly organized in slim storage slots on the desk, as well as shelves and clever spool rack on the wall for thread.
At the same time, this compact space finds room for inspirational wall art and family pictures to keep you inspired while you work. The orchid pot plant adds some life to the space!
5. Sewing room with peg boards (Blue I Style)
Peg boards have been used in woodworking garages for a long time as a very convenient way to hold tools that doesn't take up floor or desk space. It is not surprising that many sewists are now using this handy storage solution in their crafting space.
This pegboard from Blue I Style is a fantastic example of how to use a pegboard to perfection in your sewing room. It features a large pegboard above the sewing table to not only hang tools, but also store color-coded thread spools, as well as shelves in the board for storing even more items.
We particularly love how they have mounted rolls of paper on the pegboard. Not only are the rolls neatly stored and out of the way, but you can easily pull down and cut off the paper as you need it.
Along with plenty of practical storage solutions, this pegboard also finds room for some decorative and inspirations elements including pictures and a pot plant!
6. Empty nest sewing studio (We All Sew)
This aspirational sewing studio is the ultimate inspiration for what you could do if you had an entire sewing room to use. You can make your own "empty nest" sewing studio if you find yourself with a whole room to play with after your kids have left for college, or are otherwise lucky enough to set up a large space to create in.
Converting an entire room into a sewing space can involve a lot of work. You need to consider work surfaces, craft supplies and sewing books storage, decorations, and lighting to create the perfect space to work.
This sewing room provides plenty of inspiration for sewists and crafters. It features a large cutting table for your cutting projects, a table for your sewing machine, and a third surface for crafting or to hold the device that is linked to your cutting machine.
There is also plenty of storage in drawers, shelving, and modular storage baskets.
This craft and sewing room provides the ultimate inspiration for how to perfectly organize your space. In this room, everything has a place, and everything is in its place!
This room has floor to ceiling shelving and storing units to solve all the different items and equipment that a sewist or crafter needs. We particularly love the clearly labeled storage bins and trays: this will help you to remember where you've put all of your essential items!
It also uses a combination of closed closets and open shelving. This is the perfect combination because it lets you hide your disorganized mess behind closed doors, while allowing you to display your meticulously-organized items for easy access.
8. Organized, space-saving sewing room (Mabey She Made It)
This space-saving sewing room has so many great ideas for any one establishing a sewing area in a small space. Even if you don't have a lot of room to work with, this shows how with a little creativity, you can make the most of the space you have.
The great ideas found in this sewing room include the mini bolts, which are a great way to store your fabric. By wrapping your fabric on mini bolts, you can see your fabric collection in an instant and match different prints and patterns.
We also love how this sewing room uses bookshelves as table legs: what an innovative way to make the best use of a compact space! You can use the shelves to store a range of sewing or crafting supplies.
Though the space is small, it is divided into spaces for cutting, sewing, pressing and storage. These distinct stations help to keep the space organized.
9. Cute sewing room makeover (Sweet Red Poppy)
What we really like about this sewing room is that it is not only incredibly well-organized but also visually stunning. The minimalist color scheme of white and turquoise really makes the color of the fabrics, yarn, and threads pop.
This space is packed with great ideas for storing your sewing and crafting supplies, such as using spice jars for storing glitter and beads and tiered apothecary jars for trimmings. Wire baskets are also used for fat quarters, and collapsible storage bins for everything from paint to fabric scraps and patterns.
This room also showcases some truly clever ideas for maximizing your pegboard for organization and storage. We love the rolls of ribbon and clear containers for bobbins mounted on the pegboard.
Throughout the sewing space, there is heavy use of clear storage containers which creates a rainbow or colored-coded craft and sewing supplies.
Many sewists and crafters can relate to the frustrations of an over-cluttered craft room. It's all too easy to let craft supplies and half-finished projects pile up on your work space.
This de-cluttered craft room provides the perfect inspiration for a minimalist work space. As well as pared-back furniture, the room features a neutral black and white color scheme that makes the whole space feel light and airy.
The room demonstrates several important principles of de-cluttering, including keeping surfaces clear, not overfilling storage spaces, and having a designated spot for everything. It uses labelled shoe box-style storage boxes for smaller items and large baskets to stash bigger pieces
The baskets can also be used to hold bits and pieces until they're tidied away, helping to keep clutter to a minimum.
If you have the space for it, this gallery wall will keep you inspired and foster creativity in your craft or sewing room. We love how so many different inspirational elements have been incorporated here.
Along with framed pictures and motivational sayings, there is a photo wire packed with family photos. The cork board triangles are not only super cute, but very handy for pinning up inspirational or important items like receipts.
While most of the gallery is hung on the wall, there are also a couple of narrow shelves in the middle of the wall to hold important or personal objects. Best of all, this gallery wall is deeply personal: you can tailor it to your own style and incorporate the images, quotes, and items that inspire you!
Final thoughts
Having the right space to create is important. Along with logistical concerns such as having enough space to put your sewing machine or store your fabric, you want your work space to be inspiring, and one that encourages you to be creative and productive.
We hope you take inspiration from these spaces to create your own sewing room or corner, and go ahead and share these ideas with your fellow craft-enthusiasts!