Are you looking to buy your first ever sewing machine? There is a large range of models to choose from, and making the right choice can make a big difference to your experience as you learn to sew.
We think that the Janome 2212 is the best choice for complete novice sewers, while Singer 7258 is highly versatile machine if you can spend and want a machine that can perform lots of sewing tasks and styles.
The best sewing machines for beginners
There are several user-friendly sewing machines that are ideal for beginners. Which is the best model for you will depend on your needs and preferences.
Here are the best computerized, heavy-duty, versatile, and user-friendly models for beginners.
Read our full Brother CS6000i Sewing Machine Review.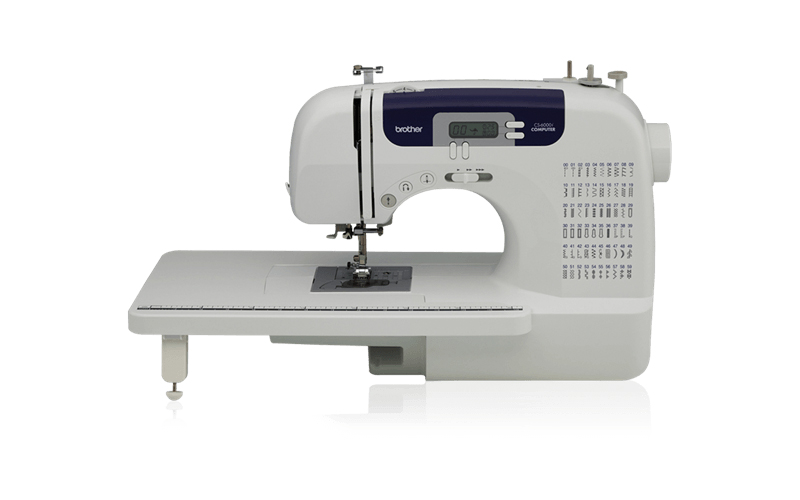 The Brother CS6000i is a user-friendly, affordable machine that makes it an excellent choice for beginners who want a computerized model.
There has long been a contentious debate over whether computerized or mechanical sewing machines are better for beginners. On the one hand, mechanical machines are simpler to use and can be less overwhelming to novice sewers.
On the other hand, computerized sewing machines take care of many of the finer aspects of sewing, such as automatic bobbin winding and needle stop position. This can free up beginners to focus on getting the basics of sewing right.
In the end, this largely comes down to personal preference, as well as how comfortable you are with technology. If you do decide to go with a computerized sewing machine, you'll find the Brother CS6000i simple and easy to use.
It has a simple LCD display screen to quickly choose from its 60 built-in stitches.
You can also control sewing speed, start, and stop either through the traditional foot pedal, or by using push-button controls. Beginners may find the push button easier to use, rather than having to balance the pedal to find the right speed.
There is also a very straight-forward automatic bobbin winder that comes with a detailed diagram printed on the machine. This will help novice sewers to wind their bobbins correctly and avoid tangled threads.
Beginners will also appreciate the automatic needle threader, bright light to illuminate the sewing area, and needle up/down stop position selector.
There's a built-in free arm for sewing small, circular items like sleeves, and the machine comes with eight presser feet for different fabrics and purposes.
A very versatile machine, the CS6000i can handle anything from stretch and lightweight fabrics to heavier fabrics. It even comes with an extra-wide sewing table which is great for quilting and other large projects.
One drawback of the Brother CS6000i is that the tension can be a little tricky to get right. This can be particularly challenging for beginners and may result in puckering, uneven fabric, or tangled threads if the tension is off.
However, you should avoid any tension problems provided you always thread the machine with both the needle and the presser foot in the up position.
Additionally, although the Brother CS6000i can handle robust fabrics like denim and upholstery, it is not a true heavy-duty machine. If you'll be looking to sew a large volume of heavy fabrics, you'd be better buying a machine designed for that purpose.
In all, the Brother CS6000i is a versatile and reliable sewing machine, and a very accessible model for beginners who want the features of a computerized sewing machine.
Read our full Singer Quantum Stylist 9960 Computerized Sewing Machine Review.
The Singer Quantum Stylist 9960 is a versatile machine packed with features. Well-equipped for sewing, quilting, and embroidery, it will be able to grow with beginners as their skills advance.
This computerized sewing machine comes with an impressive 600 built-in stitches, which can be selected using its color touchscreen. You'll be able to find the stitch you want easily, thanks to the flip up reference chart showing all the stitches.
The LCD screen allows you to choose not only the stitch type, but also the stitch length and width in a few touches, making it easy to use even for novice sewers. The screen shows you what your stitch will look like at the selected length and width, a handy visual tool for beginners to choose the right settings.
The Singer Quantum Stylist 9960 has a number of features that will make sewing easier for beginners. The automatic needle threader saves novice sewers the time and frustration of trying to thread the sewing machine needle manually.
The needle up/down feature allows you to automatically stop the needle in either the up or down position, helping you to manoeuvre your fabric and neatly change stitch direction. There is also a transparent drop in bobbin that lets you see if the bobbin thread is running out, automatic tension selector, and automatic thread trimmer.
Once you've mastered the basics of sewing, the Singer Quantum Stylist will allow you to develop your skills and tackle a range of different sewing techniques and styles.
It's 600 built-in stitches include:
decorative stitches
alpha-numeric stitches
quilting stitches
13 different one-step buttonholes
The machine comes with 18 presser feet, with different feet for quilting, embroidery, darning, and a range of sewing tasks.
The Singer Quantum Stylist 9960 also comes with an extension table, giving you plenty of space for large quilting projects.
This machine's solid metal frame makes it suitable for heavy-duty projects. On the downside, this means that the machine is rather large and heavy, and not as portable as other models.
It should also be acknowledged that this machine costs a little more than the other models mentioned in this article. However, considering the number of features and benefits, it represents excellent value for money.
The Singer Quantum Stylist 9960 is a great choice for ambitious beginners who want to be able to execute a diverse range of tasks and projects. This machine will continue to meet their needs even as they become advanced sewers.
Read our full Singer 4423 Heavy Duty Sewing Machine Review.
The Singer Heavy Duty 4423 is a powerhouse machine at a very reasonable price.
The 4423 model is the most basic (and lowest priced) in Singer's range of heavy-duty machines. This makes it a simple and easy to use machine that is great for beginners, while still having all the features you'll need for basic sewing.
This mechanical sewing machine has a full metal frame, steel needle plate, and aluminium body. This means it is extremely tough and durable, and can handle rough treatment like sewing large volumes of robust fabrics.
Additionally, the Singer Heavy Duty 4423 has a strong 1.0 amp motor, allowing it to sew through upholstery, denim, leather, and other tough fabrics with ease. What's more, it can do this fast: the powerful motor delivers fast sewing speeds of 1,100 stitches a minute.
This machine has a number of features that make sewing easier for beginners, whether working with light or heavy fabric. It has an automatic needle threader, adjustable foot pressure, and extra high presser foot lift, making it easy to slide multiple layers of bulky fabric under the foot.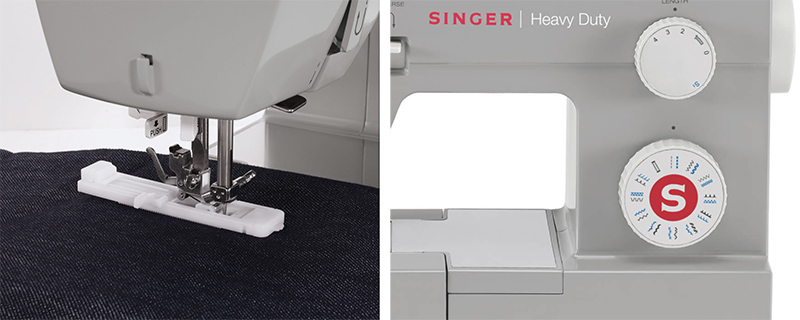 The 4423 comes with 23 built-in stitches. Although this is not as many as some other models mentioned here, the range will certainly cover your needs as a beginner.
Included with the built-in stitches are:
6 basic stitches
4 stretch stitches
12 decorative stitches
1 buttonhole.
This will allow you to carry out a range of different tasks and sewing techniques.
Particularly useful for beginners is the one-step buttonhole. Buttonholes are an essential part of garment sewing, but making a buttonhole can be difficult for novice sewers.
The Singer 4423 comes with an automatic buttonhole stitch and a buttonhole presser foot. All you need to do is select the buttonhole stitch, slide the switch on the presser foot to set the size of the hole, and sew using the foot control.
Other features that make this a versatile machine are the free arm and drop feed function, allowing you to use the machine for free motion sewing. The 4423 also comes with four presser feet, including a button sewing foot and zipper foot, along with the buttonhole foot.
This will allow you to handle different sewing tasks, although for more complex tasks and challenging fabrics you'll need to invest in additional presser feet.
Though not an extremely versatile model, the Singer 4423 is an ideal heavy duty machine for beginners who want to work frequently with upholstery, denim, or other robust fabrics.
Read our full Janome 2212 Sewing Machine Review.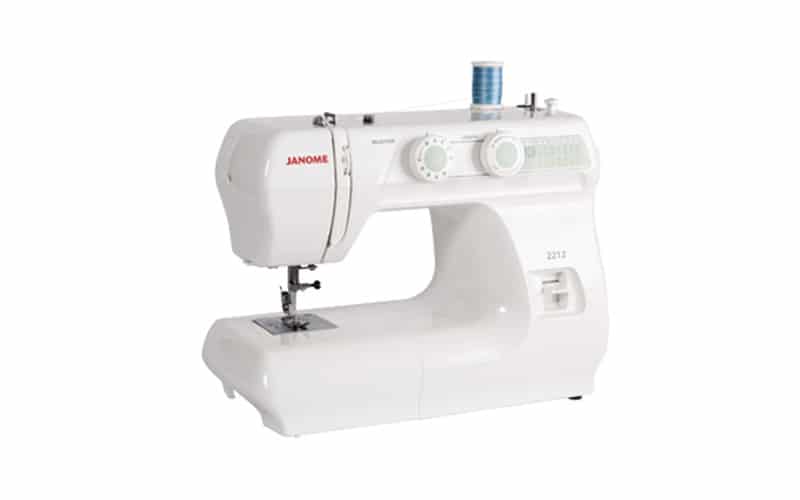 The Janome 2212 is designed for new sewers, and is ideal for those who have little or no experience in using a sewing machine. Its simple, intuitive design and range of easy to use features make it perfect for learning to sew.
The stitch selector dial is conveniently located on the front of the machine, with a well-positioned stitch chart to help you choose the right stitch. There are also convenient stitch length, stitch width, and thread tension adjustment dials.
The Janome 2212 comes with 12 built-in stitches, covering the needs of most beginners.
It also features:
reverse stitch function
easy to use push-pull bobbin winder
simple manual threading system
Its vertical oscillating hook bobbin helps to avoid tangled threads.
Although a basic machine, the Janome 2212 is able to stitch up to a speedy 860 stitches per minute. Its powerful motor can also easily handle multiple layers of fabric and even heavy duty fabrics like denim and upholstery.
On the downside, the sewing area light is a little dim, and doesn't illuminate the sewing area very well. It does not have an automatic threader so needs to be threaded by hand. Additionally, the presser foot lever is only accessible from the right side which will be inconvenient for left-handers.
The workspace is also on the small side, with enough room for sewing garments and regular-sized pieces, but not sufficient space for large projects. This means that this machine is not ideal for quilting. Neither does the machine have decorative or embroidery stitches, so you won't be able to use it for monogramming or fancy home décor projects.
However, that's not really what this machine is for: the Janome 2212 is not designed to be a fully versatile sewing and quilting machine. It is a high-quality and affordable basic machine for new beginners, and it meets this brief very well.
Read our full Singer 7258 Computerized Sewing Machine Review.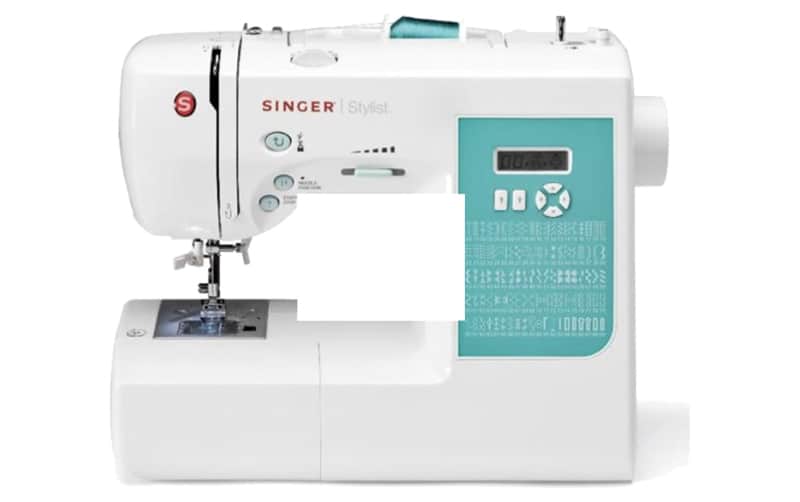 Another great computerized sewing machine for beginners is the Singer 7258. This machine is a fantastic all-rounder, being able to perform a range of sewing techniques and sew on just about every kind of fabric.
The Singer 7258 has a full metal frame, which is unusual for computerized sewing machines in the lower price range. This means that it is suitable for sewing heavy duty fabrics such as denim, leather and upholstery.
It is also a highly versatile machine, coming with 100 built-in stitches, including:
stretch stitches
decorative stitches
seven automatic buttonholes
Along with robust fabrics, it sews well with lighter and stretch fabrics.
Despite the number of features, this model is also very easy to use, so beginners will not find it too overwhelming at first. It has a self-threading needle, meaning novice sewers won't have to face the frustration of struggling to thread the needle. It also features a see-through bobbin case, needle stop up/down, and thread cutter.
Another beginner-friendly feature of the Singer 7258 is an automatic stitch selector that recommends the optimum length, width, and tension for the fabric and sewing technique you're using.
Its variable sewing speed also allows you to keep stitching speed low while you're learning, and the automatic bobbin winder stops prevents you from overfilling your bobbins.
This computerized sewing machine also comes with an impressive number of accessories, great for beginners looking to build up their sewing kit.
Included with the Singer 7258 are:
10 presser feet, including a buttonhole foot, blind hem foot, darning/freehand embroidery foot, and zipper foot
darning plate
auxiliary spool pin
standard accessories such as needles, bobbins, spools, lint brush, and a seam ripper
This machine doesn't have many drawbacks. It is a little noisy, but this isn't surprising for a machine that can handle heavy duty tasks.
It should also be noted that it doesn't have as many features as the Singer Quantum Stylist 9960, for example. However, it comes with an impressive number of features and versatility for its price!
What makes a good beginners' sewing machine?
Buying your first sewing machine can seem overwhelming. There is a huge variety of sewing machines available, each with different functions and features.
We know how hard it can be for beginners to know what to look for in a machine, so we've put together this buying guide with what you need to know to choose the right model for you.
These days you'll find a wide range of sewing machines on the market, suiting a variety of purposes: home use, industrial, heavy duty, quilting, embroidery, and more. You'll also see a huge array of functions and features that vary widely between different models.
There are certain features and characteristics which make a sewing machine more or less suitable for beginners.
User friendly
As a novice sewer, you want your machine to be as easy to use as possible. Learning to sew is enough to worry about, without struggling to work out how to use the machine!
Certain features and functions make some machines easier to use than others: read reviews to see which models are simplest to use.
Budget
The price point will also determine whether a sewing machine is great for beginners. Though not a hard and fast rule, more affordable machines are better for novice sewers.
Most likely, you do not want to invest too much in your first machine. It is much better to get the hang of sewing and see how much you use your machine first. You can invest in an expensive model later.
Functionality
As a beginner, you are not likely to attempt highly complex sewing projects. You do, however, need a machine that will be able to do all basic sewing tasks, and allow you to develop your skills.
The essential functions of any sewing machine are:
basic stitches including zig-zag and buttonhole stitches
stitch type, length and width selection
foot pedal and hand wheel to drive the machine
bobbin winding
tension control
built-in free arm
Other functions that are very useful for beginners include:
reverse stitching
automatic needle threader
needle stop up/down
drop feed function
see-through bobbin case
thread cutter
wide extension table
Variety of presser feet
As a beginner, you don't necessarily need a huge number of presser feet. You just want to make sure you have the basic presser feet to cover most sewing techniques and fabrics.
Important presser feet include:
buttonhole foot
button foot
zipper foot.
There are others that make sewing much easier, such as:
blind hem foot
those specific to fabrics, like a denim foot and a leather foot
If you want to be able to quilt as well, a walking foot is also essential.
Most sewing machines come with a number of presser feet, and you can always buy extras separately. It is also important for beginners that presser feet are easy to change and install: in this regard, snap on presser feet are best.
Lighting
A well-lit sewing area is important for every sewer, but especially as a beginner, you need to be able to see what you're doing. Machines with bright LED lights that illuminate the sewing area are best for novice sewers.
Performance
Like any kind of machine, performance in sewing machines is important. Poorly made machines are less reliable and are simply not able to perform the tasks you need them to do.
They are also very unlikely to continue to work over the long term, so you'll find yourself needing to buy a new machine. It is important to buy a quality machine from a reputable brand that comes with a service and replacement warranty.
Mechanical vs computerized
There is a great deal of debate whether mechanical or computerized machines are best for beginners. In reality, this largely comes down to personal choice, and how comfortable you are with technology.
The benefit of computerized machines is that they generally come with a large number of features designed to make your life easier. Benefits like an automatic needle threader, needle stop up/down, and push start sewing can make learning to sew a lot more straight-forward!
However, if you're not particularly tech-savvy, or if you otherwise find these features distracting, the simple usability of a good mechanical sewing machine may suit you better. Mechanical sewing machines also tend to be very reasonably-priced.
If you want to learn more about different types of sewing machines, check out our post where we explaining each type in detail.
What about buying a vintage machine?
There's no denying that there are some great vintage machines that were built to last. Using a second hand machine from a friend or relative is a good way to get started while you find your own machine to buy.
However, when it comes to beginner-friendly features, modern machines can't be beat. Sewing machine technology has advanced greatly in recent years, and machines now have a range of features that make it so much easier to learn how to sew.
Additionally, there are many risks in buying a vintage machine from an unknown source. Like any kind of machine, parts can wear and break if they have not been well treated or maintained over time.
Buying a vintage machine without knowing how it has been used means you have no idea how it will perform over time.
How do you choose your first sewing machine?
The most important consideration when buying a sewing machine is what you plan to use it for. This will determine the features and functions you need your machine to have.
Each type of sewing and technique has different requirements:
Garment making – For making clothes you'll need basic stitches, as well as a range of needles and presser feet suitable for woven and stretch fabrics.
Heavy duty fabrics – For working with robust fabrics such as leather, denim and canvas you'll need a durable machine with a powerful motor. Preferably, it will have a full metal frame and other metal parts like a steel needle plate.
Home décor – For decorative projects, it is best to have a machine with a range of built-in decorative stitches.
Quilting – If you want to be able to use your machine for quilting, make sure it comes with a walking foot. It is also preferable to have a large work area, best with a wide extension table, and a drop feed function for free motion quilting.
Your budget will also influence which sewing machine you choose to buy, as sewing machines can vary considerably in price.
There are a number of great beginner-friendly models for under $200, and you can easily pay double or triple that for a machine with more features.
And if besides a sewing machine, you are also looking for some educational content on the topic, check out our reviews of the popular e-learning platforms: Bluprint and Skillshare.
What sewing machine brands should beginners stick to?
There are a large number of sewing machine manufacturers, although the best-known brands are undoubtedly Brother, Singer, Janome, and Juki. Each of these brands has a well-deserved reputation for producing high-quality, reliable machines.
Brother and Singer both have a large range of affordable machines for the home sewer. They both offer both computerized and mechanical models, while Singer also has a heavy-duty range.
Janome is another famous brand that focuses on domestic machines. They are known for their user-friendly models.
Juki, on the other hand, has a history in producing industrial machines. They now manufacture advanced models for domestic use, and apply many of the features found in their industrial machines.
Accessories you need to start sewing
Along with a sewing machine, you'll need a number of accessories in order to start sewing. If you buy a quality beginners' sewing machine like the models mentioned above, it will generally come with many of the accessories you'll need.
The basic accessories you can expect to come with your machine include:
bobbins
spool and spool caps
sewing machine needles
presser feet
seam ripper
lint brush
screwdriver to open the machine for maintenance
When considering buying a sewing machine, it's a good idea to check whether these are included.
Depending on what comes with your machine, as well as what type of sewing you want to do, you may need to invest in some other accessories separately. This is particularly true for special needles and presser feet.
Certain types of fabric require special needles, like a denim needle for sewing jeans and a leather needle for leather. Equally, specific fabrics and sewing techniques are much easier with a presser foot that was designed for that purpose.
Other essential sewing accessories that do not generally come with your machine include:
Thread – you'll need to make sure it's the right kind of thread for the fabric you're sewing and the sewing technique you're using.
Fabric scissors – You'll need special scissors to be able to cleanly cut through fabric, so quality fabric scissors or shears are a must.
Embroidery scissors – Along with fabric scissors, you'll also need a smaller pair of scissors to cut your thread: embroidery scissors are ideal for this.
Straight pins – Before you can sew, you'll need to pin your fabric together. Like needles, pins are specific to the fabric you're using: you'll need regular pins for woven fabrics and ball-point pins for knits.
Carrying case – This is not necessarily an essential item, but it is very useful to have if you want to be able to take your machine anywhere, such as to sewing class. Sewing machines may come with a hard carrying case, a soft dust cover only, or no cover at all.
How a sewing machine works
Having at least a basic understanding of how a sewing machine works will help you to select the best model for your needs.
A sewing machine is a piece of machinery driven by an internal motor. This motor then drives the needle, making stitches to sew pieces of fabric together.
On a standard sewing machine thread is fed in from two places to make the stitches: from a spool on the top of the machine, and the bobbin, a smaller spool that sits in the bottom of the machine.
The top or spool thread is threaded through the needle.
As the needle moves through the fabric, it catches the bobbin thread, pulling this through the fabric to form stitches.
The fabric is moved through the machine by feed dogs which sit just under the needle plate on the work surface of the machine.
The fabric is also held down against the feed dogs by a presser foot, which can be lowered and raised using a presser foot lever.
The machine is started by using a foot pedal, and in some computerized machines, a push start button. Pressing on the foot pedal makes the needle go up and down, and causes the feed dogs to move.
More pressure applied to the foot pedal means these parts will move faster, and the stitching speed increases. The needle can also be moved slowly by turning the hand wheel.
Stitch type, length, and width can be adjusted on either dials (on a mechanical machine) or using an LCD screen (on computerized models).
Caring for your sewing machine
Looking after your sewing machine is essential. A well-maintained machine will serve you well for many years, and will continue to perform well over this time.
Lint and dust collect in the bobbin case, around the feed dogs and in other areas of the machine. Cleaning these areas is critical to keeping the machine running smoothly.
Clean your machine using the lint brush that comes with your machine. You may need to open up the needle plate with the machine's small screwdriver: check your instruction manual for how to best clean the model you have.
Some sewing machines also need to be cleaned periodically. You should also check your instruction manual for how often this is required and instructions on how to do it.
Wrapping it up
Whatever your needs and preferences, you'll be able to find the perfect model for your first sewing machine.
The Janome 2212 is an excellent choice for complete novice sewers, while the Singer 7258 is a highly versatile machine for those who want a machine that can perform a rank of sewing tasks and styles.
On the other hand, the Singer Quantum Stylist 9960 is a feature-rich model, ideal for those who want a machine that can grow with them. The Singer Heavy Duty 4423 is best for sewers looking to work with a lot of robust fabrics, while those looking for the features of a computerized machine should consider the Brother CS6000i.
Looking for an easy project to practice your sewing skills? Check out our favorite free sewing patterns suitable even for complete beginners.