Computerized sewing machines were first invented in the late 1970s. Since then, a huge number of different models have been released, to fit every sewing technique, level, and budget.
Keep reading for a look at the best computerized sewing machines available today, as well as the factors you should consider when buying one.
The best computerized sewing machines for 2020
There are a large range of computerized sewing machines available to buy. .. They vary significantly in terms of price, ease of use, features, and versatility, so it is important to understand these differences in order to choose the best machine for you.
Read our full Brother CS6000i Sewing and Quilting Machine Review.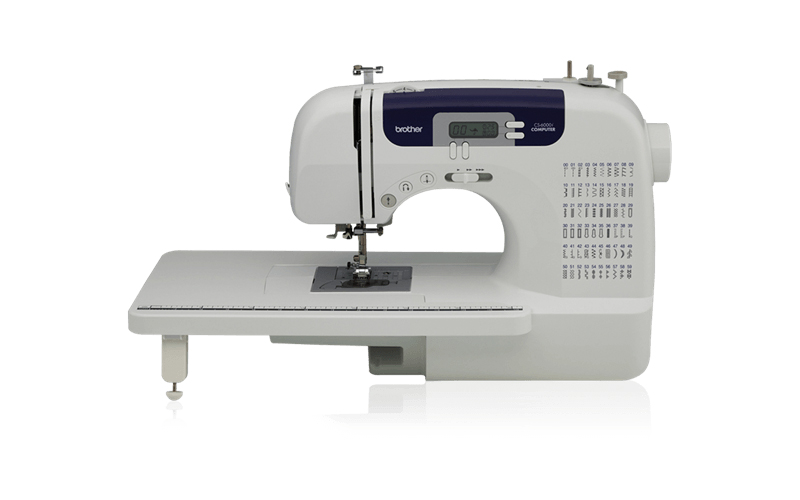 The Brother CS6000i is an excellent computerized sewing machine for novice sewers. This machine is affordable, as well as being highly suitable for beginners, unlike some other computerized machines that can be rather overwhelming and confusing to newbies.
However, being aimed at beginners doesn't mean that this machine is basic – far from it! The Brother CS6000i has a large range of features, including many of those you would expect from a high-end computerized machine.
For example, these features make life much easier for novice sewers:
push button sewing controls
bobbin winder
adjustable sewing speed
The automatic bobbin winder will wind a nice, tight bobbin that will help beginners to avoid tangled or jammed threads. Push button sewing controls and the adjustable sewing control both help new sewers to keep stitching speeds down while they're learning.
The Brother CS6000i's LCD screen has a user-friendly interface, letting beginners choose between the 60 built-in stitches.
Included with the machine are a very respectable eight presser feet, meaning you can sew on a variety of fabrics and with a range of sewing techniques, including quilting. There is also a built-in free arm that makes it easier to sew sleeves, cuffs and other tricky items – another bonus for beginners!
The Brother CS6000i is also lightweight, making it ideal for beginners to take with them to class!
However, the light weight doesn't mean that this machine is flimsy. This is a quality, durable machine that can sew heavier fabrics, such as denim (though a denim foot and denim needle is recommended for this).
Overall, the Brother CS6000i is simple and easy to use but is also packed with features – making it perfect for beginners.
Read our full Singer 7258 Computerized Sewing Machine Review.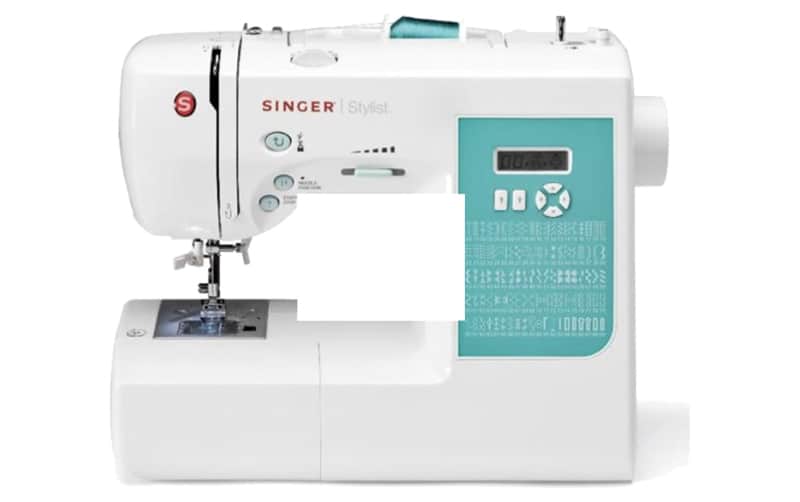 The Singer 7258 a highly versatile and reliable machine that sewers of all levels will love. It has a large number of features and accessories at an affordable price, making this model great value for money.
This model has an impressive 100 built-in stitches, and comes with ten presser feet included. These will cover the sewing, quilting, and embroidery needs of most sewers.
There is even a darning plate included, allowing you to darn holes and tears on the machine.
The Singer 7258 has enough extra features to keep intermediate to advance sewers content, but it is also easy to use enough that it is suitable for beginners too.
Like most computerized sewing machines, Singer 7258 has the following features:
automatic needle threader
needle stop up/down
variable sewing speed
automatic thread cutter
This model's see-through bobbin is another handy feature, allowing you to see when the bobbin is running low without having to rethread to a machine.
The automatic stitch selector tells you the optimum length, width, and tension for the fabric and sewing technique you are using. This is extremely useful for anyone, but particularly for beginners who often struggle to get these settings right.
An extra handy feature of the Singer 7258 is its bobbin winder stop. This automatically stops winding the bobbin as soon as it is full, avoiding overfilling the bobbin, which can cause tangled threads or jam the machine as the bobbin cannot move freely in the bobbin case.
Another advantage of the Singer 7258 is that it has a full metal frame, and so is highly durable and suitable for heavy duty sewing. At the same time, this model is light and easily portable.
Overall, this is a great machine for beginners to intermediate sewers, offering a large number of features and accessories for a very reasonable price tag.
Read our full Singer Quantum Stylist 9960 Computerized Sewing Machine Review.
If you're looking for a machine that can effortlessly sew, quilt, and embroider, and comes with a range of user-friendly features at an affordable price, then the Singer Quantum Stylist 9960 is for you.
The Singer 9960 comes with a very impressive 600 built-in stitches and covering a large range of sewing styles and fabrics:
basic stitches
stretch stitches
decorative stitches
quilting stitches
home décor stitches
craft stitches
There is also a flip-up panel with a stitch reference chart to help you find the stitch you need on the LCD screen.
This machine has a color touch screen LCD panel for easy stitch, length, and width selection. An extra bonus of the Singer Quantum Stylist 9960 is that it shows a preview of what the stitch will look like, helping you to choose the perfect settings without having to do any test stitches first.
The touchscreen also shows the default settings for each stitch and allows you to customize them if you wish. You can even mirror image or elongate many of the stitches. As a time-saver, you can also use the direct stitch selector on the front of the machine to choose any of the eight most common stitches.
The Singer Quantum Stylist 9960 comes with a large number of presser feet – 18 in total – to cover a very large range of fabrics and sewing techniques. This machine is well-suited to quilting with a walking foot included, along with a large extension table.
You can also easily use this machine for embroidery, with a darning and embroidery foot included, as well as a number of decorative stitches include five separate alphanumeric fonts.
It should be noted, however, that the Singer Quantum Stylist 9960 does not have a USB port for importing new embroidery patterns. However, it is still a very versatile machine and includes other features such as:
automatic needle threader
needle stop up/down
see-through bobbin case
automatic tension selector
adjustable speed control
automatic thread trimmer
Read our full Brother HC1850 Computerized Sewing and Quilting Machine Review.
The Brother HC1850 is great for quilting, with a spring action quilting foot that keeps the fabric from lifting up with the needle even when sewing multiple layers.
This machine also comes with an extra-wide extension table that will give quilter's plenty of room to maneuver their large projects. If you're a fan of free-motion quilting, this machine can do this too, with retractable feed dogs.
The Brother HC1850 is packed with features and can achieve a lot for a very reasonably-priced machine. With 130 built-in stitches, this model lets you not only quilt, but also sew and do basic monogramming.
This computerized sewing machine from Brother sits one level up from the Brother CS6000i with more stitches, more features, and a slightly higher price tag.
The Brother HC1850 has a large backlit LCD screen, which can be used to select the ideal stitch in consultation with the built-in reference flip chart. Stitch selection is made even easier thanks to its push-button stitch selector.
Its advanced feed system can handle a wide variety of fabrics. However, it should be noted that this machine doesn't work well with heavy fabrics, even when using a heavy duty needle.
Like many of the other machines on this list, it has a number of handy features that make it easy to use, such as an automatic needle threader, and an easy-thread drop-in bobbin. The bobbin is also resistant to jamming, which is great for preventing the machine from locking up.
You can choose between using the foot pedal to control sewing speeds, or using the start button. The automatic bobbin winder also makes it easy to wind a perfect, tight bobbin.
Another feature that sets this model apart is the ability to do monogramming: the Brother HC1850 comes with built-in alphanumeric stitches. These include all letters, numbers, punctuation and special symbols.
Overall, this is a great sewing and quilting machine that can also do basic monogramming.
Read our full Juki HZL-F600 Computerized Sewing and Quilting Machine Review.
This is not a beginner-friendly machine: novice sewers will find a large number of advanced features on this machine overwhelming. However, the Juki HZL-F600 is perfect for advanced sewers looking for a versatile computerized sewing and quilting machine.
In the past, Juki was known for making industrial sewing machines, and they now translate that expertise into creating professional-level machines for domestic sewers.
The Juki HZL-F600 has a large number of features that you won't find on standard machines.
One of these is the Juki HZL-F600's unique box feed technology that ensures an even fabric feed. This prevents the fabric from shifting or shrinking while sewing.
As with all computerized sewing machines, the Juki HZL-F600 has an LCD screen for easy stitch selection. Along with being larger than most at 33mm by 66mm, it also has extra functions like a direct stitch pattern selection that allows you to choose from frequently used stitch patterns.
This model also comes with 225 built-in stitches, including decorative stitches and three alphanumeric fonts. This means that, along with sewing and quilting, you can use this machine for basic embroidery and monogramming.
On the Juki HZL-F600, you'll find features that you see in many computerized sewing machines, such as:
automatic needle threader
easy bobbin winding
automatic thread cutter
extended sewing table
However, you'll also find features that are far less common, like a knee-lifting lever, randomized stitch width for quilting, and adjustable presser foot pressure. It is also suitable for heavy duty sewing, with a steel feed dog and super-strong presser foot construction.
Although not the cheapest sewing machine on the market, the Juki HZL-F600 is an excellent choice for intermediate to advanced sewers looking for professional-level results at home.
Buying Guide: Computerized sewing machines
Even if you have been sewing for years, if you have never used a computerized sewing machine before, you will find this to be a completely different experience. Therefore, it is important to do your research and understand the key aspects before investing in a computerized sewing machine.
Computerized vs mechanical sewing machines
Computerized sewing machines and mechanical sewing machines each have their dedicated fans. Some people will tell you that computerized machines are the only way to go, while others will swear by mechanical sewing machines.
The truth is, each type of machine has its place.
There are certain situations when a mechanical sewing machine is ideal, especially more basic and simple sewing tasks.
On the other hand, computerized sewing machines have a range of features that simply aren't provided by mechanical machines. As sewers want to advance their skills, or for certain sewing techniques, the features offered by computerized models are indispensable.
When it comes to price, mechanical machines tend to be cheaper. High-end mechanical sewing machines specialised for certain tasks (like heavy-duty sewing for example) are much cheaper than high-end computerized machines.
Pros of computerized sewing machines:
Time-saving features such as automatic needle threader, bobbin winder, tension adjustment, and thread cutter make sewing easier and more efficient.
Improved stitch quality thanks to stitch advisors that help you choose the perfect stitch type, length and width.
More versatile: able to handle a range of fabrics and sewing techniques.
You can often sew, quilt and embroider on the same machine: this could save you money in the long term compared to buying multiple machines.
Cons of computerized sewing machines:
More expensive (in general) than mechanical sewing machines.
Can be a learning curve to adapt to all the functions and features.
Overwhelming for those who don't like technology.
Are computerized sewing machines good for beginners?
There is some debate about whether novice sewers should use a computerized or mechanical sewing machine. Some argue that mechanical sewing machines are better for beginners, as they may be overwhelmed by the bells and whistles on a computerized machine.
However, most computerized sewing machines are a great choice for beginners. As long as the model is user-friendly, a computerized machine will take care of many of the aspects of sewing that novice sewers can find difficult to manage, such as threading, tension, and stitch selection.
This is great for beginners as it frees them up to focus on the pure sewing aspects, rather than worrying about all the other details.
On the other hand, if the computerized machine is overly complex or difficult to use, this could be confusing for beginners. In this way, complicated models like the Singer Quantum Stylist 9960 or the Juki HZL-F600 are not ideal for beginners.
User-friendly machines such as the Brother CS6000i and the Singer 7258, however, make great choices for novice sewers.
If you want to learn more about computerized, mechanical and other types of machines, we have a whole post dedicated to different types of sewing machines.
What to consider before buying a computerized sewing machine
Buying any kind of sewing machine is an investment you hope will last you for some time. With so much choice when it comes to computerized sewing machines in particular, there are a few factors to consider before buying one.
What will you be using it for?
The first thing to consider before buying a computerized sewing machine is what you intend to use it for. There is a wide range of models available, all with different features and functions. Therefore your intended use will greatly determine the best machine for you.
For example, think about whether you want to be able to use your machine for:
Garment sewing, including fiddly items such as sleeves and button holes
Sewing heavy duty fabrics like upholstery and denim
Quilting
Embroidery and/or monogramming
Transporting with you, such as to sewing class
Once you have these needs clear in your mind, you can make sure that the model you choose meets all your criteria. This will also help you to avoid paying extra for features you don't need.
Stitches
One of the key criteria of any computerized sewing machine is the number of built-in stitches it has. All machines come with a certain number of pre-programmed stitches, and the more stitches you have, the more sewing techniques you'll be able to use.
Keep in mind that more stitches is not necessarily valuable to you. A machine may have 600 built-in stitches, but this doesn't matter if you want to do basic sewing with a handful of stitches only.
It is important to check not only the total number of built-in stitches, but also the number of the stitches that are most relevant to you. If you're looking to sew a lot or garments, especially shirts, then the number of buttonholes the machine has is important.
On the other hand, if you like to do embroidery, and specifically to sew alpha-numeric stitches, then the number of embroidery stitches and different fonts will be more relevant.
Accessories
Sewing machine accessories are essentially the same for computerized and mechanical machines, but are an important consideration when buying any type of sewing machine.
Generally, a computerized sewing machine will come with number of different presser feet – check that it has the required presser feet for the sewing techniques and fabrics you want to work with.
Computerized sewing machines usually come with the following:
Bobbins
Needles
Spool and spool caps
Seam ripper
Lint brush
Sewing machine tools such as a screwdriver for the needle plate
Other accessories which are included with some models and are great to have are a darning plate, eyelet punch, quilt guide, and wide extension table. Specialty needles like a ballpoint needle or twin needle are sometimes also included, and are very useful to have.
Many machines come with a hard carry case, however some models may only have a soft case or no case at all. This is worth checking if you plan to transport your machine often.
This is not necessarily make or break, as extra accessories can always be purchased separately if needed. However, buying extra bits and pieces can add up, and make your overall purchase price more expensive.
Features
Almost all computerized sewing machines have an LCD screen for selecting stitch type, length, width, and sometimes other functions. The screen can vary however: it may or may not be touchscreen or backlit, and can be either black and white or color.
A larger, backlit screen helps to reduce eye strain, and touchscreens are usually easier to use.
Features found in many computerized sewing machines include:
automatic needle threader
adjustable sewing speed
automatic thread tension
needle stop position up/down
push button sewing control
Generally, you will want to make sure the machine has most if not all these features before purchasing it.
Some machines have more advanced features such as monogramming, programmable embroidery patterns, and USB port for downloading embroidery designs. Depending on your needs, these features could be the deciding factor to buy a particular machine.
Size and weight of the machine
It is also important to consider the size and weight of the machine you want.
Smaller, lightweight machines are more portable, meaning you can easily take them with you to sewing class, sewing bees, or when traveling. If you are likely to do any of these things, not having to lug a heavy piece of equipment with you all the time can make a big difference.
On the other hand, larger and heavier machines generally do not move as much when you're sewing. This means you are less likely to have skipped stitches or uneven sewing.
Therefore, if you are planning to always sew in the same place it could be advantageous to choose a heavier machine.
Cost
Of course, when buying any product, cost is always a consideration. Computerized sewing machines can range widely in price.
The most basic computerized sewing machines start from around $150. Prices for the most advanced models can range into the thousands of dollars.
As a general rule, the more you pay, the more functions and features the machine will have. However, it is important to consider whether these extra features are actually of value to you.
Beginners will most likely find that quality, high-performing machines like the Brother CS6000i or the Singer 7258 meet their needs.
On the other hand, more advanced sewers or those with specific requirements may find more expensive models like the Singer Quantum Stylist 9960 or the Juki HZL-F600 a great investment.
Wrapping it up
For a versatile sewing, quilting, and embroidery machine at an affordable price, you can't get better than the Singer Quantum Stylist 9960. This machine has a large number of features, not just the basic ones you expect to see in a computerized sewing machine, but extra functions including five alphanumeric fonts.
For beginners, both the Brother CS6000i and the Singer 7258 are excellent choices. These models are easy to use, with a good number of features for novice sewers and come with very affordable price tags.
More advanced sewers will love the extra features include the unique box feed system of the Juki HZL-F600.