The Singer "Tradition" 2277, as the name suggests, is a classic, beginner-friendly mechanical sewing machine. In this review, we'll take a close look at this model and discuss who should consider buying this machine, and who should look for other options.
Overview
Singer has long been one of the best-known names in the sewing world, and is still renowned for their reliable and user-friendly sewing machines. Founded in 1851, Singer was established as a sewing machine manufacturer, and continues to focus exclusively on these types of products.
Throughout the brand's history, they have been at the cutting edge of developments in the industry, including introducing the world's first zig-zag and electronic machines. Today, they produce a large range of sewing machines, including a number of affordable models ideal for beginner sewists.
What we like:
23 built-in stitches: The 2277 is equipped with a decent number of stitches for a mechanical sewing machine, and a total of 97 stitch options.
Ease-of-use: This machine has a number of features that make sewing easy, including an automatic bobbin winder and a needle threader.
Durable: The 2277 is built with a solid metal frame, making it sturdy and durable.
Affordable: This model is available for a very reasonable cost.
What we don't like:
Low on accessories: There is only a limited number of presser feet included: only three come with the machine.
The Singer Tradition 2277 is a reliable and easy-to-use machine. It is a good choice for beginners, though more advanced sewists may find it lacks some of the features they're looking for.
This mechanical sewing machine comes with 23-built in stitches, including a handy one-step buttonhole. It is a versatile sewing machine that can handle a range of fabrics and sewing techniques, from quilting to garment sewing.
Singer 2277: key features & benefits
For an affordable, mechanical sewing machine, the Singer 2277 has a decent number of features, making it suitable for a range of different projects.
Ease of use
The Singer 2277 has a front-loading bobbin that is easy to thread. This will help to avoid common sewing machine problems caused by incorrectly threading the bobbin, such as bird nesting.
Bobbin winding is easy too, thanks to the machine's automatic bobbin winder. Once you place the bobbin in the correct position, the machine will automatically wind a nice, tight bobbin.
This is particularly useful for beginners, as it helps to make sure that your bobbin is neither too loose nor too tight, other issues that can cause untidy work.
Stitches are selected with a simple dial. Each stitch is displayed on the dial, so all you need to do is turn the dial to choose your stitch.
It also has an automatic needle-threader that quickly and easily threads the machine. Anyone who has tried to thread a sewing machine knows how frustrating this can be, so the automatic needle threader is a huge time-saver.
Simply slide off the removable storage compartment to reveal the Singer 2277's free arm. This makes it easy to sew hems, sleeves, and other fiddly tasks.
It also features a reverse stitch lever that allows you to sew a stitch or two in the opposite direction with a simple push of the lever. This is particularly useful for reinforcing the beginning and end of seams.
The machine will automatically adjust presser foot pressure depending on the fabric you are using. This makes finding the right tension a lot easier for beginners, and helps you to avoid tangled threads and other issues caused by incorrect tension.
On the other hand, more experienced sewists may find it frustrating that they cannot adjust the tension themselves.
Versatility
The Singer 2277 comes with 23 built-in stitches and a total of 97 stitch applications, including basic, stretch, and decorative stitches. This allows you to sew on a variety of different fabrics using a range of sewing techniques.
It also comes equipped with a one-step buttonhole that allows you to sew buttonholes onto garments effortlessly. All you need to do is attach the buttonhole foot, set the size of the buttonhole, and the sewing machine will do the rest.
The stitch length is adjustable up to 4mm and the stitch width is adjustable up to 5mm. This increases the types of projects as well as the range of fabrics you can work with, as longer stitch lengths are better for heavier fabrics, while shorter stitches are generally preferable for lighter fabrics.
This machine is well-suited to general sewing projects as well as garment making, thanks to its easy one-step buttonhole and included buttonhole and button sewing presser feet. Additionally, the free arm makes it easy to sew hems, sleeves, and pant legs.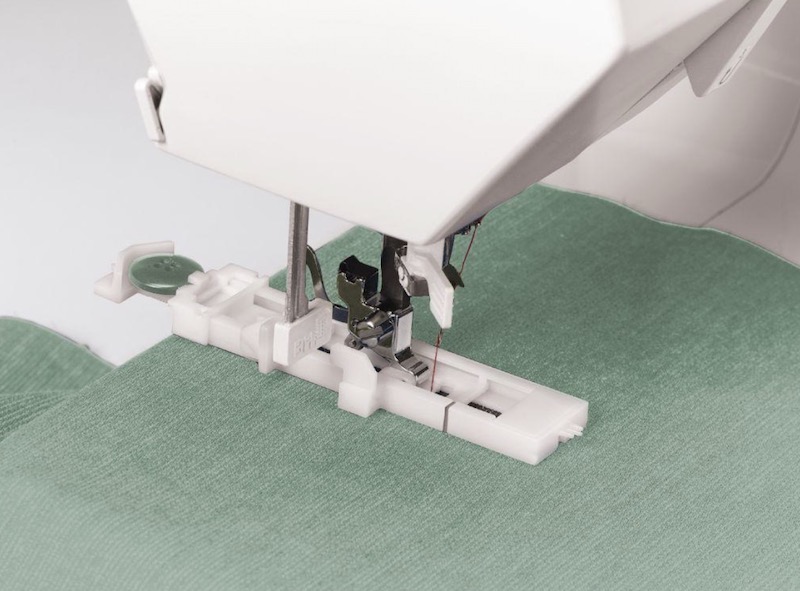 The darning plate stops the feed teeth from coming into contact with the fabric, so can be used for free-motion quilting as well as monogramming. This feature is also useful for sewing on buttons.
You can use it to sew a range of fabrics from silk to denim, including stretch fabrics, though certain fabrics require a special needle, such as a denim needle and a ballpoint needle for knit fabrics. The 2277 has an extra-high presser foot lifter that can accommodate thick and bulky fabrics.
However, this is not a heavy duty machine and so is not designed to work with very robust fabrics on a regular basis. If you're looking for a true heavy duty machine to handle robust projects, check out this round-up.
The Singer 2277 does have a twin-needle function that reduces stitch width when using this type of needle. This allows the twin needles to clear the presser foot when using non-straight stitches, which creates a reinforced hem when sewing on stretch fabrics.
Compact and durable
Although it is not a heavy-duty machine, the Singer 2277 does have a solid metal frame that makes it very sturdy. This means the machine will not skip while sewing, and helps to make sure it is durable over the long term.
The outside of the machine is built with a high-quality plastic casing, helping to make the machine lightweight.
The 2277 is a compact 15 by 6.2 inches and 12 inches high, weighing just over 13 pounds. This makes it lightweight and easy to transport, whether you are taking it with you to sewing class or sewing bees, or simply moving between your work area and a storage cupboard.
Overall, this is a very well-built and reliable machine, especially for the price-tag. The Singer 2277 is available for a very reasonable price and most beginners will find it well within their budget.
Accessories
The Singer 2277 comes with a general-purpose foot, as well as a buttonhole foot, a button sewing foot, and an edge/quilting guide. The latter is very helpful for sewing straight lines while quilting, allowing you to accurately measure the distance between rows as you sew.
All presser feet are "snap-on" feet, so are easy to remove and attach when switching between different sewing tasks. The presser foot can be easily released by pulling on a lever.
To attach a new presser foot, all you need to do is place the presser foot below the holder, and lower the presser foot lever until it snaps on.
This also means that, although there are a limited number of presser feet included, the machine is compatible with other snap-on, low-shank presser feet. So you may very well be able to use old presser feet you have from previous machines, or you can easily buy extra feet such as a rolled-hem foot or darning foot online.
The machine comes with all of the essential accessories you'll need to get started with sewing:
Screwdriver
Seam ripper
Lint brush
Pack of needles
Class 15 transparent bobbins
Thread spool cap
Oil bottle
Darning plate
Alternative sewing machines consider
Singer's range includes a number of other beginner-friendly sewing machines, so how does the 2277 stack up?
The Singer Start 1304 is another entry-level Singer sewing machine designed for beginners. Both are mechanical sewing machines that are well-built, reliable, and easy to use.
The Singer 2277 is superior to the 1304 when it comes to the number of stitches. The 1304 has only six built-in stitches and 57 stitch applications, compared to the 2277's 23 built-in stitches and 97 stitch applications.
Each built-in stitch on the Singer 1304 has a pre-set length and width to make sewing easier for absolute beginners. However, as your skills develop you are likely to find these limitations rather restrictive!
The 1304 has an in-built four-step buttonhole. Although this is fairly easy to execute, it is not as quick and easy as the 2277's one-step buttonhole.
Both machines come with the basic accessories you'll need to get started with sewing, including a pack of needles and a darning plate. They both have a general-purpose presser foot and a buttonhole foot, while the 2277 has a button sewing foot, and the 1304 comes with a zipper foot.
The Singer 1304 is also a little more expensive, making the 2277 the more affordable option. Although both are versatile machines that are great for beginners, the Singer 2277 is ultimately the more versatile and user-friendly option.
The 1304 is designed for novice sewers, but 2277's larger range of features will grow with you as your skills develop.
The Singer Heavy Duty 4423 is another affordable and reliable mechanical sewing machine from Singer. It is the most basic in Singer's line of heavy-duty sewing machines, and is an extremely sturdy and powerful machine.
The key difference between the 4423 and the 2277 is that the former is specifically designed to handle robust fabrics like leather, denim, and canvas.
While the Singer 2277 can sew on heavy-duty fabrics, it is not well equipped to work with large volumes of these kinds of fabrics. On the other hand, the 4423 has an all-metal chassis, full-metal frame and powerful motor, making it perfect for very sturdy materials.
The Singer Heavy Duty 4423 has a strong 1.0 amp motor and can sew up to 1,100 stitches per minute, compared to the 2277's 750 stitches per minute. This makes the 4423 perfect for sewing large numbers of heavy-duty projects in a short amount of time.
Both machines have 23 built-in stitches, while the 2277 has a total of 97 stitch options. The Singer 2277 is a more versatile machine, able to sew on a large range of fabrics including lightweight fabrics like gauze and silk.
Both machines are equipped with a one-step buttonhole and free arm for sewing small, tubular objects. For more on the Singer Heavy Duty 4423, check out our review.
Final Thoughts
Overall, the Singer 2277 is a reliable, versatile, and beginner-friendly sewing machine. It is a great option for novice sewers, as well as anyone looking for a mechanical sewing machine with exceptional features such as an automatic needle threader and one-stop buttonhole.
On the other hand, more advanced sewists may be better with a computerized sewing machine with more features, allowing them to carry out more complex tasks and projects.
If you've found this review of the Singer 2277 helpful, please do share it on social media and check out our other posts for more product reviews, round-ups, and sewing advice!