Today's modern sewing machines can do a lot, but nothing compares to a serger when it comes to hemming, edging, and finishing. Let's take a look at one of the most popular and highly-rated sergers on today's market, the Brother 1034D.
Brother 1034D: an overview
Brother is one of the best-known names in the sewing machine world, renowned for their quality and user-friendly but affordable models. They not only make a large range of sewing machines, but also several sergers.
The Brother 1034D is an affordable, user-friendly serger that is packed with features. It punches far above its weight, delivering several features not normally found in this price bracket.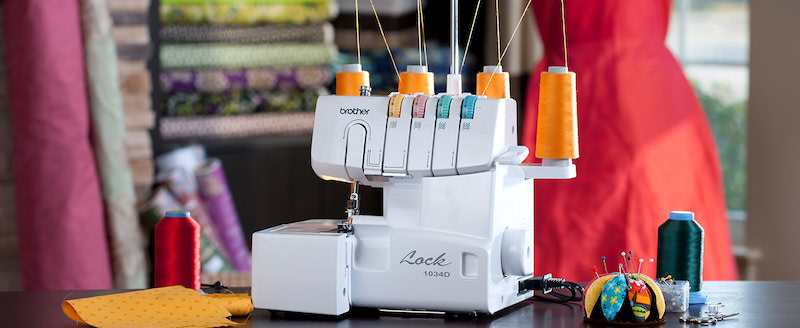 A serger like this allows you to add a professional touch to your projects, to prevent edges from fraying with a much neater finish than you can achieve on a regular sewing machine. Furthermore, you can do this much quicker and more efficiently on a serger.
Want to learn more about the uses and benefits of sergers? Check out our article on serger projects.
What we like:
Versatile – this machine can perform 22 different stitch options, including three-thread and four-thread overlocking, and work with many different fabrics.
Smooth feeding – the Brother 1034D's differential feed system will smoothly feed a variety of different fabrics.
Durable – with a full-metal frame, the 1034D is durable and sturdy.
What we don't like:
Some issues with design – some control dials are located on the left side of the machine, so may be difficult to use for right-handed sewists.
Cannot sew all stitches on heavy fabrics – the 1034D isn't able to sew a rolled hem on robust fabrics.
The Brother 1034D is an excellent choice for sewists of all levels looking to add a serger to their sewing room.
It is intuitive and user-friendly, so is suitable for those using a serger for the first time. On the other hand, it has enough features to satisfy even the most advanced sewist.
Features & benefits
The Brother 1034D has an impressive number of features, especially for a serger with an affordable price tag.
The key features of the Brother 1034D are:
Three-thread and four-thread overlocking – the Brother 1034D can do both a three-thread and four-thread overlock stitch.
22 stitch options – this machine can perform a range of stitches, not only overlocking, but also other stitches, including rolled hem, narrow hem, and ribbon lock stitches.
Super-fast sewing speed – this model can sew up to an impressive 1300 stitches per minute.
Easy to thread – the 1034D has a color-coded threading system for ease of use.
Differential fabric feed – the differential feed ratio can be adjusted from 0.07 to 2.0 to adapt to different fabrics.
Retractable blade – you can move the cutting knife out of the way when you're not using it.
Free arm – there is a removable free arm for sewing small, circular items.
Compact – compared to other sergers, the 1034D is small and lightweight.
Full–metal frame – the Brother 1034D is built around a sturdy, solid metal frame.
Next, we'll take a look at these features in more detail.
Ease of use
A serger is a complicated piece of machinery and so, by its nature it will be more difficult to use than a modern sewing machine. The Brother 1034D makes the transition from sewing machine to serger as easy as possible with its user-friendly design.
Easy threading
One of the biggest challenges when using a serger is threading it, as every serger needs to be threaded with not just one, but three or four spool threads. The 1034D makes this easy with its color-coded threading system that even complete beginners will find easy to use.
The machine also features a lower looper threading system that keeps your threads in position while you sew, letting you focus on serging.
Unlike many other sergers that use complex needles, the Brother 1034D uses standard home sewing needles. This makes it easy to use and flattens the learning curve for beginners and those new to serging.
Furthermore, it comes with a clear instructional video that breaks down how to use the machine making it a great serger for beginners. The printed instructions are available in both English and Spanish, making it accessible and easy to understand for speakers of both languages.
Design
The 1034D comes with a back-lit LED screen, allowing you to work in low light or in the evening.
However, the controls are rather unusually located on the left hand side of the machine. This is handy for left-handed users but will take some getting used to as it is the reverse of most machines.
Retractable knife blade
One of the biggest learning curves when using a serger for the first time is managing the knife blade. Too many beginner sewists have ruined a pattern piece by slicing right through it, and there's no way to fix this once it's been cut!
The Brother 1034D has a retractable blade that you can move out of the way when you're not using it, which helps keep it out of your way while working and avoid cutting mishaps.
The Brother 1034D is affordable and offers great value for money. It is at the cheaper end of the market for sergers, and has a lot more features than most machines in its price bracket.
Versatility
This serger has an impressive 22 stitch options, so you can use it on a wide range of fabrics with a variety of techniques. These include overlocking, rolled hem, narrow hem, and ribbon lock stitches.

You can further expand this range to pintuck, blind hem and flatlock stitches if you purchase optional additional presser feet.
However, you will only be able to execute rolled hems with some fabrics: this machine does not do well with sewing rolled hems on heavier fabrics.
Three or four-thread overlocking
With the Brother 1034D, you can choose to use either three or four threads, allowing you to create a professional finish on a range of fabrics. A three-thread overlock is a strong and flexible stitch that is ideal for stretch fabrics, while a four-thread overlock is better for woven fabrics.

You can also adjust the stitch width of the left needle within a range of five to seven millimeters, allowing you to adapt the width according to the needs of your project. You can also adjust the stitch length, meaning you can use a longer stitch for heavier fabrics and shorter stitches for a better finish on lightweight fabrics.
You'll also be able to work with small, fiddly items like collars and sleeves thanks to the Brother 1034D's removable free arm.
Differential fabric feed
Another feature that helps with the Brother 1034D's versatility is its differential fabric feed that delivers superior stitch quality regardless of the fabric you're working with. With a differential feed ratio of 0.07 to 2.0 it can adapt to a range of fabrics including stretch and knits.
This feature is a big plus and is not found in most low-priced sergers.
There is also thread tension control that allows you to control the thread tension for each needle. This makes it easier to ensure that your stitches are not too loose or too tight, and so avoid looping or puckering.
Sewing Speed
The serger can sew an impressive 1300 stitches a minute, allowing you to work quickly and efficiently. This stitch speed is faster than most sergers, especially those in the 1034D's affordable price range.
In some sergers, you'll find that stitch quality is compromised when you try to sew quickly. However, this is not the case with the Brother 1034D, thanks largely to its differential fabric feed.
Durability
The Brother 1034D has a full-metal frame, making it sturdy and durable. It can handle heavy-duty projects and will not jump or move while sewing, so you won't need to worry about skipped or uneven stitches.
Thanks to the metal frame and excellent build quality, you can expect the 1034D to last you a long time with few, if any issues. It is a well-built machine that is backed up by Brother's 25-year limited warranty.
The brand also offers free phone support to help you resolve any problems or issues.
Although durable, the Brother 1034D is also compact and lightweight. It measures 11 by 11.7 by 13.2 inches, which is quite small for a serger. It weighs in at just over 18 pounds, again pretty light for a serger, and especially one with a hardy full-metal frame.
This makes it relatively easy to transport and store, which is handy if you want to be able to take it with you to class or sewing circles. It is also a good feature if you have a small sewing room and want to stow your serger between uses.
Alternatives
The Brother 1043D has a sister machine, the equally popular and well-regarded 1043DX. Although the two machines are similar in a number of ways, there are some key differences.
The Brother 1034DX was released a few years after the 1034D and has a few design alterations as well as a couple of different features. The machines look a little different, with the 1034DX having a more rounded design, while the 1034D is a bit more angular.
One of the biggest differences is that the differential feed and stitch length controls are on the right hand side of the 1034DX, whereas they are located on the left side on the 1034D. Therefore, right-handed users will likely find the 1034DX a bit easier to use.
On the other hand, the 1034D has more options for stitch lengths, making this model just a little more versatile, specifically for narrow stitches and roll stitches.
Frequently Asked Questions
Before we wrap up our review of the Brother 1034D, we'll answer some of the most common questions and concerns relating to this model.
What kind of projects can I make on the Brother 1034D?
This serger is designed for overcasting and finishing. You can use it to neatly finish seams and hem garments with a rolled or blind hem. You'll also be able to do cover stitches, decorative features like a flatlock stitch, and add details to projects such as gathering fabric, applying elastic waistbands, and adding piping.
Is the Brother 1034D suitable for beginners?
The Brother 1034D is a user-friendly machine that is easy to thread and intuitive to use. It is a great choice for sewists looking for their first serger, while having other features to satisfy experienced sewists.
However, all sergers are inherently complex and although the 1034D is easier to use than most, it does require some degree of knowledge. Generally, it is a good idea for novice sewists to learn on a beginner-friendly sewing machine and work their way up to a serger.
Does the Brother 1034D need a lot of maintenance?
The 1034D isn't difficult to maintain, though it does need to be oiled regularly. The machine's differential feed system will not run smoothly if it is not well-oiled.
You will need to oil the Brother 1034D at least once a month, or more often for heavier use.
Can I buy a Brother 1034D instead of a regular sewing machine?
A serger is a very different animal to a regular sewing machine, and no serger will be able to do most of the things you can do on a sewing machine. For this reason, most sewists have both a serger and a sewing machine, and set them up side by side in their sewing room.
Having said that, depending on the type of projects you want to make, a serger alone may be sufficient to meet your needs. If all you want to do is seam locking, you'll be able to get by with just the Brother 1034D.
Wrapping up
If you love to sew, and in particular if you make a lot of garments, the right serger is worth the investment. Although it won't replace your regular sewing machine, using both together will take your projects to the next level with professional finishing.
With a range of easy-to-use features for an affordable price, the Brother 1034D is a great choice for sewists of all levels, from beginners to advanced. This reliable machine is highly versatile, being able to complete a range of stitches on a variety of different fabrics.
If you know other sewists who'd be interested in knowing more about this great all-rounder serger, go ahead and share this review with them!