The Singer Heavy Duty 4452 is a sturdy, reliable machine with the features to handle lightweight to very robust fabrics, and more built-in stitches than comparable models.
In this review, we'll look at the pros and cons of this machine, and how it compares to others in the Singer heavy duty range.
Overview of the Singer Heavy Duty 4452 Sewing Machine
The Singer Heavy Duty 4452 is one of the higher-end models in Singer's heavy duty range. Singer offers a range of models for various functions, including their heavy duty line.
Singer's heavy duty machines are known for being reliable and strong, while having a number of features that save time and energy for sewers. The Singer Heavy Duty 4452 is no exception, with a range of features for better ease-of-use.
The Singer Heavy Duty 4452 is very similar to the Singer 4423, another model in the brand's heavy duty range. The major difference between the two machines is that the 4452 has nine extra built-in stitches. For this, you'll pay a little more for the Singer Heavy Duty 4452.
What we like:
Robust and reliable machine that handles heavy-duty fabrics easily
32 built-in stitches including stretch and decorative stitches
Very powerful motor and fast stitching speed
Good range of ease-of-use features such as top-loading bobbin, automatic needle threader, and thread cutter
Additional heavy-duty accessories included such as presser feet and needles
What we don't like:
The buttonhole is cumbersome and difficult to use
The list price is a little expensive for the number of features (though this model is easy to find at discounted rates)
Thread tension is a little tricky to adjust
Features and benefits of the Singer 4452
The Singer 4452 is a heavy-duty machine that is not overloaded with features, but has just enough functions to make it a versatile machine suitable for all levels and a range of fabrics.
32 built-in stitches
The Singer Heavy Duty 4452 comes with 32 built-in stitches, a relatively high number of stitches for a heavy-duty machine. These include:
6 basic stitches
7 stretch stitches
18 decorative stitches
The basic stitches will have you covered when sewing garments, upholstery, or other heavy-duty projects. You'll also be able to sew with a range of fabrics, thanks to the mix of straight and zigzag stitches, the latter being ideal for stretch fabrics.
The 18 decorative stitches will also be more than sufficient for adding decorative touches to your garments or home décor projects.
Among this machine's built-in stitches is an automatic buttonhole. It should be noted that as a mechanical machine, the buttonhole takes more set-up compared to a buttonhole on a computerized sewing machine.
The Singer Heavy Duty 4452's buttonhole involves pulling a lever to stop, as well as getting the stitch timing right at the same time. This can be challenging to time correctly, especially for novice sewers.
Fast and powerful
The Singer Heavy Duty 4452 comes with a motor that is 60% more powerful than a standard sewing machine. This powerful motor lets you handle heavy-duty fabrics with ease, including leather, canvas, vinyl, denim, and upholstery.
Additionally, you'll be able to finish these heavy-duty tasks quickly, thanks to the fast sewing speed of 1,100 stitches per minute. At those speeds, even professional sewers will be happy with how efficiently they can complete their projects.
Despite this, the Singer Heavy Duty 4452 doesn't vibrate excessively and so won't shake the table while you're sewing. Nor is it particularly noisy, which is impressive for a machine this strong and fast.
Easy to use
The Singer Heavy Duty 4452 has a number of features that help to make it easy to use. At the same time, it is not overloaded with a large number of confusing functions: rather it comes with only the most important features that you'll need.
Beginners will find this machine approachable, while more advanced sewers will appreciate the time and effort-saving features.
This heavy-duty machine is also easy to load, with a top-loading bobbin that is very simple to thread. It also has very handy instructions for this printed on the machine in a contrasting color.
The bobbin also has a transparent cover, which lets you easily see whether the bobbin is running out, without having to unload and check the bobbin. This means you quickly check your bobbin thread and then keep sewing, saving a great deal of time.
The Singer Heavy Duty 4452 also has an automatic needle threader. This means you just need to run the spool threader through a few positions, pull the lever, and the machine will thread the needle for you. This is a great time-saver, as well as saving on eye strain in trying to get the thread through the needle.
This heavy-duty machine also has a conveniently-located thread cutter, allowing you to cut your thread tails and continue sewing other seams easily.
The machine also has a removable free arm, which easily slides off. This gives you a smaller sewing area to let you sew small circular items like sleeves or pant legs. This can also be handy when sewing difficult seams in upholstery or home décor projects.
Finally, the sewing area is well lit with LED lighting, meaning you can easily see what you're sewing!
Adjustable stitch length and width
The Singer Heavy Duty 4452 comes with adjustable stitch length and width, with stitch length up to 4mm and width up to 6mm. These generous ranges make this machine versatile, able to handle a range of fabrics and sewing techniques.
The stitch length and width selection dials are well-positioned and clearly marked, making it easy to adjust the settings so they are ideal for your project.
Heavy-duty features and accessories
The Singer Heavy Duty 4452 comes with a number of features and accessories that makes it suitable for handling a range of heavy-duty tasks. It has a stainless steel bedplate that allows it to easily handle robust fabrics without damaging or wearing the machine.
The machine's reverse stitch lever is another feature that is very useful for heavy-duty sewing. This lever means you can easily reverse the direction of sewing, meaning that you can sew in the opposite direction when starting or finishing a seam.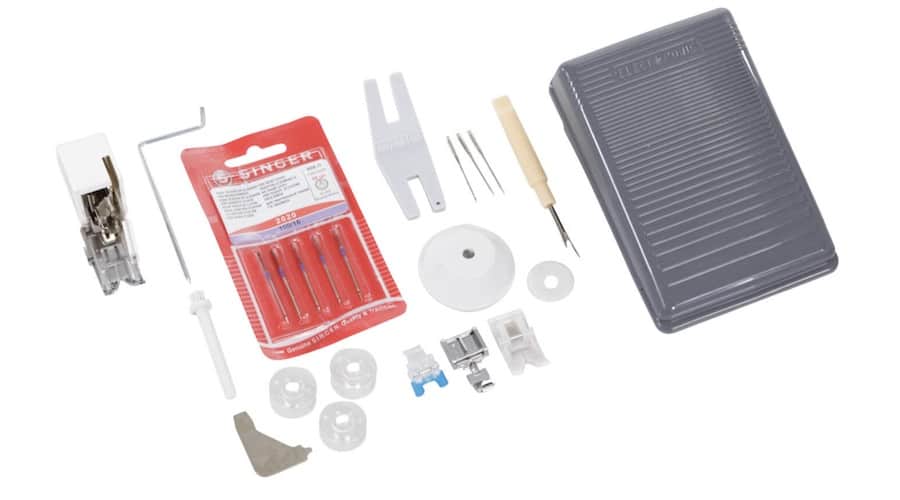 This reinforces the seam and makes it stronger, and is very useful for sturdy fabrics and projects.
This machine also comes with a range of presser feet that will let you handle any heavy-duty fabric.
These include:
even feed/walking foot for easily going over bulky layers
clearance plate to balance the height of the foot when going over heavy seams
non-stick foot for fabrics like vinyl
The Singer Heavy Duty 4452 also comes with a five pack of size 16 needles, perfect for sewing through robust fabrics with ease.
Wrapping it up
The Singer Heavy Duty 4452 is a reliable, versatile machine that is ideal for working with robust fabrics like leather, denim, and upholstery.
It has a range of features that make it easy to use, without being overly complex. It also has more built-in stitches than most heavy-duty machines, meaning you can use it on a variety of projects such as home décor.
However, if you do not particularly need the extra built-in stitches, you may find the Singer Heavy Duty 4423 to meet all your needs at a lower price tag