Are you looking to dive into jewelry crafting or explore a new material for making stunning necklaces, bracelets, or earrings? We've rounded up our top picks for the best jewelry making classes for all levels across a range of mediums and techniques.
Are jewelry making classes worth it?
You can find plenty of tutorials online for making all kinds of jewelry, so you may wonder why you need to sign up for an ongoing course or class. Tutorials are a great place to start as an introduction – check out our guides to the best necklace, druzy chain bracelet, and cross stitch jewelry tutorials, for example.
They can also be a great way to add to your existing skills or get fresh ideas if you're already familiar with jewelry making. However, you can't beat a class if you really want to develop skills from the ground up and take them to a beyond-beginner level.
The benefits of an online class include that you can develop your skills over time in a curated way.
Online courses also offer consistency and force you to commit to your craft, which will help you stick with it and overcome the frustrations that many of us initially suffer. They also typically allow you to ask the instructor questions and troubleshoot problems.
Although most courses involve a fee, you can often find introductory offers and discounts that make them affordable and excellent value.
Our 12 favorite jewelry making classes for all levels
These online jewelry courses offer excellent instruction on various facets of jewelry making, from design to practical construction using techniques such as polymer clay, metal soldering, and even paper origami. Most are beginner-friendly, and many will offer value to crafters of all levels looking to advance their skillset!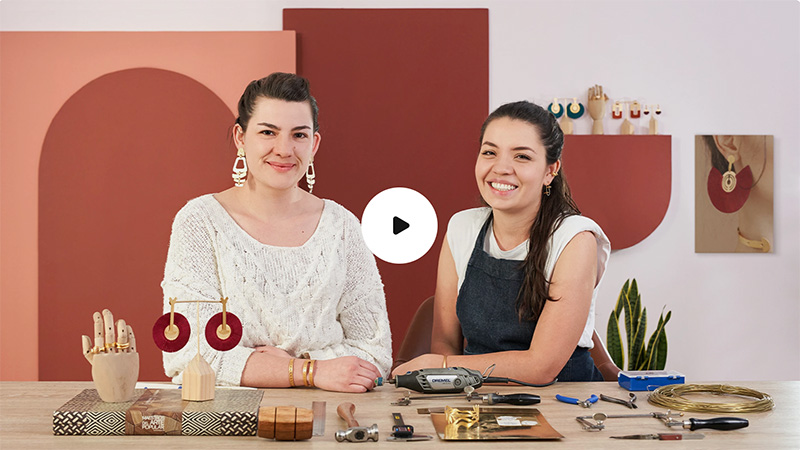 Platform: Domestika
Suitable for: Beginner
Teacher: Laura and Ana Maria Maya Silva
Duration: 2 hours, 18 minutes
Run by sisters and founders of jewelry brand VATTEA Laura and Ana Maria Maya Silva, this course offers a fantastic introduction to crafting metal jewelry. It covers a range of methods, from hand metal working to chemical engraving.
Laura and Ana love to explore new jewelry methods and materials, and they pass this on to you as part of this innovative course, with an emphasis on elaborate, detailed pieces. You won't need any complicated or dangerous equipment to do this course, as none of their techniques use a torch or soldering iron.
Instead, you'll learn the intricacies of hand cutting, polishing, and chemical engraving. The course starts from the ground up, covering the materials and tools needed to make stunning jewelry. Across 13 lessons, this course walks you through how to make your own mini collection, including a necklace, earrings, and a bracelet.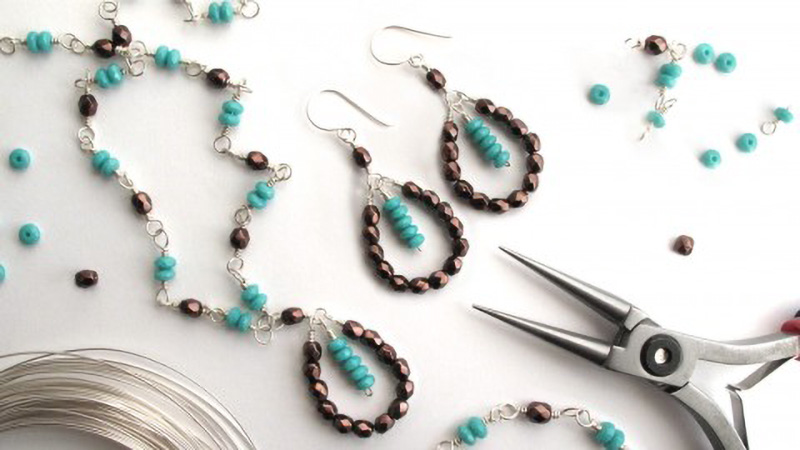 Platform: Udemy
Suitable for: Beginners
Teacher: Jessica Barst
Duration: 2 hours, 34 minutes
Wirewrapping is a great place to start with jewelry making, as this technique is easy to learn and lets you create beautiful pieces with minimal supplies and equipment.
This introductory course covers the basic techniques of making simple and wrapped loops, before walking you through how to make a range of wire-wrapped pieces such as headpins, dangles, earrings, bracelets, and necklaces. It will equip you with the skills you need to develop your style and make your own unique designs.
With overwhelmingly positive reviews, this course has already had 9000 students on Udemy. Before starting the course, you will need to buy the necessary tools and supplies, but the free preview lesson outlines everything you need.
Platform: The Crafter's Box
Suitable for: Beginners to intermediate
Teacher: Emily Eggebrecht
Duration: N/A
Teacher Emily Eggebrecht founded Consider the Wldflwrs, a jewelry manufacturer based in Nashville specializing in fine jewelry design, creation, and restoration. The course, which offers an introduction to gold jewelry making by walking you through how to make a 14k gold necklace, can be accessed via The Crafter's Box.
At the end of the course, you'll have a beautiful necklace featuring a row of elegant gold discs dripping from a 14k chain. You'll also be familiar with various essential silversmithing techniques, including construction, wire wrapping, and jewelry repair.
As part of the course, Emily also covers how to use jewelry crafting tools and how to make the best use of different materials.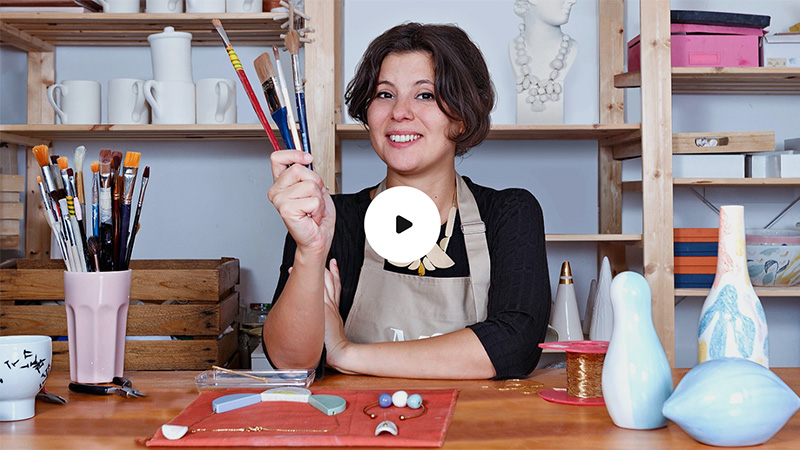 Platform: Domestika
Suitable for: Beginners
Teacher: Julieta Alvarez
Duration: 1 hour, 23 minutes
Teacher Julieta Alvarez is a ceramic artist and designer specializing in jewelry and selling her pieces worldwide. Her innovative pieces offer a completely new take on both arts – ceramics and jewelry making – and you can benefit from her extensive experience and creativity through this online course.
The course is geared towards beginners and will introduce you to the world of ceramics, starting by covering the basic techniques you'll need to know to design, model, fire, and glaze this material. She also goes through her design processes and gives you advice on how to find inspiration and conceptualize it into a fully-formed design.
From there, Julieta will show you how to apply these methods to create jewelry. Across the 14 lessons, you'll learn how to make three stunning pieces from the ground up and gain valuable insight into how to package pieces and safely ship them, if you choose to do so.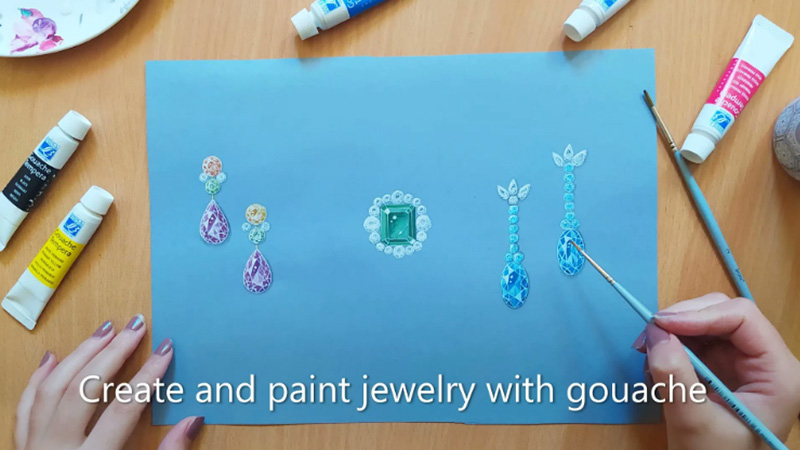 Platform: Skillshare
Suitable for: All levels
Teacher: Wassima Karani
Duration: 1 hour
This short course focuses on one of the most crucial elements of crafting jewelry: design. Specifically, Moroccan-based jewelry designer Wassima Karani will walk you through how to create your own gemstone composition using gouache.
Wassima was first exposed to jewelry creation in Casablanca, where she was also introduced to gouache, and she passes on her passion for and experience with this versatile and affordable medium through the course.
In this way, it covers the broader theories of jewelry design and composition while teaching you the specifics of how to paint gouache gemstones, including various application techniques.
This one is sure to appeal to both budding jewelry designers and gemstone lovers who want to know how to create their own gouache stones.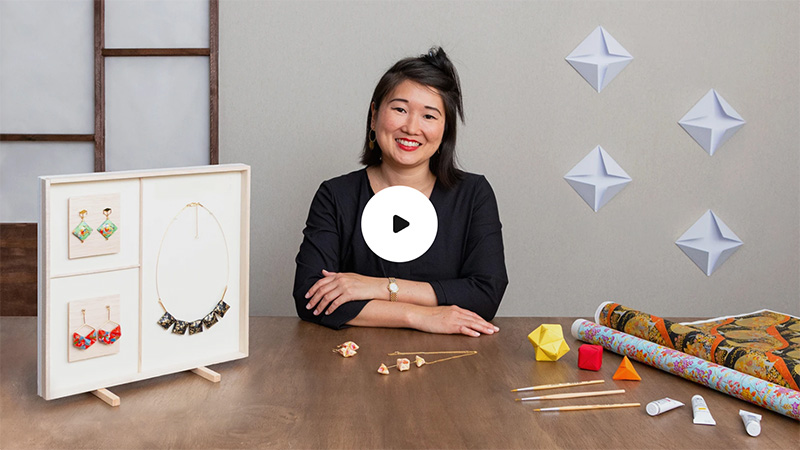 Platform: Domestika
Suitable for: Beginners
Teacher: Mayumi Fukuda
Duration: 2 hours, 21 minutes
When you think of materials for making jewelry, metals, gemstones, or perhaps beads are most likely to spring to mind. You may be surprised to know that you can also make stunning pieces based on paper and the ancient art of origami.
Origami jewelry artist Mayumi Fukuda starts with the basics in this beginner-level course, covering paper folding, as well as finding inspiration, developing your ideas, and formalizing them through pattern design. You'll then learn how to create your pieces using modular origami techniques and assembling all the parts and fixings.
In case you're worried your creations won't be built to last, Mayumi also covers how to protect your pieces and make them water-resistant by applying a paper treatment. Along with walking you through how to make a set with a necklace and matching earrings, you'll also learn how to make a beautiful origami gift box to put them in.
Platform: Udemy
Suitable for: Beginners
Teacher: Barbora Koch
Duration: 1 hour, 52 minutes
Polymer clay is another versatile and affordable medium for DIY jewelry makers of all levels. That's one of the things that makes this course ideal for beginners or anyone looking to start making their own polymer clay jewelry.
Teacher Barbora Koch goes through each step, from design and color mixing to baking and finishing many different pieces using various techniques. You can follow along at home to make a flower pendant and two types of stud earrings: marble slab earrings and applique earrings.
The course is specifically designed to be budget-friendly: you will only have to buy a few materials and tools, with some of the regular equipment substituted with items you should already have around the house.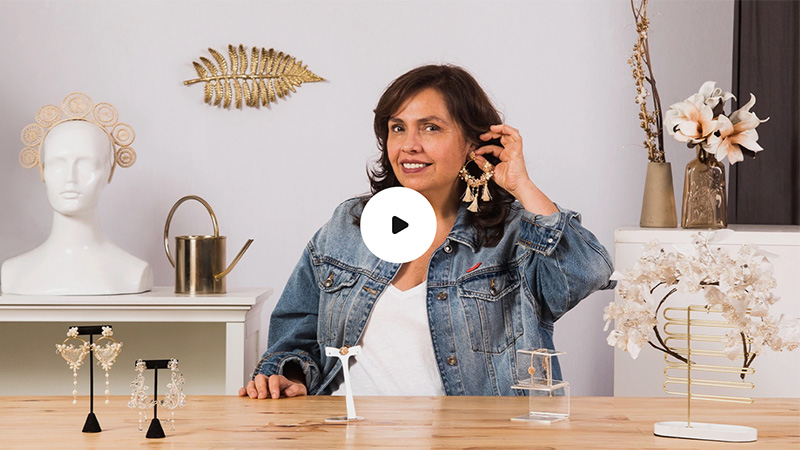 Platform: Domestika
Suitable for: Beginners
Teacher: Roxana Pardo
Duration: 1 hour, 54 minutes
Wire jewelry techniques allow you to create stunning, elaborate pieces such as earrings, necklaces, and bracelets in metal without any soldering, sheet metal cutting, or piercing. This makes this craft relatively simple, with no special equipment required!
In this beginners-level course, designer Roxana Pardo covers the essentials of making wire jewelry, from finding inspiration and sketching designs to crafting your pieces using a range of techniques. You'll learn how to decorate and embellish your designs through decorative wrapping, spirals, twisting, and setting, as well as how to incorporate beads and stones.
Across the 17 lessons, you'll not only cover the theory and concepts but also put them into practice by making a pair of pendant earrings.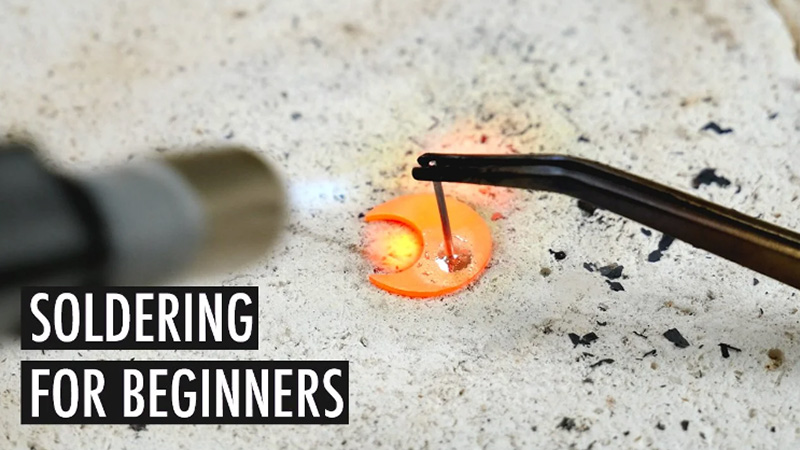 Platform: Skillshare
Suitable for: Beginners
Teacher: Anlis Luik
Duration: 50 minutes
Although you can make many types of jewelry with just a few basic tools or even your hands, if you want to be able to work with metal to create more complex pieces, you'll need to know how to solder. This course will teach you how to do exactly that, covering the basics of how to use a soldering torch, key tools and materials, optimal solder melting, and safety.
Instructor Sophie also teaches specifics such as joining pieces that are very different in size and how to clean and finish your projects. Throughout the course, you'll not only cover this important theory but also learn how to do three projects.
It's worth noting that you will need to invest in a few basic soldering tools in order to put the course material into practice, though these are the absolute minimum needed for an introduction to the art. Once you've completed the project, you'll have enough background to try making your own metalwork designs!
Platform: Skillshare
Suitable for: Beginners to intermediate
Teacher: Nina C.
Duration: 45 minutes
Pressed flower jewelry is a vintage art that has seen a resurgence in popularity in recent years, and we can see why! In this course, you'll learn exactly how to make adorable pieces featuring genuine, delicate pressed flowers and plants that look like they're floating in the air but are, in fact, encased in resin.
This course is suitable for beginners, but intermediate-level crafters will also find it beneficial, especially if you're familiar with crafting jewelry but not this particular medium.
Teacher Nina covers the whole process of pressed flower jewelry making from start to finish, from finding and pressing your plants to preserving them in two layers of resin and finishing the pieces by cutting, sanding, and attaching findings.
Across the 11 lessons, you'll make one or more pairs of earrings and a pendant necklace. However, you'll be able to apply the techniques and approaches you'll learn to create virtually any piece of jewelry you can think of!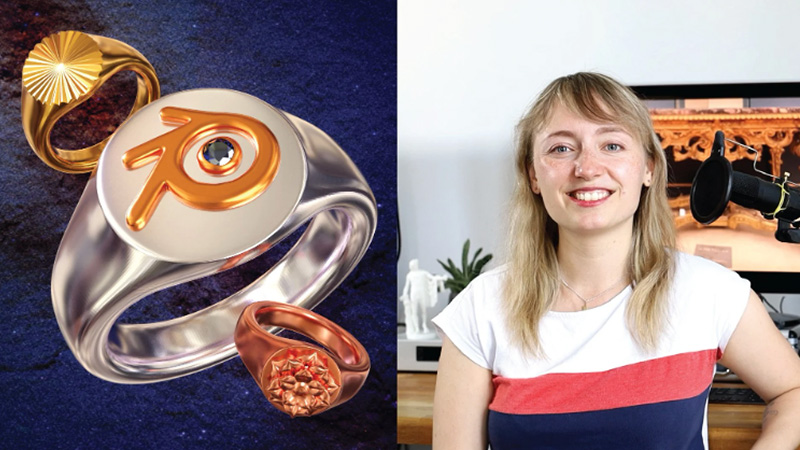 Platform: Skillshare
Suitable for: Intermediate (basic understanding of Blender required)
Teacher: Gessa Pickbrenner
Duration: 2 hours, 46 minutes
Although jewelry design and creation is an ancient art that uses timeless techniques, that doesn't mean we can't optimize it by using the latest, cutting-edge technology. In this course, 3D jewelry artist and designer Gesa Pickbrenner walks you through how to create a printable jewelry design using the 3D modeling program Blender.
Not only will this give you the skills you need to print your own designs on a 3D printer, but it'll also give you a solid grounding in the concepts of digital jewelry design. As part of the course, you'll learn how to model, render, and print signet rings.
You will need to have some experience working with Blender for 3D modeling, so if you're a newbie, be sure to check out a few tutorials first, such as Gesa's introductory courses. However, this excellent open-source program is completely free, so you don't need to worry about the extra expense of investing in software!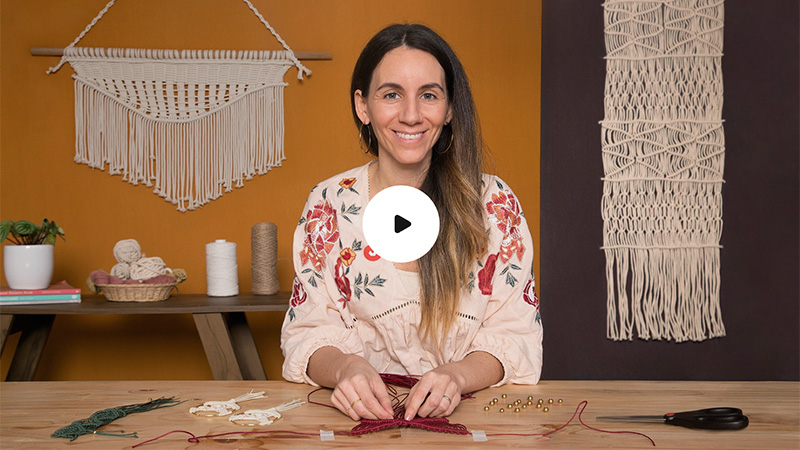 Platform: Domestika
Suitable for: Beginners
Teacher: Fibra Bohemia
Duration: 2 hours, 1 minute
Macrame is about so much more than 70's-style pot plant holders and wall hangings! You can also create stunning jewelry and accessories using this ancient art of knotting cord.
What's more, you can achieve vastly different effects depending on the techniques and materials you use. In this course, textile artist Carla Marin of Fibra Bohemia shares her approaches for creating artisanal jewelry pieces with a contemporary feel, using natural fibers.
Carla demonstrates how to make basic macrame knots step by step before describing the design and sketching process and how to calculate how much string you'll need. She then brings it all together, showing you how to make a pair of earrings, a bracelet, and a necklace.
Final thoughts
Sure, you can find plenty of written and video tutorials online about jewelry making, but classes, whether in person or online, offer that bit of extra value.
The best jewelry making classes will not only show you how to do a certain technique or do a specific project, but they'll also give you a comprehensive background on the topic. They often cover a range of approaches and show you how to create multiple projects, with plenty of tips and tricks along the way.
Another fantastic advantage of online courses is that you usually get the opportunity to ask the instructor questions, making them ideal for budding jewelers of all levels, but particularly beginners.
Of course, you can always get started with some free tutorials before you commit to a full course – take a look at these excellent ones on pendant necklaces, peyote stitch bracelets, and tressed chain bracelets.