Woodburning is a fun and deceptively-easy craft, but there's no denying that certain tools and equipment are essential. The best woodburning kits make jumping into the art form easy, giving you everything you need to get started.
What should a good woodburning kit include?
If you type "woodburning kit" into any online store, you'll find a dizzying range of options, and it can be hard to distinguish the best options, especially if you're new to the craft. Let's take a look at the essential items that a decent pyrography kit should include, as well as some key features to look for.
Pyrography pen
The pyrography pen, sometimes called a wood burner, is the essential pyrography tool and the central part of any wood-burning kit. It is usually a wide-bodied tool that looks very similar to a soldering iron.
There are two main types of pyrography pens:
Solid-tip burners – These pyrography pens feature solid tips, usually made of brass, that heat up the entire tip.
Wire-nib – This type of burner has a thin wire tip, often bent into a rounded or pointed tip, but sometimes with a flat edge.
Solid-tip burners are more affordable than their wire-nib counterparts, with some kits starting at very low prices.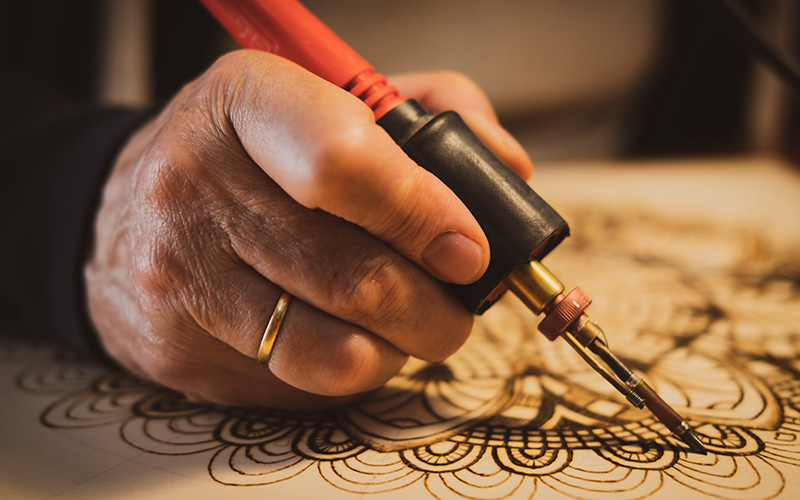 The big advantage of wire nibs is that they heat up and cool down quickly, allowing you to work more safely and efficiently. Almost all of these types of burners come with a control unit that allows you to adjust the temperature and see the output via a digital display.
Some wire-nib kits come with two pens. This can be very handy when you want to work simultaneously with two different types of tips. For example, you may want to create edging with one tip, and then switch to another type of tip for shading, and then switch back to edging.
However, working with two pens is unnecessary, especially for a beginner, so this is optional.
Accessories
Almost all wood burners come with interchangeable tips, either solid tips or wire nibs. Kits may contain a handful of tips or dozens in various shapes and sizes.
The more tips included gives you more versatility and increases the effects and types of designs you can create. However, beginners will likely find that they don't use the majority of the tips in larger sets, so there may not be much point in buying a kit with 50 or even 30 different types of tips.
Some kits come with not only wood-burning tips but also tips and attachments that you can use for other purposes, such as soldering.
This can be handy if you want to use your burner for DIY projects or other crafts, but it may not be worthwhile depending on your needs.
Display and temperature control
Both solid-tip and wire-nib wood burners can come with a digital display, though this is only sometimes the case, especially for the solid-tip variety. Most wire-nib burner kits come with a separate control unit that features an LCD screen showing the voltage and a temperature dial or control of some kind.
Some solid-tip pens have a digital display screen on the side of the unit and a temperature dial either on the pen or attached to the cord.
Both displays are very useful, as different heats leave distinct marks, giving you greater control over your designs. Having a precise readout means you can play around with and record the effects you get from applying different temperatures to various types of wood.
Some solid-tip burners may not offer any kind of temperature control, instead heating to one setting only. This can be very limiting, as you won't be able to adjust the heat of your burner to make your marks darker or lighter, giving your designs less depth and variety.
Safety features
Pyrography is a craft that avoids several risks, including burns, fire, and smoke inhalation. Therefore, you must choose equipment that is designed to keep you safe.
The burner should come with heat protection which means the handle won't burn your hand, as well as override control to stop the tool from overheating.
Additionally, the best pens are ergonomic: this is a time-consuming craft, and you'll likely be holding the burner for long periods. Therefore, you should look for a light pen with a comfortable grip.
It's also important that the kit includes a stand or holder for the wood burner. You should always place the pen on the stand when it's heating up, cooling down, or anytime the tip is hot, whether it's plugged in.
This is crucial for avoiding burns, fires, or damaging your work surface or other items, so make sure the kit you choose comes with a stand!
The best woodburning kits for your pyrography projects
We've scoured the internet for the best woodburning kits for pyrographers of all levels. These sets span a wide range of features across different price points and include both wire-nib and solid-tip burners.
This wood-burning kit from Calegency is our all-around top pick for quality, value for money, and the many pieces included. Despite being a great starter kit with an affordable price tag, you'll get an impressive 112 pieces of equipment and accessories.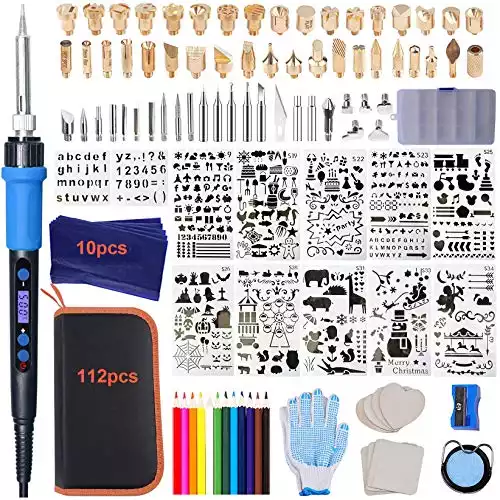 This means it's a good choice for beginners and more advanced pyrography artists looking to expand their kit.
Along with a digital pyrography pen and stand, you'll get 58 burning and embossing tips, a knife chuck, a blade set, and a soldering set. So you'll be able to add embellishments to compliment your wood-burning, and you can use the soldering tools for a range of DIY tasks unrelated to pyrography.
The pen has a digital LCD showing the tip temperature and comfortable, temperature-resistant rubber grips.
It all comes in a handy case with a storage box for the tips, so you can neatly tidy all your bits and pieces away when you're done crafting for the day.
What we love about this kit:
Great value for money, with 112 pieces for an affordable price tag
Comes with a handy storage case to keep everything safe and secure
Digital LCD display
Bonus soldering tips
Extra conversion pipe included
This set from Scissor Tailed includes a pyrography pen, 36 interchangeable tips, holder, metal stencil, and pliers for replacing the tips.
The solid-tip pen is temperature-adjustable, which is controlled through a dial that sits on the cord. With a wide temperature range from 200 to 450 degrees Celsius (390 to 840 degrees Fahrenheit), you can also use the burner as a soldering iron and for hot stamping, fabric embossing, and image transfer.
The pen is lightweight and comes with a slip and heat-resistant handle for better comfort and safety during long wood-burning sessions.
All the pieces come in a sturdy aluminum case that will keep your tools and accessories safe and out of small hands when you're not using them, as well as being great for travel. You'll also receive a comprehensive user manual, including tips for improving your craft.
What we love about this kit:
Multiple functions, including wood-burning, soldering, hot stamping, and fabric embossing
Aluminum case to safely store tools and accessories
Temperature adjustable
This extensive set comes with 73 pieces in total, including a wood burner pen, various tips, templates, carbon paper, a holder for your burner, and an extra embossing pen.
The kit really has everything you need to get started – even wood slices in five different shapes pre-drilled with holes for hanging as seasonal decorations.
The embossing pen can add extra elements or polish the finer details of your work.
This is one of the most affordable kits available, so it is ideal for beginners who want to try out the craft before investing in a more expensive set. Remember that if you continue with pyrography, you'll probably want to upgrade at some point, as the burner doesn't offer temperature variation.
What we love about this kit:
Affordable price tag
A comprehensive kit that contains 73 pieces, including wood slices with pre-drilled holes
Templates and carbon paper included to quickly transfer designs
This is another affordable kit that's great for beginners. It has you covered for basic wood-burning techniques, including a pyrography pen, holder, 23 different tips, eight templates, carbon paper, and wood blocks.
You can store your equipment safely and easily in the metal tip storage box and handy storage pack for the whole kit.
The pen uses heated ceramic technology for fast temperature control, heating the wood burner within an impressive 30 seconds. You can control the temperature within a range of 200 and 450 degrees Celsius, allowing you to create various shades, depth, and effects in your designs.
The heating core is replaceable, meaning you can continue to use the burner even after this part wears out or if it gets damaged.
What we love about this kit:
Fast heating and rapid temperature control
Replaceable heating core
Comes with s storage pack and a separate storage box for tips
This kit from Viiart includes a wire-nib pen and separate control unit and is one of the most affordable kits of its kind. It includes a burner, control unit, pen holder, stencils, wood blocks, and 20 wire nibs in different shapes and sizes.
There's also a sturdy metal case for storing your nibs and a screwdriver to swap them out.
The control unit has a dial for adjusting the temperature, and you can view the voltage on the unit's digital display. This makes it easy to control the burner's temperature and note down voltage ranges and the effects they produce on different types of wood.
Like most similar kits, the wire nibs heat up much quicker than metal tips, allowing you to switch between tips without interrupting your work. Because the nibs also cool down very quickly, there's also less risk of burns.
What we love about this kit:
Wire nibs heat up and cool down very rapidly
Control unit with digital display
Great value for money: very affordable for this type of kit
This is TRUArt's "stage 1" wood-burning kit aimed at beginners. You'll find their "Stage 2" Kit, a wire-nib pen and control unit set, further down on this list.
This premium option is more expensive than many other sets of its type, but if you're willing to invest a little more, you'll be rewarded with the high quality and durability that this set delivers. It includes a 30-watt pyrography pen with a stainless steel barrel, as well as 21 interchangeable pyrography and soldering tips, a stand, and stencils.
You can also set the pen to 30 watts, ideal for wood-burning, or 15 watts, best for burning designs onto leather.
The brand also acknowledges that the brass tips and pen components can be damaged from prolonged exposure to high temperatures and will therefore replace any broken or bent parts free of charge.
What we love about this kit:
Well-made from high-quality materials
Two power settings for different uses
The manufacturer will replace components free of charge
This is another relatively-affordable woodburning kit with a wire-nib pen and separate control unit. Although significantly more expensive than most solid-tip wood-burning kits, this set is one of the cheaper wire-nib pyrography sets.
The set includes two wire-nib pyrography pens, a control unit with a digital display, 23 nibs, two stands, a screwdriver, pen knife, five stencils, and both plain and perforated wood pieces.
The pen has a heat-resistant handle and overheating protection and a wide temperature range from 35 to 700 degrees Fahrenheit. The nibs cover various sizes and shapes, including several ball tips, allowing you to produce various effects.
What we love about this kit:
Excellent price for what you get
Includes two wire-nib pyrography pens
Very wide temperature range
This is a simple but good-quality wood-burning kit that offers excellent value for money. The basic kit includes a solid-tip wood burner with variable temperature control, a stand, 11 interchangeable tips, and a storage case. You'll also receive lead-free solder that you can use with the included soldering point.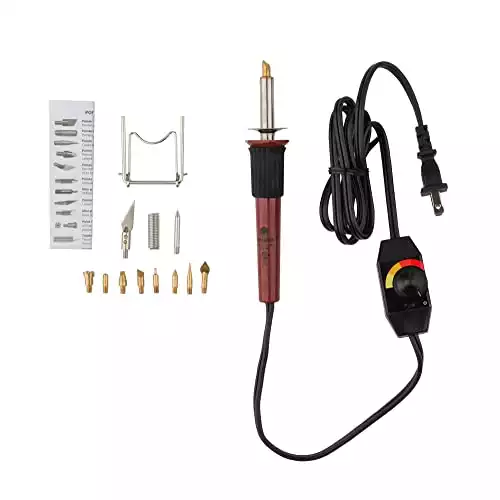 Although this may not sound like many pieces, this kit has more than you need as a beginner to produce beautiful pyrography. In fact, many experienced pyrography artists create their designs with just two or three different kinds of tips.
The sturdy burner has a comfortable padded handle and a variable temperature from zero up to 950 degrees Fahrenheit, more than most pyrography tools. Beyond wood-burning, you can also use this versatile kit for soldering, paper or leather crafting, hot knife cutting, hot stamping, and fabric embossing.
What we love about this kit:
Sturdy, durable wood burner
Suitable for wood-burning as well as various craft and DIY projects
Includes lead-free solder
If you're an advanced pyrography artist (or want to invest in equipment that will take you to that level), this premium, well-built kit from TRUArt is for you! This set is in a much higher price bracket than any of the others on this list, but is truly professional-level equipment that will allow you to create stunning projects with ease.
It includes two powerful wood burners, each delivering 60 watts of power that instantly heats the wire nibs. The pens have been designed with a minimum distance from the work surface, giving you greater control as you work.
You'll also get no less than 40 different types of nibs, including one ball tip and one sharp spear tip, a power supply unit with a digital display, two pen holders, pliers, tweezers, five files, and a storage case. The files come in assorted sizes to allow you to clean the tips after use and keep them in peak condition.
What we love about this kit:
Professional-level equipment and tools
Two 60-watt pyrography pens include
Lightening-fast heating and cooling
Short distance to work surface for greater control
This artsy wood-burning kit is perfect if you want to add color and mixed media to your designs. It includes a set of 20 watercolor paints with two paint brushes, along with a wood burner, 12 solid tips, a stand, and four wood slices.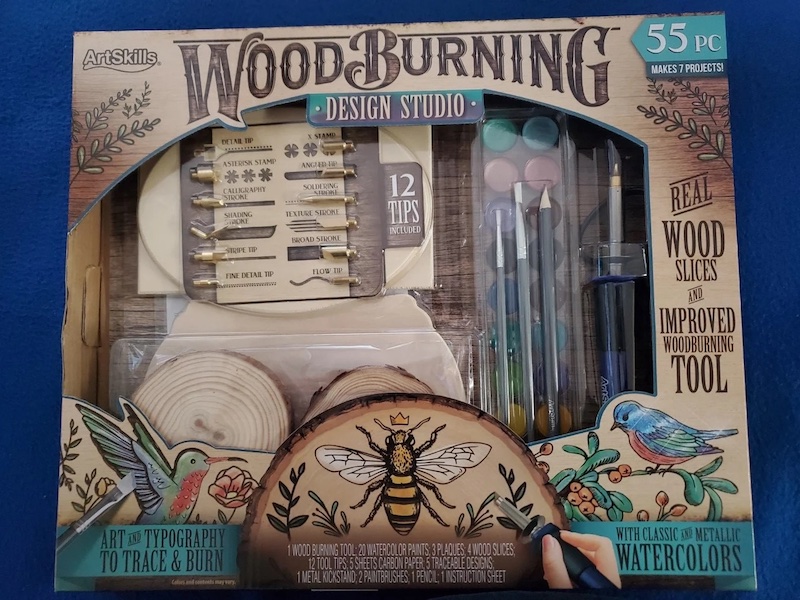 You'll also receive five designs and carbon paper to let you trace them onto your wood. The interchangeable tips include a flow tip specifically designed for creating words or smooth edges with ease.
Once you've got your head around the basics and explored the included traceable designs, the kit also comes with a QR code that you can scan for additional downloadable projects.
What we love about this kit:
Includes paints and brushes to embellish your designs
Five designs are provided, plus access to more that you can download
Flow tip for flawless lines and script
This is not a high-temperature wood burner but a set of markers to burn your design into the wood surface when exposed to heat. It's a great option for kids who are too young for traditional pyrography tools, as there's an almost zero risk of burns or smoke inhalation!
To use it, you simply take one of these felt-tip pens, draw your design directly onto the wood, then apply heat, and the active, heat-activated chemical compound will burn your marks into the wood. The pens can be used not only on wood but also paper, card, and fabric.
Furthermore, the compound is non-toxic, so you don't need to worry about adverse health effects from touching the ink or inhaling any fumes. The set contains three USA-made pens and a foam brush for additional application options.
What we love about this kit:
A safe, easy alternative to a traditional wood burner
Non-toxic and kid-friendly
Suitable for many materials, including wood, paper, card, and fabric
Wrapping up
Pyrography, the ancient art of wood-burning, is a fun and surprisingly accessible craft that is suitable for creative people of almost all ages. Even young children can join the fun with kid-friendly alternatives like the Scorch Marker Woodburning Pen Tool.
The main barrier to starting this awesome art form is the amount of equipment you need: certain specific tools are essential for pyrography.
A wood-burning kit can be an excellent way to get all the bits and pieces you need to dive into the art form. If you're already experienced in pyrography, why not treat yourself to one of the best wood-burning kits to upgrade your toolkit and take your projects to the next level?
If you've enjoyed this article and are inspired to explore more crafts, check out our guides to essential knitting stitches and DIY jewelry tutorials.