Of the various different types of yarn that are available, each is classified by weight.
In this guide, we'll cover the different yarn weights, what they are, and what the terminology means.
What is the yarn weighting system?
The yarn weighting system is a formalized measure that rates the heaviness of each yarn. This is important because the heavier the yarn, the fewer stitches it creates per inch.
Some people confuse yarn weight with ply, but these two classifications are actually quite different. The ply is the number of strands in each piece of yarn, while the weight refers to the thickness of each yarn.
Of course, the higher the ply, the thicker the yarn will be. However, depending on the type of yarn, you could have a 2-ply yarn that is heavier than a 4-ply one.
The yarn weight is also distinct from the actual weight of the yarn in grams or ounces.
The yarn weighting system helps you to choose the right yarn and lets you get creative with your yarn choices. Rather than having to use the exact yarn recommended by a pattern, you can easily find an equivalent yarn that you know will give you a similar result.
The Yarn Craft Council system
The Craft Yarn Council's standardized yarn weight system is a widely-recognized system for classifying yarn weights. You'll find this system used on most yarn labels, knitting patterns, and knitting blogs.
The system classifies all yarn weights form zero, the lightest yarns, to seven, the heaviest yarns. Each of these yarn weights also has a name, and in some cases more than one name!
For example, a number four yarn, a versatile, medium-weight yarn, is also known as worsted weight, Afgan or Aran weight. Typically, knitters in the USA refer to yarn weights by name, while UK and European knitters favor the numbers.
How do you determine yarn weight?
The easiest way to know the weight of a particular yarn is by looking at the label. Many commercially-made yarns will print the number under the Craft Yarn Council's system on the label, or its common name.
If they don't print the weight number, they'll often have a gauge statement, typically in the format "22 stitches and 21 rows per 4 inches on size 6 needles". This indicates how many stitches the yarn will produce when knitted in stockinette stitch on the stated size needles.
Each yarn weight has a particular knit gauge under the Standard Weight System. Therefore, by checking which weight the given gauge is listed next to in the system (refer the chart below), you'll quickly determine the yarn's weight.
For example, on the chart, a medium weight yarn has a knit gauge of 16 to 20 stitches per four inches of knitting. So if the yarn is labeled as "18 stitches per 4 inches" or "knit gauge 18 sts" it is a number four, or medium/worsted weight yarn.
If the label doesn't have this information, or if you're faced with some random yarn without a label, you can test a yarn to determine the weight by measuring the number of "wraps per inch" or WPI.
To measure yarn in WPI:
Wrap the yarn around a pencil so that the yarn strands are snug together with no gaps in between but not overlapping.
Hold the pencil against a ruler and count the number of yarn strands there are within one inch.
If your yarn has between nine and 11 wraps per inch, it is worsted or medium weight. More wraps in one inch indicates a lighter weight and fewer wraps per inch mean you have bulkier weight yarn.
The following numbers of WPI indicate different yarn weights:
| # | Yarn Weight | Wraps per Inch (WPI) |
| --- | --- | --- |
| 0 | Lace weight | Up to 35 |
| 1 | Superfine | 19-22 |
| 2 | Fine | 15-18 |
| 3 | Light | 12-14 |
| 4 | Medium | 9-11 |
| 5 | Bulky | 7-8 |
| 6 | Super bulky | 5-6 |
| 7 | Jumbo | 4 or less |
What are the different yarn weights?
Yarns range from number zero, super fine or lace-weight yarn, to jumbo yarn at number seven on the scale. Let's take a closer look at each of the yarn weights and how to best use them.
Jumbo
Jumbo yarn is the heaviest of all yarn weights, rated at number seven under the standard yarn weight system. It is sometimes also known as roving weight yarn, though this can be a little confusing, as super bulky (number six) yarn can be referred to as roving weight as well.
Jumbo yarn has a gauge of six or fewer stitches per four inches, meaning each stitch is very wide indeed. This very heavy yarn is not suitable for many types of projects but can be used to make uniquely chunky blankets or décor items such as rugs and poufs.
Keep in mind that you'll need very large needles to handle yarn of this weight: officially, a size 17 needle or larger is recommended, though most people use it for arm knitting. 
Super bulky
One step down on the scale at number six is super bulky yarn. This yarn has a knit gauge of seven to 11 stockinette stitches to every four inches.
For super bulky yarn you should use a size 11 to size 17 needle (8mm to 12.75 mm), and it is best for making blankets, throws and very chunky sweaters.
Super bulky and jumbo yarn can be a little difficult to manage, especially if you're not accustomed to working with very heavy yarn or if you have arthritis or strain injuries. Some super bulky yarns are only loosely spun so may split more easily, making them more difficult to work with.
On the other hand, some knitters actually find it easier to work with, given the larger needles and having thicker yarn to hold on to.
Certainly, knitting projects with bulky or super bulky yarn is much quicker than those using finer yarn.
Bulky
Bulky yarn, also sometimes known as chunky, craft or rug yarn, is number five on the Standard Yarn Weight System. This yarn is not as heavy as super bulky or jumbo yarn, but will still produce pretty wide stitches, with a knit gauge of 12 to 15 stitches.
Bulky yarn is well-suited to making chunky sweaters, scarves and hats, to make warm and cosy garments. This yarn weight delivers a chunky effect without being as difficult to work with as super bulky or jumbo yarn.
Although bulky yarn creates its own charming effect, stitch patterns often do not show up as well in bulky yarn compared to lighter weight yarns. Generally, bulky yarn is best used with stockinette, garter, or block patterns.
Medium
Medium or worsted weight yarn is probably the most commonly used yarn weight. This versatile weight is suitable for a wide range of knitting projects, as well as being suitable for crochet.
The term "worsted weight" comes from a particular type of medium-weight yarn that dates back to 12th century England. Nowadays, the term is used to refer to all yarns of this weight, no matter the type of yarn they are made from.
Medium-weight yarn is perfect for knitting sweaters, scarves, hats, and blankets, considered by many to be an all-purpose yarn. It can also be used for crochet, weaving, and textile art.
For most projects, you should use medium-weight yarn with size seven to size nine needles, or 4.5mm to 5.5mm needles. This will produce a firm and pliable knit with a medium weave.
On the other hand, using a smaller needle, between a size three and a size five needle with worsted-weight yarn will produce a tight, sturdy knit that is ideal for projects like pot holders.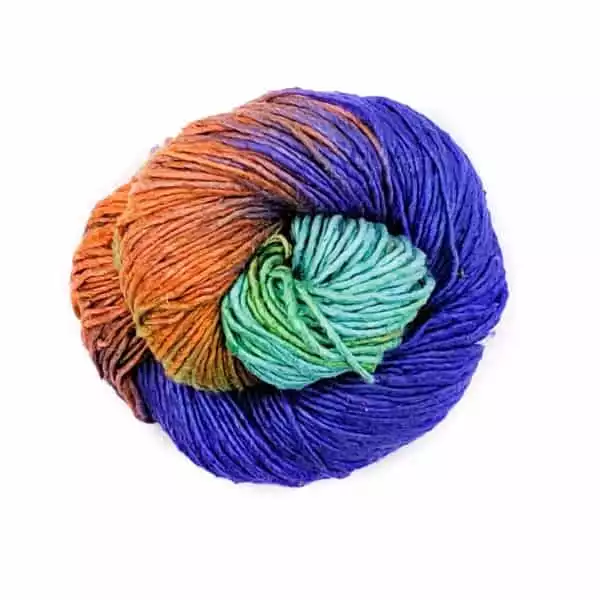 Light
As we head towards the lighter end of the scale, at number three we find light yarn, sometimes referred to as DK or light worsted yarn. As the latter name suggests, this is a lighter version of worsted yarn, and as such can be used on a range of projects, from garments to home décor items.
Light weight yarn is great for making fine sweaters and light weight yarn, as well as display complex stitch patterns. With a knit gauge of 21 to 24 stitches, a size five to seven (3.75mm to 4.5mm) needle is recommended.
Fine
Fine, or sport or baby weight yarn, is even lighter again, at number two on the scale. With a knit gauge of 23 to 26 stitches, fine yarn can be used to create delicate works such as baby clothes and sportswear.
You'll need number three to five knitting needles to get this effect with fine yarn.
Superfine
Even lighter again is number one yarn, or superfine or sock yarn. As the name suggests, this weight yarn is ideal for creating the tiny stitches needed to make socks, with a knit gauge of 27 to 32 stitches per four inches.
You can also use super fine yarn to other fine garments like baby clothes.
You should use number one to three needles with superfine yarn, and it is a good idea to always use straight needles for superfine or lace weight yarn. This is because when using circular needles, finer yarns don't always easily move back onto the shaft when starting a new row, unlike heavier yarns.
Lace weight
The extremely light weight yarn at number zero on the Standard Yarn Weight System is variously known as lace weight or fingering yarn. It is also the equivalent of 10-count crochet thread.
For a tight knit, extremely small knitting needles, from size 000 to size one are required. However, lace weight yarn is often used with larger needles to create a lace work effect – follow the recommendations given by your pattern.
It is important to cast-on and bind-on loosely when working with superfine or lace weight yarn, and so some knitters find it useful to use larger needles for casting on and binding off.
Lace weight yarn has a knit gauge of 33 to 40 stitches per four inches, though knit gauge can be difficult to determine for yarn that is this fine, as it is often used to create lacy, open work patterns.
Final thoughts
There are as many different types of yarn as there are things you can make with them. From jumbo yarn for making chunky rugs and blankets to lace weight yarn to create delicate lace shawls, using the right weight yarn will help you to get the best result.
If you found this guide to yarn weights helpful, share it with the other knitters and crocheters in your network!