Any embroiderer will tell you the importance of being able to see your projects clearly while you work. A good magnifying glass for embroidery will let you see the details of your embroidery to produce better results and save you from eye strain.
What are some of the best magnifiers for embroidery?
There is a wide variety of magnifying glasses for embroidery, from magnifying desk lamps to neck and head-mounted magnifiers. From all the magnifying glasses we have researched, we found that the Brightech Lightview Pro comes out top of the list, due to its versatility, portability, and various useful features.
However, there are also a number of other worthy contenders that still made our list. Let's take a closer look at 8 of the best magnifying glasses for embroidery.
This magnifying lamp can be adjusted to sit on a floor, on a desk, or clip to the side of a table. This keeps both your hands free to allow you to keep working efficiently while seeing all the details of your embroidery.
Because it is so flexible, you can position the lamp according to your needs, whether you're working at a desk or sitting in a chair. The lamp features a clamp for easy attachment to the edge of a table, desk or other work surface, but can also be inserted into the included base stand for freestanding use.
The magnifier has a very respectable focal range of 13 inches meaning that you can hold your work wherever it is most comfortable, rather than straining to hold it next to the glass.
The magnifying lamp also features bright LED light that produces 800 lumens with a cool white light at 6000 Kelvin, helping you to see every detail of your work and produce high-quality stitches. This lamp is also very durable, featuring high-quality dioptre glass and 20-year life quality LED lights.
What we like:
Versatile: You can set this magnifying lamp on the floor, on a desk, or attach it to the side of a table or chair.
Cool white light: The 9W 800 lumen LED helps you see your work without distorting your thread colors.
3 Year warranty: Brightech's three year product warranty covers any faults, defects or breakdowns – and the manufacturer will even help troubleshoot any problems or send replacement parts should you experience any problems.
What we don't like:
Unstable: Some online reviewers report having issues with the lamp falling over due the weight of the magnifier glass.
Despite some slight issues with stability, the Lightview Pro is still a fantastic magnifier for embroidery and detailed needlework. Its versatile, 3 in 1 design makes it a great all-around lamp and magnifier, suitable for various working environments.
This desktop magnifier has three folding joints, allowing you to adjust the height, position, and angle of the lens in order to best see your work. This magnifier also has a handheld option, though this is less likely to be useful for embroidery when your hands will be occupied.
The magnifier has options for 2x and 6x magnification and has a five-inch field of view to capture large sections of your work without having to readjust the lens constantly. It also comes with dual built-in LED lights each a powerful 28 watts, to allow you to get an even better view of your work.
It is fitted with three folding joints that can be repositioned to suit a variety of setups and magnify large sections of your embroidery. An extra handy feature is a plotting scale on the base that allows you to measure the actual size of your designs.
What we like:
Adjustable: Fold and adjust the lens allowing you to work comfortably in different positions.
Multiple magnification options: Choose between 2x and 6x magnification depending on your needs.
Large field of view: View your work through a large, five-inch field of clear vision.
What we don't like:
A little flimsy: Some users complain that this magnifier is lightweight and flimsy, so it may not be as long-lasting and durable as other models.
Lightweight and easy to use with built-in LED lights, this is an excellent choice if you like to work at a table or a desk. Set this versatile desktop magnifier and light up on your workspace to let you work more accurately and produce better results.
One way to make sure your magnifier is always positioned between you and your embroidery is to wear it on your head. The Tmango head mount magnifier does exactly this – as it is worn on your head with a lens that sits in front of your eyes, magnifying your work.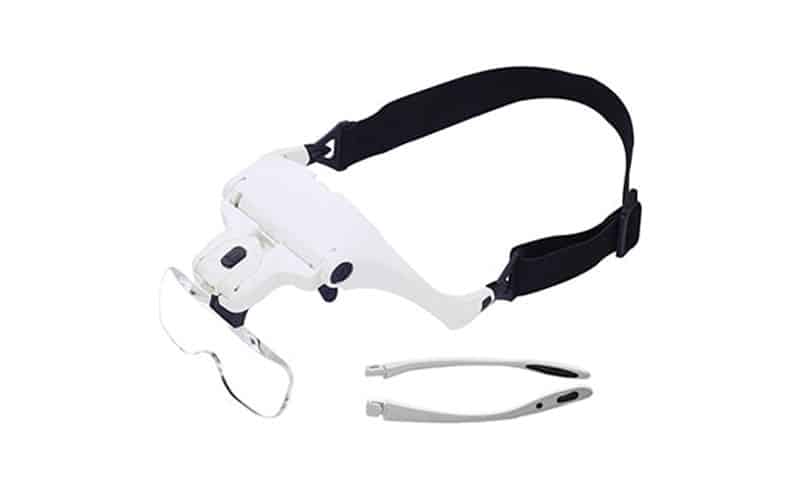 The lightweight, acrylic lens can be adjusted to find the perfect angle. You can switch out the lenses for various magnifications to suit your needs, with five different lenses ranging between 1x and 3.5x magnification.
The undeniable downside of any head-mounted design is that you need to bear the weight of the magnifier on your head. As it is reasonably hefty, you may start to struggle under the weight particularly when working for long periods of time.
However, it does have an ergonomic frame with rubber nose pads for a secure but comfortable fit.
What we like:
Head-mounted: You can use this magnifier anywhere, without needing a desk or table to mount it.
Five different lenses: Choose the perfect magnification to clearly see your embroidery and work comfortably.
Ergonomic: A comfortable frame and rubber nose pads make it comfortable to wear while keeping it secure on your head.
What we don't like:
Quite heavy: Wearing the magnifier for long periods of time could get uncomfortable.
The head-mounted design won't be for everyone but is an excellent solution for anyone who struggles to find a good spot to position a desktop or side-mounted magnifier. This versatile design allows you to work in a chair, on your sofa, in a bean bag – wherever you wish!
This magnifier enhances up to 8x magnification – more than most magnifiers – allowing you to see very fine details on intricate embroidery. The lens is not only powerful, but it is also a large 5.5 inches in diameter to see more of your work.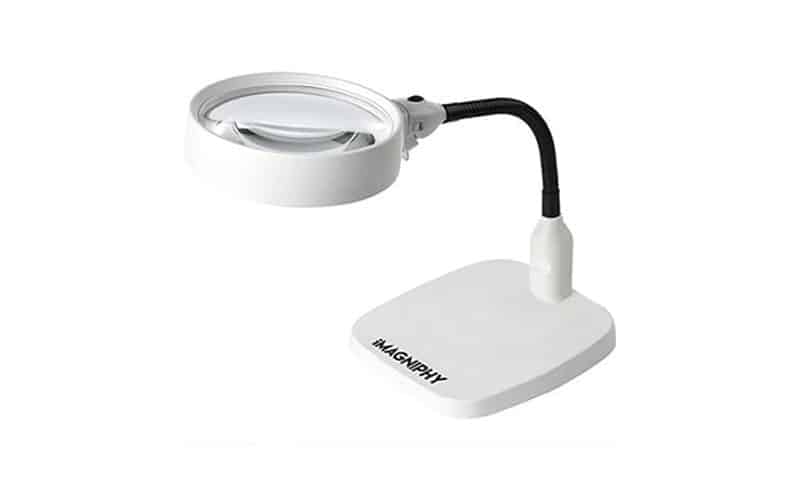 The magnifier has a scratch-resistant acrylic lens that is sturdy and lightweight. It is also equipped with six LED lights to brightly illuminate your project, which is also important when you need to see every detail.
This magnifier is designed to sit on a desk or table, with a sturdy base. It also boasts a flexible gooseneck so you can move the lens into the best position.
If you have other magnifiers made by the same brand you'll be able to change out the lenses between the different products, as the lenses are designed to be interchangeable.
What we like:
Lightweight: The frame and acrylic lens are both very light, making it portable and easy to manoeuvre.
Large, powerful lens: The 5.5-inch, 8x magnifier lens allows you to see incredible detail in as large an area as possible.
Interchangeable lens: The lens can be swapped out with other magnifiers from the same brand.
What we don't like:
Possible distortion: With the high level of magnification, the image may be distorted around the edges.
With powerful magnification and a large lens, this magnifier is a great choice when you need to see every detail of your embroidery or needle work. With a sturdy base and flexible gooseneck, this is perfectly-designed to sit on a desk or table.
This magnifying glass can be used two ways: hang it around your neck, or fold out the feet and set it up on a desk or a table. Wearing it around your neck keeps both hands free to work on your embroidery anywhere.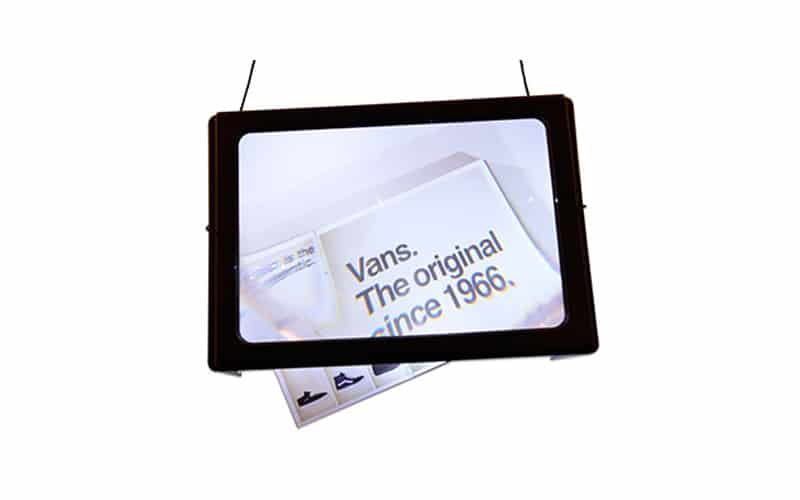 We love the size of this lens, which is a massive 10.5 inches by 7.5 inches, covering a huge area of your project without distortion. It is accompanied by four bright LED lights.
Put this large, brightly-lit magnifier around your neck or on your workspace to enhance your work with 3x magnification.
What we like:
Hands and table free: You can wear this magnifier around your neck while working in a chair or on a couch.
Huge lens: At 10.5 inches by 7.5 inches, this is one of the biggest magnifiers you'll find.
Adjustable neck length: The neck string can be adjusted to find the best length to focus the magnifier on your project while you work comfortably.
What we don't like:
May move as you work: The drawback with neck-mounted magnifiers is that it can move out of position while you're embroidering.
The neck cord design may take some getting used to, but this is a good option if you don't want to have to place or mount your magnifier. With a huge 10.5-inch wide lens and six built-in LEDs, you can also set this versatile magnifier up on your workspace.
This magnifier comes with an interchangeable base that can be used as a desktop stand or a clamp to attach it to the side of a table or chair. The design includes a 13.5-inch, flexible gooseneck that allows you to adjust the position of the lens.
The glass lens has a 2.25x magnification, with around an eight-inch focus that gives you plenty of room to work. This magnifier features 570 lumens LED lamps all around the lens to further enhance your view of your project.
Another asset of this magnifier is its heavy base that helps prevent the lamp from tipping over when used on a desktop, which can be an issue with this style of magnifier. You can be confident that this stable magnifier will hold steady, allowing you to work efficiently.
What we like:
Versatile: Interchangeable base means you can set this magnifier at your workspace or attach to a chair.
Glass lens: The lens is made from dioptre glass and is scratch and distortion-resistant.
Perfect focus length for embroidery: With an eight-inch focus length, this gives you room to work while being able to see detailed embroidery or needle work.
What we don't like:
2.25x Magnification only: Which is not as strong as other magnifiers, though sufficient for most embroiderers.
A versatile magnifying glass, this Brightech LightView model can be set up on your workspace or clamped to a table of chair. Therefore, you'll be able to work from virtually anywhere with clear magnification and bright lighting work more efficiently for better results.
Designed primarily for soldering circuits, this helping hands station from Vcedas features not only a magnifier and LED light, but also additional tools including auxiliary lenses, a welding safety frame, and auxiliary clips.
The main magnifying glass is 3.5 inches in diameter, with 2.5x magnification. There are also two, 1.3-inch auxiliary lenses with 7.5x and 10x magnification.The smaller, auxiliary lenses allow you to increase the magnification when needed, and tuck it out of the way when not required.
It has a solid base to place it on your desk or workspace, but without a clamp or clip option. However, the magnifying lens can be rotated 360 to find the perfect position.
There are a total of five LED lights that cast a bright light across a wide area. You can also choose to run the light on AA batteries or by connecting it to a power socket.
On the downside, the iron holder is fixed on the right side, meaning that left handers will find it difficult to use.
What we like:
Adjustable magnification: You can use the main lens and auxiliary lenses to create three different magnification options.
Additional tools: This versatile station can be used for a range of purposes, as well as magnifying and illumination options.
Clear magnifying glass: Online reviewers report that the magnifying glass is clear with few distortions, helping you get the perfect view of your projects.
What we don't like:
Desktop option only: With no clamp or clip, you can only use this magnifier when sitting at a table.
Not suitable for left-handed people
While the Vcedas helping hands station may look more like something you'd find in an engineers lab than a craft room, the fact that it is so suited to soldering circuits makes it great for embroidery! The malleable yet robust design, coupled with the light and magnifier make it a reliable and useful aid when it comes to viewing the intricacies of embroidery.
Though not the most affordable product on this list, this magnifier is a premium option that delivers high-quality results. It has a large, seven-inch HD glass lens.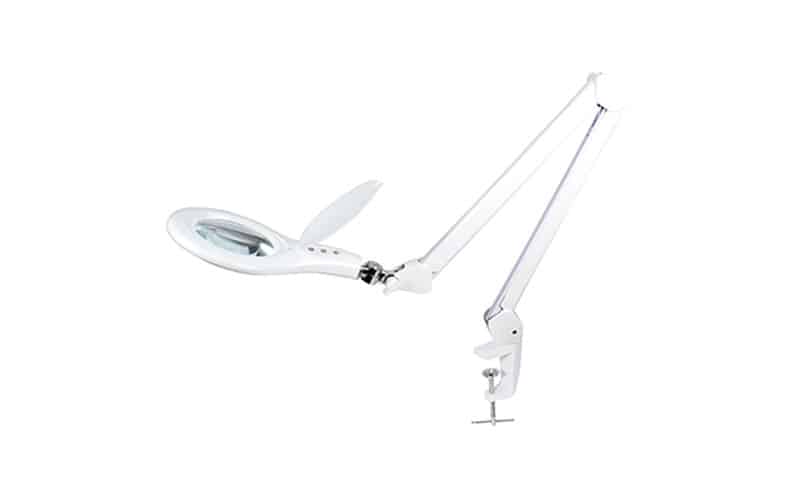 One of the premium features of this magnifying lamp is that you can choose between an even spread of light over a large area, or to focus the light on a particular point. The high-quality LED lights are energy-saving to use less electricity and reduce your carbon footprint.
The lens also has a flip-up cover to protect it when you're not using the magnifier, and all these features come packaged in a sleek, modern design.
This magnifying lamp has a clamp to mount on a table, shelves, or other horizontal surfaces. It can be adjusted to various positions thanks to its multi-position head joint and flexible arm with internal springs.
What we like:
Durable: The high-quality glass lens is scratch-resistant and comes with a protective cover.
Attractive: Sleek, modern design that will look great in your workspace.
Strong and versatile lighting: The high-quality LED lights can be focused on a particular spot or cast light over a large area.
What we don't like:
Expensive: This magnifier has a higher price tag, but offers good value for money when you consider its features.
If you're looking to spend a little more for a premium magnifying lamp, this Neatfi Elite lamp is an excellent choice. With high-quality, adjustable LED lights and an HD glass lens on a multi-position head, it will make intricate embroidery a breeze!
Choosing the best magnifying glass for embroidery
With so many options for different magnifying glasses for embroidery, how do you choose the right one for you? Here are some things you know before buying a magnifier.
Consider diopter and magnification
Every magnifying glass is categorized by either a diopter number or a magnification factor.
The diopter is the curvature of the lens of the magnifying glass. Lenses with a higher curvature are thicker and therefore have greater magnification.
Therefore, the diopter number will tell you how much magnification the glass has.
For most embroidery, a diopter of three or four (1.75x or 2x magnification) is usually sufficient. It is also important to note that a stronger magnification isn't necessarily better, as a lens with a higher diopter will only show a small area, meaning you'll need to constantly move the magnifying glass as you work.
Additionally, high magnification lenses need to sit very close to the fabric in order to work properly. This may not give you enough room to work your needle between the fabric and the glass.
Weigh these factors up against your eyesight and the level of detail you need to see in your work in order to decide the level of magnification you need.
Is the magnifying glass easy to use?
The best magnifying glasses for embroidery can be used hands free. If you need to hold the magnifying glass with one hand it will make it very difficult if not impossible to continue working on your project, so this is not really suitable for embroidery.
Some magnifying glasses for embroidery can be worn on your head or around your neck, or they may have features that allow you to clip to a table. There are even magnifying floor lamps that sit on the floor and magnify and light up your work from this position.
The exact design comes down to personal preference, but be sure to look for a model that will easily and securely attach to you or your workspace and magnify your project while you continue to freely work with both hands.
Is it adjustable?
The magnifying glasses with the best ease-of-use are also adjustable, letting you change the angle or position of the glass. They may have adjustable, rotatable, or flexible arms so that you can see your work as well as you can.
What material is the lens made from?
Magnifying lenses are typically made from either glass or plastic. The advantage the glass has over plastic is that it is less likely to develop scratches that may get in the way of you seeing your work.
On the other hand, glass is much heavier than plastic, and can become very thick at high magnifications, producing warping at the edges of the lens.
Does the magnifier come with lighting?
Some magnifying glasses for embroidery are glass only, while most have a built-in lamp to illuminate as well as amplify your work. The lighting makes it even easier to see the details of your stitches, so is useful for very intricate work.
Lighting, as well as magnifying your work area, will also help to reduce eye strain and avoid tired eyes and headaches. For these reasons, it is important to look for a magnifying glass with bright lighting, such as the Brightech Lightview 3 in 1 magnifying lamp or Neatfi Elite LED magnifying lamp.
Choosing the right lighting for your needs
When choosing a lighted magnifying glass for embroidery, you have different options in terms of light color and temperature. This is important, because lamps of certain colors may wash out or distort your thread colors, meaning you can't accurately see the colors you're working with.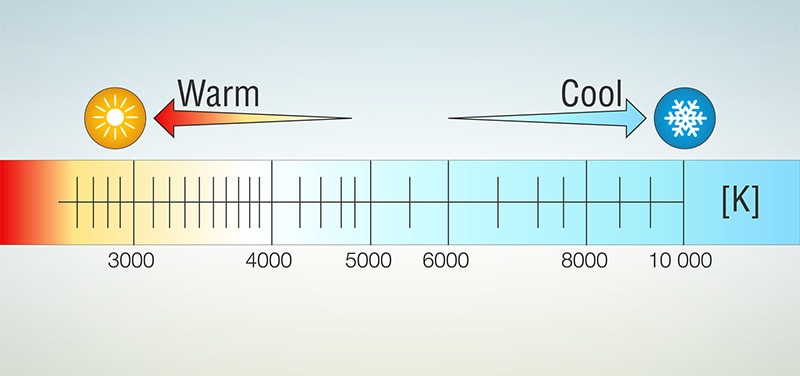 For embroidery, daylight light bulbs with around 6400 kelvin are best, as this will allow you to accurately view colors. These kinds of lamps can be expensive, so a more economical but still suitable option is a lamp with a cool white light of around 4000 kelvin.
FAQ
As with any technical product, buyers often have a bunch of questions when buying a magnifying glass for embroidery. We address some of the most common ones below.
How do you determine the strength of a magnifying glass?
The strength of a magnifying glass is measured in diopter, which can be calculated as follows:
Diopter number/4 + 1 = magnification
For example, for a magnifying glass with a diopter of eight: eight divided by four is two, plus one equals three. This means the lens provides three times magnification.
Is embroidery bad for your eyes?
The idea that straining your eyes through activities like embroidering or reading in dim light can permanently damage your eyesight has been disproven by researchers. However, it is certainly true that straining to see what you're doing, particularly over long periods, can cause tired eyes, headaches, or both.
By using a magnifying glass for embroidery and working in proper light you should be able to avoid these problems.
Key takeaways
Especially when embroidering on very fine fabrics or doing very intricate work, it can be difficult to see your work. This can lead to fatigue, eyestrain, and headaches, but a magnifying glass can help to avoid these issues.
A quality magnifying glass will help you see your work, avoid eye strain, and help you to produce better work. Cool-colored lighting built-in to the magnifying glass will also assist in all these aspects!
Our number one pick for the best magnifying glass for embroidery is the Brightech Lightview 3 in 1 magnifying lamp. We also recommend the Neatfi Elite LED magnifying lamp as a premium option or this large folding magnifier as the best desktop-only lamp.
If you found this guide to magnifying glasses for embroidery helpful, please share it with your networks!