A scarf is often the first project that beginner knitters tackle when they pick up a pair of needles for the first time. Quick and easy to make, knitting a scarf is the perfect way to practice your skills while creating a practical item: but how long will it take you to knit a scarf exactly?
How long does it take to knit a standard scarf?
A simple scarf is easy to make in a relatively short amount of time. The exact length of knitting time will depend on the size of the scarf, the complexity of the pattern, and the type of yarn, as well as your ability level.
Obviously, if you've only just started knitting, you'll work more slowly. However, as you practice and become more accomplished, your knitting will speed up significantly, making a big difference to how long it takes to knit a scarf.
With a reasonable amount of skill, you can expect to complete a standard scarf in around 12 to 15 hours of knitting time. This will mean that if you work on your scarf for a few hours a day, you can expect to finish it in less than a week.
When we say a "standard" scarf, we mean a simple scarf that is around 70 inches long, and between six and nine inches wide.
This will include time to cast on, knit the full length of the scarf, bind off, and neatly finish your work so that it is ready for you to wear, or give as a gift to a loved one.
Variables that can affect knitting time
The expected knitting time of 12 to 15 hours is based on using a simple knitting stitch, such as garter stitch or stockinette stitch. If knitting a more complex stitch or a complicated pattern using various tricky stitches, you can expect your knitting time to increase by several hours.
Complexity
When we talk about a simple scarf, this also means one that uses a single color and single type of yarn only. More complex scarves using multiple colors and types of yarn take longer to knit, as each yarn needs to be joined to the next and finished neatly.
This is generally recommended as a later project once you've mastered the basics! However, you can achieve a multicolor effect without the hassle of different yarns by using an ombre yarn.
Yarn weight
The weight of the yarn you use will also have an impact: heavier yarns create larger stitches, and so working with a heavy yarn will allow you to whip up a scarf in less time compared to medium or fine yarn.
However, a very heavy yarn will produce a chunky scarf which may not be the style you're looking for. Additionally, intricate stitch patterns can become lost when using chunky or super chunky yarn.
On the other hand, thinner yarn needs smaller needles to create a tight knit, which beginner knitters often find more difficult to manage.
For these reasons, it is generally recommended to use a medium-weight yarn to knit a scarf, even if it takes a little longer than using a super chunky yarn. A good yarn to make a standard, simple scarf is a medium-weight, soft acrylic yarn like Caron Simply Soft.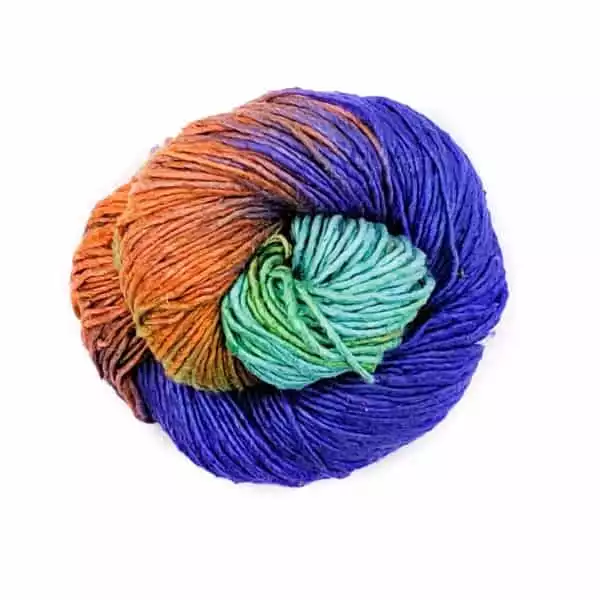 Needle size
Equally, the size of your needles plays a role in the total knitting time. Large needles can make bigger stitches, meaning less stitches are needed to fill the same area, and therefore speeding up the process.
These often go hand in hand, as heavy yarn is often used with large needles, but not always. Lighter-weight yarn can be used with thick needles to create an openwork effect.
Using larger needles will make it quicker to knit the same size scarf, even when using the same yarn, though it will create a much lighter scarf.
How long does it take to knit a short or long scarf?
Obviously, you can expect a short scarf to be completed in a shorter amount of time, while you'll need to allow more time to knit a longer staff.
The approximate knitting times for short, medium, and long scarves are:
Short scarf (55 inches long and between 6 and 9 inches wide): 9 to 11 hours of knitting time.
Standard scarf (70 inches long and between 6 and 9 inches wide): 12 to 15 hours of knitting time.
Long scarf (82 inches long and between 6 and 9 inches wide): 14 to 17 hours of knitting time.
All times given are for simple scarves made with a medium-weight yarn and standard knitting needles.
In conclusion
The short answer to the question "how long does it take to knit a scarf" is: around 15 hours, or less than a week if you knit for a few hours every day.
The long answer to this question, as described above, involves the different variables that can affect your knitting time. Keep in mind that the pattern, type of yarn used, size of the needles, and your level of ability all play a role!
If you found this article helpful, why not share it on social media?