If you are looking to start sewing with leather, it is important to choose the right machine for the job. In this guide, we will review the best leather sewing machines, look at any needed accessories and supplies, and explain what to look for when buying a sewing machine for leatherwork.
The best leather sewing machines
There are several sewing machines on the market that could technically be used for leatherwork, but some perform the task better than others.
An industrial machine is the best option, but they cost thousands of dollars and have a large footprint in your sewing room.
Most regular household machines are too weak to sew through leather with consistent results, so a heavy-duty sewing machine or a high-powered household sewing machine is the most accessible way to start your leather crafting journey.
Read our full Singer 4423 Heavy Duty Sewing Machine Review.
The Singer Heavy-Duty 4423 is an entry-level heavy-duty machine that is perfect for working with garment leather and other soft leathers.
With an all-metal chassis, steel inner frame, and motor that is 60% stronger than a regular sewing machine's, the 4423 is a good choice for leatherwork.
The 4423 comes with 23 built-in stitches. While you can only use a handful of them for sewing leather, they are handy if you plan to use your machine for other projects as well.
It comes with an excellent selection of accessories, the best of which are 4 presser feet. Unfortunately, that does not include a walking foot attachment, which is vital for sewing leather.
With a stitch rate of 1,100 stitches per minute, the 4432 lets you glide through most projects quickly and efficiently.
While the 4432 (and some of the other Singer heavy-duty models) has gotten some negative reviews from users who could not get it to sew through leather, the 4432 absolutely does sew through leather. However, you must use the correct needles and settings to do so (I will talk more about this later in the article).
Some users also complained that their threads were tangling and nesting into the feed dogs, but this is a super easy fix! If you hold the tail of the bobbin and needle thread taut behind the needle for your first few stitches, you should not have any issues.
For more information on the Singer Heavy-Duty 4432, take a look at our individual review of it here.
Read our full Janome HD3000 Heavy-Duty Sewing Machine Review.
The Janome HD3000 is considered to be one of the top heavy-duty machines on the market.
With a powerful 1.0 amp motor, all-metal insides, and excellent selection of accessories, the HD3000 is a powerhouse of a machine.
The HD3000 glides through several layers of thick materials without any issues. Leather is no exception.
The inside of the Janome HD3000 is completely metal – down to the very last gear. This is excellent news if you are looking for a durable machine since the nylon gears are some of the first things to break when sewing heavy materials frequently.
The Janome HD3000 has 18 built-in stitches, but with a speed of 850 stitches per minute
It is on the slow side for a heavy-duty machine. Still faster than a regular sewing machine, but more experienced sewers may find it lagging behind.
However, the slower stitch speed isn't much of an issue when working heavy materials like leather. A slower stitch speed is ideal with leather in order to keep control of the fabric while it feeds and to avoid overloading the motor.
The Janome HD3000's superb performance has led to it acquiring a strong fanbase of dedicated users. Several users even swear that it is better than their industrial machines.
You can find even more information on the Janome HD3000 by checking out our individual review here.
Read our full Brother ST371HD Strong and Tough Sewing Machine Review.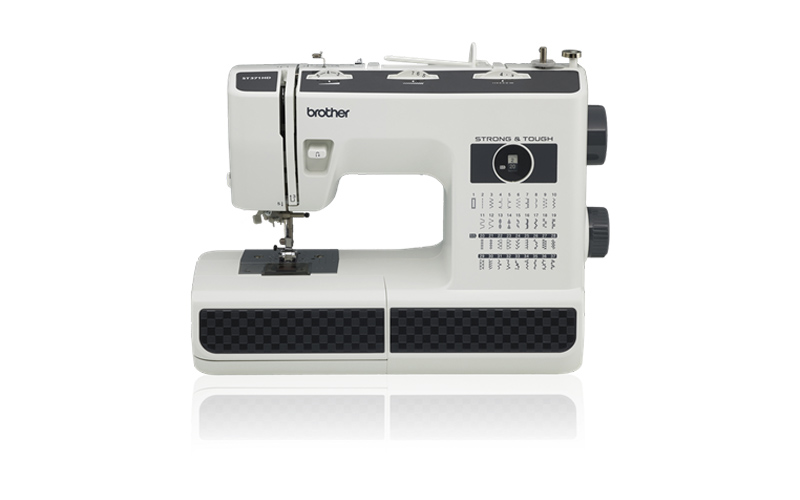 The Brother ST371HD is a great entry-level option for trying leather sewing without a huge investment.
With a metal interior frame, 37 built-in stitches, and a metal needle plate, the ST371HD is an excellent choice for any type of project.
The Brother ST371HD is a bit on the slow side with 800 stitches per minute, but as we established with the Janome HD3000, that isn't much of an issue when sewing leather.
Of its 37 built-in stitches, the Brother ST371HD offers several reinforcement stitches that will aid you in sewing leather and other heavy materials.
The machine comes with six different presser feet. While one of them is an easy-grip foot that will help leather glide through the machine, it does not come with a walking foot. Thankfully, Brother offers a compatible one that you can purchase separately.
You can learn more about this model in our individual review of it here.
Read our full Singer Quantum Stylist 9960 Computerized Sewing Machine Review.
The Singer Quantum Stylist 9960 is the only computerized machine to make it onto this list. While it is not directly intended for leather sewing, its versatile features allow it to handle some leatherworking projects.
As you would expect from a computerized machine, it has a staggering 600 built-in stitches. Many of them are decorative or embroidery stitches, so while most of them won't be particularly useful for leather, they can come in handy with your other projects.
The Quantum Stylist 9960 allows you a lot of control over your speed, which is a great asset when sewing leather. You can use the foot pedal to control your speed or you can set the speed through the computer.
You can also use the computer to set how many layers of fabric you plan to feed through the machine and it automatically adjusts its settings to accommodate them.
With a truly impressive 18 presser feet included, the Quantum Stylist 9960 is the only machine on the list to come with a walking foot! Since this is an essential tool for sewing leather with leather, it cannot be overstated!
The Quantum Stylist 9960 doesn't allow you to connect to a computer to download more stitches, which is a disappointing drawback for a computerized machine. For leather sewing, additional stitches aren't a big deal since you only need a handful of basic utility stitches for it anyway.
Check out our individual review of the Singer Quantum Stylist 9960 to learn more about it.
Read our full Singer 4411 Heavy-Duty Sewing Machine Review.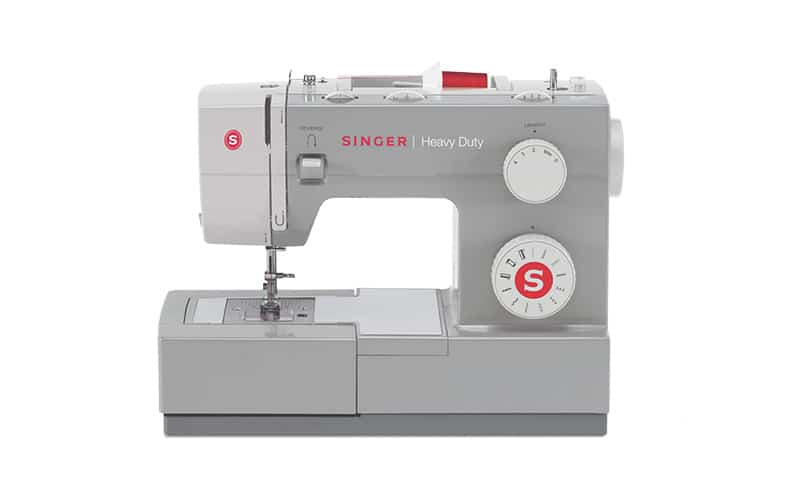 The Singer Heavy-Duty 4411 is the most inexpensive option in the Singer's line of heavy-duty sewing machines, but it is just as capable as the others.
With 11 built-in stitches, the 4411 is not the best choice for everyday sewing projects since it lacks the versatility of other feature-driven machines in its price range.
The real strength of the 4411 is its strong motor and durable design – both of which make it an ideal machine for working with leather.
Like the Singer Heavy-Duty 4423, the 4411 has a motor that is 60% stronger than regular sewing machines. This means it can handle several layers of garment leather or two to three layers of belt leather.
It comes with a good selection of accessories, but it unfortunately does not include a walking foot attachment. You can, however, purchase one from Singer.
If you want to learn more about the Singer HD 3000, check out our individual review here.
Do I need a special machine for sewing leather?
Yes, you absolutely need a special machine for sewing leather. A heavy-duty leather machine has marked differences from a regular sewing machine that allows it to function in ways a regular machine can't.
Leather machines typically have the following features:
double the motor power of a regular machine
a higher lift on their presser feet
more durable inner mechanisms to handle the extra strain of sewing through leather
Regular machines simply aren't strong enough to handle leather. Attempting to sew leather on a regular machine can lead to a snapped needle, blown-up motor, or bent needle arm.
You also run the risk of snapping some of the inner gears and mechanisms, which usually means a hefty repair bill from a sewing shop.
Heavy-duty leather machines have become much more affordable in recent years. Some models even rival the price of a regular sewing machine anyway, so it makes sense to buy the proper machine for the job.
Basic accessories and gear needed for leather sewing
Now that you have seen the best leather machines on the market, you will need to consider a few extra accessories that you'll need to start leatherworking.
1. Walking (even feed) presser foot
A walking foot, whether it came with your machine or was bought separately, is a necessary tool for sewing leather with a machine.
A sewing machine typically only uses the feed dogs on the needle plate to push the fabric past the needle. This works fine for one or two layers of normal or lightweight fabric; however, when sewing multiple layers of fabric or a heavy material, the layers can shift apart.
A walking foot is a motorized presser foot that feeds the fabric from the top in sync with the feed dogs on the bottom. This helps your fabrics feed to the needle evenly, and helps prevent shifting layers or skipped stitches.
A walking foot is especially important for leather, since even two layers of leather will have a hard time feeding through the machine from just the feed dogs.
When buying a machine for leather, make sure it either comes with a walking foot included or ensure that you can buy one separately.
None of the models listed in this guide (other than the Singer Quantum Stylist 9960) come with this accessory included, but they all have the option to buy one from the manufacturer.
2. Leather needles
When working with leather, you will need to use special diamond-tipped leather needles.
Regular sewing machine needles are not strong enough to pierce through leather consistently, so they can either break, burn up the motor or produce sloppy stitching if you try to sew leather with them.
You can buy leather needles for your machine at almost any craft store or online. They are inexpensive but they will need to be changed more frequently than regular sewing machine needles due to the extra friction and strain of using them with heavy materials.
3. Thread
You will need to use a medium or heavy weight thread while sewing with leather. Regular sewing machine thread can break during the sewing process or while the item is being used.
You should use medium weight thread for garment and soft leathers, and you should use heavy thread for belt and medium weight leathers.
Hand sewing versus machine sewing
If you feel a machine has too much of a learning curve or you want to be able to finish areas that cannot be reached by a machine, you can buy a leather hand sewing kit.
You can get a basic kit from Amazon, or you can choose a slightly more expensive kit that comes with absolutely everything you might need.
As you can see from the amount of different tools, hand sewing leather is quite a bit different from hand sewing other fabrics.
First, you need to run an awl wheel along the line you want to sew. This punctures the leather so that your needle can push through the material more easily. It also helps even out your stitching.
Once you are finished sewing your stitches, you have various options for finishing off your piece. You can burnish your corners to make them softer or you can use a mallet and stamps to add designs to your leather.
Even if you choose to machine sew your leather as much as possible, you should still know some basics of hand sewing as well. Some projects will need to be finished by hand, or it may simply be easier to do some projects by hand than by machine.
A video below is a great introduction to the basics of hand sewing leather.
Industrial versus domestic: Do I really need an industrial machine?
If you look through the user questions for any heavy-duty or high-powered sewing machine, there is almost always someone assuring prospective buyers that an industrial machine is the only viable option for leatherworking.
You will also find a slew of frustrated customer reviews from users who bought a heavy-duty or high-powered machine for sewing leather and could not get it to work.
The myth that only industrial machines can sew leather, or even upholster leather, is largely unfounded.
Each model named in this article is capable of sewing multiple layers of light to medium weight leathers with relative ease. Even the Singer 4411 and 4423 – two of the most inexpensive models on the list – are capable of sewing two layers of belt leather if you utilize the right settings and accessories.
The heaviest leather weights are, of course, reserved for the industrial machines, but most users are not going to have much use for those materials. If you know that you will be sewing very heavy-weight leather on a regular basis, then it is not a bad idea to consider an industrial machine.
Otherwise, a heavy-duty machine should be perfectly acceptable for your purposes.
Industrial machines usually have a motor power of about 1 HP. That is roughly seven times stronger than the strongest heavy-duty machine on our list (Janome HD3000). While that is undeniably impressive, it is also far more powerful than most sewists will ever utilize.
However, the most noticeable difference between industrial and domestic leather machines is not the power differential between the two machines. Industrial machines are set up to handle extremely thick materials from the beginning, while domestic leather machines cater to a wider range of applications.
An industrial machine comes equipped with all the correct settings for working with heavy-weight materials, so they are ready to go immediately. A domestic machine is made to accomplish everyday sewing tasks first and foremost, so the needle, timing, and other settings have to be fine-tuned before they can accurately sew leather.
What features should I look for when buying a sewing machine for leather?
There are a few characteristics of a leather sewing machine that are important to understand before you buy.
Size
Leather sewing machines are usually about the same size as a regular machine, although they are quite a bit heavier.
The Janome HD3000 even comes with a hard-sided traveling case despite it weighing nearly 20 pounds, so the manufacturers intend for some portability.
While we typically think of large machines bolted to tables when we envision heavy-duty leather machines, some of them are now able to have a small footprint in your craft room and are portable enough to travel with.
Speed control
One of the most important factors to consider when purchasing a leather sewing machine is whether or not it has a servos motor.
A servos motor is a microchip that allows you to vary your speed depending on how much pressure you put on the pedal. This is a standard feature in regular sewing machines, but some of the more high-powered ones don't include it.
You can install a servos into your machine if it does not come with one, but that requires an intimate knowledge of the inside layout of a sewing machine – something even many experienced sewists do not have.
Since leather is harder to sew through and to control while sewing, speed control is very important. You need a machine that can slow down significantly from a standard sewing speed while also having enough power to push the needle through the leather.
All of the machines listed in this article have speed control, so if you decide to go with a different machine, be sure to do your research before buying.
Noise level
Sewing machines are noisy. There are thousands of gears and metal pieces moving together and against one another every time a sewing machine moves, so a certain level of noisiness is to be expected.
High-powered machines capable of sewing leather are even noisier than regular machines. They have a stronger motor humming every time they turn on, and they usually have a metal body or inner frame that adds to the noise level.
Since you will have a high noise level with any machine, try to focus on a model with low vibrations instead. You can always put in ear plugs for a noisy machine, but there isn't much you can do for a machine that shakes your whole table and rattles your joints.
Machines with a metal outer case are the best option, since the metal case dampens the vibrations.
Feed style
Most leather machines outside of the industrial price range are going to have the same feed style as a regular sewing machine – on the bottom through the feed dogs on the needle plate.
These models are usually capable of becoming a two-point feed by attaching a walking foot. This allows the machine to pull the fabric along from two places: the bottom feed dogs and the walking foot on the top.
Other models have a built-in walking foot that allows for a three-point feed. These machines drive the fabric from the bottom feed dogs, the presser foot on top, and the needle. This allows them to pull several layers of thick materials through the machine without any resistance.
Walking foot machines are more expensive, but they give the best results when using multiple layers of leather.
Price
Leather machines tend to cost more than a regular machine, but they are becoming more and more affordable. Previously, you could not sew leather on any machine under $500-$600, but that is no longer the case.
Some of the machines we listed in this guide are priced under $200. That is pretty incredible when you consider how.much power and functionality they have.
With leather sewing more accessible than ever, it is a great time to invest in one of these machines and get started!
What size needle do you need to use with leather?
You need a big needle to sew through leather. We don't advise using anything smaller than a #15 with leather, but a #18 needle is ideal.
A #18 will give great results with a few layers of garment or medium-weight leather. Anything heavier than that will need the next size up.
Wrapping it up
As you can see, there are a number of affordable options to get started right away with leather sewing, and there are lots of great resources available to help you get started.
Still have questions or comments? Let us know in the comment section below!