You can design your own quilt by taking an amazing quilt block and using it for your own purposes/per your heart's desire, whether putting the blocks together to create a unique quilt, or making a one-block wall hanging.
If you prefer working with a full quilt pattern, check out this list of the best modern quilt patterns around.
17 Awesome Quilt Block Patterns
Here are 17 free quilt block patterns for quilters of all levels, and a range of quilt block sizes and quilting styles.
Looking for a sewing machine that will help you make the perfect quilt? Check out this roundup review of the best sewing machines for quilting.
1. Spring Breeze
This quilt block, as the name suggests, is light and fresh – just like a spring breeze.
The pattern is easy to make and creates a 12-inch block. As one of the most common types of quilt blocks, it is easy to combine with other quilt block patterns to create your own design.
Spring breeze is fun and pretty, and the pattern suggests you use floral fabrics in springtime tones that will make an ideal base for a spring-themed quilt. It uses a traditional piecing method that is accessible for beginners and will feel very familiar for more advanced quilters.
Get the Spring Breeze pattern and full instructions for free here.
2. Double Pinwheel
Pinwheels are a classic element in quilting design. This quilt block consists of smaller pinwheels that come together to form a large pinwheel, making it a double pinwheel.
The double pinwheel design is also sometimes known as old windmill or whirligig in quilting circles.
The quilt block is made entirely of quarter square triangle units in three different fabrics. You can create different styles and aesthetics with this versatile design depending on your fabric choice.
Make it with just two fabrics to create a different pattern again – the possibilities are endless!
This relatively-easy pattern will be a little challenging for complete novices, but is suitable for confident beginners and up.
If you want to give the Double Pinwheel a go, you'll find the free pattern here.
3. Bear tracks
This easy quilt block design is perfect for beginners. It uses only half-square triangles and cut squares, making it ideal to hone your skills when you're starting out.
Bear tracks are a common quilt block design that looks like animal tracks or a leaf, depending on your perspective. For this reason, this design is also sometimes called 'duck's foot in the mud, maple leaf quilt, tea leaf, or tea leaves.
This simple design does not require any special tools, nor do you need to know how to quilt with paper piecing.
You'll find the pattern and instructions to make your own bear tracks here.
4. Amish star
The Amish star block has been beloved by quilters for years, mostly because it looks complicated but is actually relatively simple to make. In fact, it is actually just a nine patch block: nine different squares of fabric sewn together to make a larger square.
You'll find a number of free Amish star quilt block patterns online, but we like this one with its easy-to-follow instructions.
The pattern uses the 8-at-a-time method to make the half-square triangles and suggests paper piecing the flying geese for the best result.
However, for those who don't like paper piecing, the pattern also details a connector corners method as an alternative.
5. Bears paw
Another classic design, the bear's paw quilt block evokes four different animal paws – well, to some people, anyway! It is also known as bear's foot, duck's foot in the mud, cat's paw, Illinois turkey tracks, hand of friendship, the best friend, and batsche.
It is also a simple design that is perfect for beginners to practice their skills, in particular piecing with half-square triangles. You'll only need two different fabrics to create a stunning project.
The bears paw lends itself well to making in patches, letting you create unique projects by arranging the blocks to your liking. This free pattern shows you how to make the blocks in batches of eight, which is a great time saver and allows you to whip up a large quilt in no time.
Best of all, this pattern doesn't use any special tools or rules!
6. Log cabin block
The log cabin is another classic quilt block design. This geometric design of rectangular shapes is extremely versatile: you can achieve very different effects depending on the fabrics that you use.
In fact, by changing up the number of different fabrics you use, you make almost entirely new designs. Make the block with two or three repeating fabrics for one look, or a different fabric for each piece for a different aesthetic.
Most free log cabin quilting patterns use the traditional piecing method. However, this tutorial uses the "quilt as you go" method which involves piecing the whole pattern together as you work, which is a great time-saver.
The pattern produces a 14-inch square block that you can use to form a larger quilt or a range of other quilting projects.
7. Reverse sawtooth star
Star motifs are common in quilting, and the sawtooth star is a traditional pattern that got its name because it is reminiscent of a saw's cutting edge.
The reverse sawtooth star is an easy way to make this classic shape with a simple piecing method. You can use this quilt block in a range of designs and it looks great with both traditional and modern fabrics.
If you want to make the reverse sawtooth star block yourself, you can find the free pattern here!
8. Bento box
This modern and minimalist quilt block is easy to make. The clever design uses color and contrast to create an interesting geometric pattern.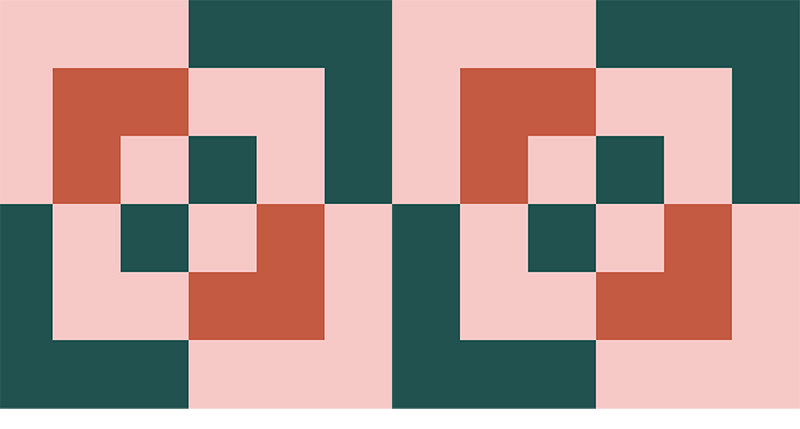 It is also a great way to use any scraps you have lying around.
Finishing as a 12-inch square quilt block, the pattern teaches you to assemble each corner of the block separately; a simple method that can be helpful in creating a range of quilt layouts.
Check out the pattern here to get started with the bento box quilt block.
9. Economy block
Every quilter should be able to make economy quilt blocks. Not only are these blocks great for using up fabric scraps you have in the cupboard, this design is also perfect for playing with fabric.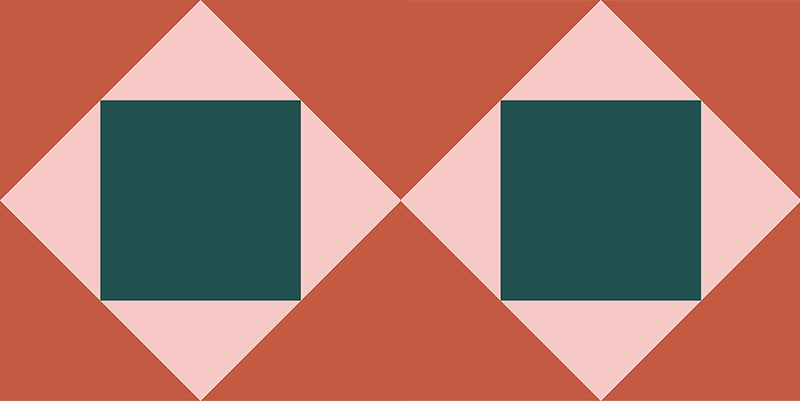 The simple geometric design makes it ideal for mixing and matching different fabrics you've been wanting to use, and you can put bold prints in the center squares without them being cut off.
Finally, as the name suggests, the economy quilt block uses every inch of your fabric squares so you don't need to worry about wastage.
Get the pattern and instructions here if you're ready to get started on your own economy quilt blocks.
10. Bow tie
This quilt block is so-called because of the bow tie shape it makes using squares and half-square triangles. It is a great design for beginners, as every seam is a straight line: there are no set-in seams in sight!
Bow tie quilt blocks are great for modern quilting projects, and the large squares lend themselves to prints and other cool fabrics. Sewing a large number of bow tie blocks together creates a really interesting visual texture.
This easy-to-follow pattern has cutting instructions for two different block sizes: 12-inch and six-inch. This versatility means that you can adapt this quilt block to a wide variety of different projects.
11. Shoo fly block
Another classic quilt block design, the shoo fly quilt block is relatively easy to make and suitable for all levels.
The simplicity and clean lines of this block make it suitable for a range of different designs and projects. It makes an interesting element in a sampler quilt, or you can make a large shoo fly quilt block on its own for a wall hanging or a décor project such as a pillow case.
For a closer look at the shoo fly quilt block design, check out the pattern here, which includes options for both 12 inch and six inch finished blocks.
12. Cactus pot
The cactus pot is another traditional quilt block design that uses triangular half-square shapes to create a prickly texture and blossom-like shapes. Don't be fooled, however: this design is still pretty simple and easy to make.
You can use this versatile design with themed fabrics. It works equally well with random fabrics when using up old scraps.
You can also create impressive quilts and wall hangings by arranging various cactus pot blocks in different layouts.
Want to give the cactus pot a try? Get the pattern here!
13. Diamond in a square
One of the most common quilt blocks around, the diamond in a square is another essential design that all quilters should know. It is sometimes called square in a square, as the central diamond is, in fact, a square!
Not only is this design suitable for a variety of fabrics and styles, it is also handy for breaking up other quilt blocks and providing some negative space. You can also make use of the large diamond to show off graphic prints.
If you'd like to try your hand at this diamond in a square, check out this tutorial. It explains how to rotary cut the patches, which saves time and avoids the wastage of some other methods used to make this quilt block design.
14. Trafalgar square
The Trafalgar square quilt block is a bit more challenging than most of the blocks we've mentioned on this list. Ambitious beginners should still be able to manage this design; they'll just need to be prepared to put in a little more time!
The intricate design can be quite fiddly, but it is achievable if you follow the right steps and do everything in the correct order.
The result is a striking geometric design that is stunning on its own or in a sampler.
If you're up for a challenge, grab the pattern and instructions here.
15. Patchwork cat
An evolution of the traditional paper pieced cat pattern, the patchwork cat is easy to put together. The striking design is different to most classic quilt blocks, with a feline silhouette in a frame.
Finishing at a 12-inch square, this design can be embellished or simplified according to your wishes. It can be used as a stand out block in the center of a project, or create an entire quilt of patchwork cat blocks, each with their own personality.
Ready to make your own patchwork cat? Head here to grab the pattern and instructions.
16. Buckeye beauty
This easy quilt block is made up of just two half-square triangles and two four patches.
The pattern creates a 10 inch finished quilt block and it is suitable for complete beginners.
One of the advantages of the buckeye beauty quilt block is that you can vary the contrast by using different fabrics. This allows you to use the same pattern to create quite distinct designs.
If you're interested in making the buckeye beauty quilt, you'll find the pattern and instructions here.
17. Sailboat
This adorable sailboat design is made for a child's quilt, or any other project for a little boy or girl. Although pretty impressive, it is also easy to make and suitable for quilters of all levels.
The design uses many of the basic quilting elements, so it allows beginners to practice their skills. The design is also highly adaptable, as it can be easily resized.
Get the pattern here to make your very own sailboat quilt block.
Wrapping it up
Quilt blocks are the foundation of any quilting project: whether you use a single block to make a wall hanging or turn rows and rows of blocks into a queen size-quilt.
Knowing the classic quilt blocks, as well as a few more modern ones means you can take these building blocks and create your own unique designs.
If you've found this list useful, go ahead and share it with your quilting friends or on social media!