Interchangeable needle sets are a huge advantage for any knitter who likes to work with different yarns and create a wide range of projects. A good interchangeable needle set will give you a range of needle and cable sizes that you can put together to create countless combinations, to make anything from baby socks to bulky sweaters.
Our top pick for the best interchangeable needle set is the Knit Picks Interchangeable Circular Knitting Needle Set, with the Katrina Yu Bamboo Circular Knitting Needles Set coming in as runner-up.
Best interchangeable knitting needle sets
We've put together a list of our absolute favorite interchangeable knitting needle sets. In compiling this list, we looked at factors such as the number and sizes of the included needles and cables, needle length, and other included accessories to find the best sets to suit a range of needs.
This interchangeable knitting needle set from Knit Picks has nine pairs of needles. Each of the needle tips is four and three-quarter inches long and ranges between sizes four and eleven.
This gives you a wide range of needle sizes, allowing you to work with different yarn weights, stitches, and techniques.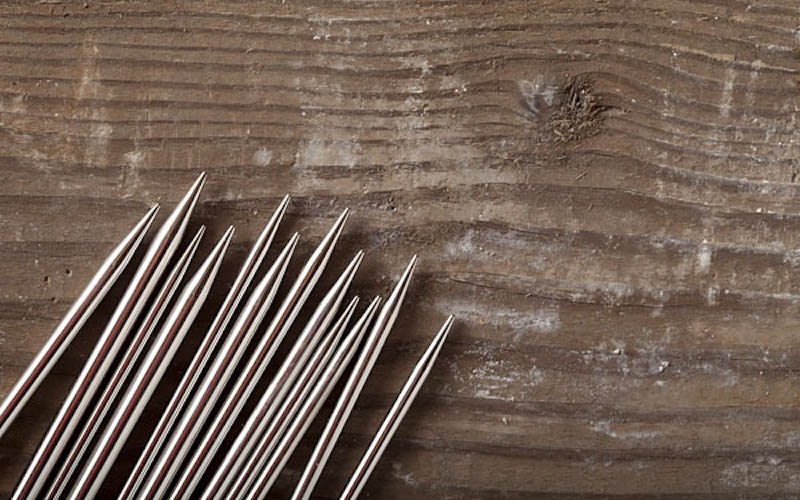 The needles are all metal: they have a hollow brass core, making them light and easy to handle, even working for hours at a time. They are plated in nickel, giving them a smooth surface that helps with smooth knitting, allowing the stitches to easily slide as you work.
The set also includes four cables, as well as eight purple end caps and two tightening keys. The cables are designed to be "memory-free", meaning that they stay flexible no matter the project you are working on.
Each cable is a bright purple, which could be seen as a pro or a con. While stunning and fun to work with, the purple can make it harder to see your stitches when using certain colors of yarn.
The cables connect to the tips with a screw-in system, with a smooth join that won't snag your yarn as you work. Just make sure you don't lose the metal tightening key that comes with the set, otherwise tightening and loosening the screw can be tricky!
Some online reviewers report having problems with the smallest needles unscrewing while they work. However, the overwhelming majority of users did not have this issue, with most giving the product a five-star rating, so this may be a case of user error!
This Knit Picks set comes in a flexible carrying case to protect all the components during transport or storage. The case has a snap closure to stop it from opening and keep everything secure.
What we like:
Lightweight – The metal needle points have a hollow brass core, making them very light and reducing strain or tiredness as you work.
Smooth – Each needle point is also coated in nickel so that yarn glides smoothly over the needle, making knitting more efficient.
Smooth join – The cables tightly screw to the needle point, for a smooth join that won't catch or damage your yarn.
What we don't like:
Colored cables – Though visually stunning, the purple cables can make it harder to see your stitches.
Although some people may struggle with the bright purple cables, others will love this fun detail. This set from the well-known band Knit Picks is our top pick for the best interchangeable needle set because it is lightweight, versatile, and easy to use for a smooth knitting experience.
We love the versatility of this Katrina Yu interchangeable knitting needle set. The set contains an impressive 13 different needle sizes, ranging from size 2 to size 15.
The set also includes aluminum alloy handles that are both lightweight and smooth, and so perfect for arthritic hands.
It has a large number of cables – eight in all – so you'll be able to put several projects on hold while you work on others! The cables are memory-free so they'll stay perfectly flexible even after extensive use.
The needles attach to the cables with a screw join. Some online reviewers complain that the join can come unscrewed as they work, though overall the reviews are very positive.
Finally, the large set also includes two cable connectors, a metal crochet lock, a non-slip gripper, and a crochet hook measurer. The needles and cables attach using the included cable keys, and you get a spare key, which is handy in case you lose one!
All of this comes with a very affordable price tag: this is one of the cheapest interchangeable knitting needle sets you'll find on the market.
What we like:
Versatile: The set contains a large number of different needles and cables in various sizes.
Affordable: Despite the large number of pieces and accessories, this set is very well-priced.
Arthritis-friendly: The aluminium alloy handles are lightweight and smooth, great for anyone with arthritis or strain injuries.
Spare key included: You won't need to worry if you lose the vital key to unscrew the needle/cable joins, as you get a spare!
What we don't like:
Join may unscrew – Some users reported that the join comes unscrewed while knitting, though the majority of reviewers did not experience this issue.
The risk of the joins unscrewing over time is unfortunately a risk with any interchangeable knitting needle set that has a screw join (which is the most common join found in these sets). With a large range of needles, cables, and other accessories, this Katrina Yu interchangeable knitting needle set offers excellent value for money.
This Knit Picks interchangeable knitting set is an excellent choice for any knitter who prefers to work with wooden needles. The set includes seven pairs of 2.75-inch wooden needle tips from size four to size 10 needles.
The needles are made of strong and smooth layered birch but in a range of ocean-colored tones. The flexible cables are a beautiful emerald color, making the whole setting visually stunning.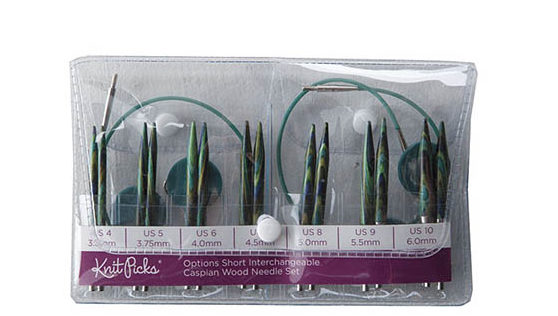 These tips are around two inches shorter than most interchangeable needle tips, making the set very portable and ideal for traveling or small circumference projects. However, it is not really suitable for larger projects, so it is not the best choice if you want a versatile set to cover most uses.
The set also includes two cables to create a total of 16 inches of length when attached to the needle tips. There are also two cable keys and four end caps to keep your stitches in place when detached from the cable.
The set comes in a flexible vinyl case with a snap closure to keep all the pieces secure, protected, and well-organized.
What we like:
Natural material – These wooden needles are light and comfortable to use, without the clicking sound of metal needles.
Beautiful design – The ocean-toned wooden needles and emerald cables look stunning.
Portable – This compact set comes in a flexible case, making it great for travel.
What we don't like:
Too small for some projects – The 2.75-inch needle tips will make larger projects difficult, if not impossible, to knit.
Although not suitable for bulky projects, these small needles are perfect for smaller items like hats and socks.
This Knit Picks wooden interchangeable knitting needle set is well-made, lightweight, and comfortable to use. Along with being user-friendly, these colorful needles and cables are sure to put a smile on your face every time you use them.
We love the stunning design of both the needles and the case. The needles are a beautiful polished, ginger-toned wood, tucked into a pretty blue folding hard case.
The magnetic storage case is well organized with various compartments to keep everything in its place.
The set of needles covers a wide range of sizes, from size three to a very large size 17 needle that is included in very few sets. Better yet, they are interchangeable with other sets from the same manufacturer, so you can swap them with their other needle sets, such as double pointed and Tunisian crochet needles.
However, some users report that the smallest (size three) needles are not very sturdy and may be prone to breaking.
Though wooden, the needles are glossy and varnished so are very smooth, meaning the yarn glides easily over the needles without catching. The needles have pointed tips that are not too blunt while still being nicely rounded.
What we like:
Beautiful – The needle tips are a lovely polished wood and come in an equally stunning case.
Range of needle sizes – The impressive range of needle sizes goes up to a very large size 17 needle, allowing you to knit bulky projects.
Convenient storage case – The set comes in a magnetic storage case with multiple compartments to keep all the pieces well-organized.
What we don't like:
Quality issues – Some online reviewers have reported issues with the smallest needle size, saying they are too flimsy.
These visually stunning wooden needles and included beautiful case will add an element of style to your workspace. Although a few users reported issues with the smallest needles, overall they are highly rated for their quality, gorgeous design, and ease of use.
Made in Japan, these Takumi knitting needles are made of bamboo, making them lightweight yet durable. The set has 12 needle sizes, from size three to size 15, with five cord sizes, giving you over 60 combinations overall.
The bamboo is glossed with a silky finish that allows the yarn to slide across easily but is not so slippery that you'll drop stitches. Each has a well-made precision joint with a smooth connection between the needle and the cord.
On the downside, you may struggle to see the stitches on the dark-colored cables if using black or dark-colored yarn.
What we like:
Strong and lightweight – The bamboo needles are durable yet lightweight, so you won't get tired after long knitting sessions.
Glossy finish – Each needle also has a silky finish to allow the stitches to glide smoothly as you work.
Well-made – The set is made in Japan to a high standard, with precision joints that give a smooth connection between the needle and the cable.
What we don't like:
Dark cables – The dark grey cables make it difficult to see your stitches when working with darker yarn.
This Takumi interchangeable knitting needle set is well-made, with smooth joins, making knitting easy and efficient. Being made from bamboo, the needles are lightweight while being sturdy and durable.
These ChiaoGoo interchangeable needles connect with a twist tip that securely locks in place, and is easy to disconnect when you want to change the needle. This join is also nice and smooth, so you won't have to worry about your yarn catching on the join.
The set is well-made, with online reviewers raving about the quality and usability, with more than 90% of users on Amazon giving this product five stars.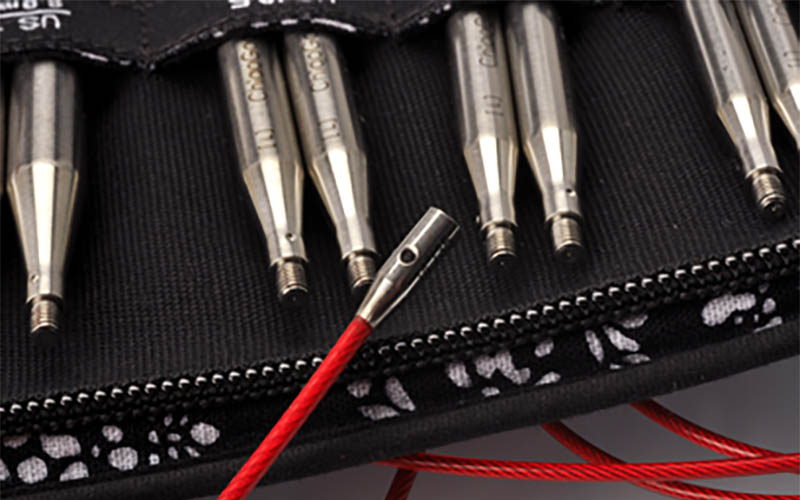 The set includes seven different sizes, with each needle tip being four inches long, and made of surgical-grade stainless steel. This material is extremely durable and won't bend or break, even with heavy use.
The needles also have sharp tips that are great for fine yarn and lace work. However, this can be problematic when working with certain stitches and types of yarn, such as yarn that splits easily, or stockinette stitch.
We also like that each needle tip has a lifeline row, allowing you to easily add a lifeline yarn as you knit.
The set includes eight-inch, 14-inch, and 22-inch memory-free cables, allowing you to make circular sets up to a diameter of 30 inches. Other components included with the set are cable connectors, end stoppers, stitch markers, a needle gauge, and tightening keys.
This is a larger range of accessories than you'll find with most interchangeable knitting needle sets, making your knitting easier and more efficient.
The cable connectors are coded with easy-to-read markings so it's easy to ensure that you always use the right connector. The fabric case closes with a zipper and has no less than 29 inner pockets so you'll be able to keep this set's many accessories and components organized!
What we like:
Twist-tip connectors – The needles and cables have a twist-tip connector for a smooth and secure join.
Sharp tips – Making the needles ideal for delicate, precision work.
Zippered case – The storage case closes with a zipper to keep everything secure.
What we don't like:
May split the yarn – The downside of the needles' sharp tips as this could split the yarn, so this is not the best set for beginners.
Although not the most beginner-friendly set, intermediate to advanced knitters will love this high-quality set. With a range of needle and cable sizes as well as other accessories, the needles and cables connect with a secure and smooth join for smooth knitting.
If you're looking for sharp needles for delicate work, this HiyaHiya interchangeable needle may be a good fit. The metal needle points are made from stainless steel and come to a fine point for precision knitting and crochet.
There are also single point adapters to give you even sharper needle points if you need them. As with any sharp needles, you'll need to be careful not to split the yarn as you work, but they are perfect for lacework and similarly delicate projects.
There are 13 sets of needles ranging from size two to size 15, each five inches long, also featuring lifeline holes. The needles connect to flexible cables with a swivel connection that is more secure than most screw connectors.
There are also four cables included, ranging from 18 inches to 42 inches, allowing you to create a very large circular needle for bulky projects.
There is a large range of accessories, including some that you don't get with most interchangeable needle sets such as a puppy snipper. There are cute stoppers shaped like pandas, in two sizes.
The only issue with this set seems to be the case – it is not very well-organized, lacks separate compartments, and does not hold the needles in place unless stored upright.
What we like:
Perfect for delicate work – The needles have sharp points and come with sharper needle points, allowing you to work with precision.
Durable – Made from stainless steel, each needle tip is sturdy and virtually unbreakable.
Large cables – The included cables will make a circular needle up to 42 inches, letting you create very large projects.
What we don't like:
Poorly-made case – The case doesn't help you to keep the set organized or secure.
Although the case is not very practical, you can easily buy a better case online for a reasonable cost. If you're looking for an interchangeable needle set for delicate and precision work, this durable and very sharp set makes an excellent choice.
This Addi set includes not only interchangeable needles but also a set of crochet hooks.
The needles are from Addi's "Click Grab N Go" range that allows you to easily click and unclick the needle tips to the cables to make combinations. However, some online reviewers complain that join is not completely smooth and catches the yarn sometimes.
The needle tips have a white bronze finish that is smooth, durable and doesn't react to the skin (unlike nickel which can react to sensitive skin) with needles in sizes four to 11.
The tips are five inches long which is useful for large projects, but makes smaller circular items like sleeves and hats difficult. The set also includes five crochet hooks ranging in size between 4.0mm and 8.0mm.
You'll also get a range of accessories including stitch markers, heart-shaped stoppers, grips, a connector, embroidery scissors, measuring tape, a darning needle, and needle gauge. This will set you up with everything you need for most knitting and crochet projects.
The set comes in a large project bag that closes with a drawstring and has shoulder straps for easy transport.
What we like:
Versatile – This set includes not only a number of interchangeable needles, but also five crochet hooks in various sizes.
White bronze finish – The needles have a white bronze finish that is smooth and durable, but won't react with sensitive skin.
Large range of accessories – This set comes with a large number of accessories, giving you just about everything you need for knitting and crochet.
What we don't like:
Not the smoothest join – Some reviewers say that the join is not entirely smooth and may catch the yarn as you work.
This large, versatile set will give you just about everything you need for a wide range of knitting and crochet projects in various yarn weights. The white, bronze-plated needles are sturdy, smooth, and won't irritate your skin.
Interchangeable knitting needles: What you need to know
You may think that any interchangeable knitting needle set is essentially the same, but this is not the case. These sets can vary widely in terms of size, range, and quality, and some are better suited to certain projects than others.
Therefore, it's important to have at least a basic understanding of the best interchangeable knitting needle sets before investing in one. Here are a few key things you should know.
What exactly are 'interchangeable' knitting needles?
Interchangeable knitting needles are sets of knitting needles (or more specifically needle tips) and cables that you can swap and combine in various ways to meet different requirements.
A set like this means you have all the needles you'll need at your fingertips for just about any project, no matter the weight of the yarn or stitch you're knitting. With an interchangeable knitting needle set, all you need to do is swap out the needle size and cord length to suit the pattern and your requirements.
Each set has different component parts, typically:
Needles
Cables
End caps
Pins and other tools (some manufacturers include these to help you connect the needles to the cables and to keep the connection tight)
Mixing and matching these components can give you literally hundreds of combinations – some sets may have up to 500 different combinations.
What features should you look for in an interchangeable knitting needle set?
Interchangeable knitting needle sets can have a wide range of features. Not all of these will be essential for every knitter, but here are some key features to keep in mind.
Smooth join between needle and cable
A key feature of any interchangeable needle set is how the cable connects to the base of the needle. This point is called the join, and this can greatly affect the effectiveness and performance of interchangeable knitting needles, especially if it is not smooth.
The join can come in various forms, including:
Screw – This is the most common type of join, and involves screwing the needle into the cable with a screw that is screwed and unscrewed using a small pin. Though generally secure, in poorly-made models this kind of join can gradually come unscrewed as you work.
Click – Some interchangeable knitting needle sets, notably those from the Addi brand, use a click system. This involves pressing the cable into an indentation in the needle and rotating it until you hear a click to secure the two together.
Spring-twist – This type of join works in a similar way to a child-safety cap, in that you can only release it by pushing it in and twisting. This makes it easy to detach but unlike to come undone accidentally.
It is important to ensure the join is smooth so that the yarn will smoothly glide over it without catching or damaging the yarn. Otherwise, your stitches may get stuck on the join and you won't be able to knit so efficiently.
Equally, the best interchangeable knitting needles have a nice, solid connection, so that they don't come apart while knitting. This could cause dropped stitches that could completely ruin your project.
There is something of a trade-off here when it comes to ease-of-use compared to security. The easier the joins are to unscrew, the more likely they are to come undone.
This join can come under a great deal of force while you knit, so you should look for needles that are sturdy, particularly at the join. If not, you may find that it weakens over time.
Therefore, a very secure join won't come undone while you're knitting, but can also be difficult to unscrew. Ultimately, no system is perfect, and the only way to guarantee your cable is absolutely secure is to use a fixed circular needle.
Having said that, you are best to look for interchangeable needles that are as secure as possible while still being easy to use.
An attractive and durable case
The case is an integral part of any interchangeable knitting needle set, as it is essential for you to keep the various components organized so that you can change the tips as needed.
You want the case to be nice and sturdy so that it will keep all the parts well-protected, as well as secure so that parts don't fall out and get lost.
An attractive case is also a bonus – after all when you use something all the time it's always nice if it is beautiful as well as functional. Many interchangeable needle sets come in cases with bright colors or stunning patterns.
Various flexible cables
Interchangeable knitting needle sets can come with anything between two and six (or more) cables of different lengths. Having a range of different cable lengths is important for the set's versatility.
If you're going to be knitting large projects like bulky jumpers or blankets, it's important to consider the maximum circumference you can make with the included cables and whether this will be sufficient.
It is also vital to have flexible cables that don't kink with use, as kinks and bends can catch your stitches, making knitting more difficult and less efficient. Look for "memory cables" which will stay flexible even after extended use.
Some interchangeable needle sets with a screw join feature the screw on the needle itself, while in other cases the screw is on the cable. When the screw is located on the cable, the cable may kink around the screw.
Different needle tip sizes
Of course, the aim of any interchangeable knitting needle set is to get a range of knitting needles in various sizes.
A size six needle is the most versatile, being suitable for working with worsted weight and other common weights of yarn, as well as most stitches. For delicate lacework and sock yarn you'll need a size three or four needles, and bulky projects can range from size 15 to 17 needles.
In order to satisfy a range of requirements, you want a knitting needle set that covers size five to size 15 needles at the very least, if not more!
It's also important to consider how sharp the needle points are. If the needle points are too sharp, you may accidentally put them between the yarn plies, splitting the yarn.
This makes blunter tips easier to work with, especially for beginner knitters, though these types of needles are not really suitable for working with lighter yarn weights or higher tension.
Included end caps
Some interchangeable needles come with cable stoppers that will secure one or both ends of the cable and prevent the yarn from sliding off. This allows you to keep a project safe when you're halfway through and want to use the needles for something else.
These stoppers range from boring but practical plastic items to more interesting designs in cute shapes. Some are more solid than others, but even the flimsier versions usually work fine.
Grip and extenders
Some interchangeable knitting needles feature a small rubber patch to enhance the grip. This makes the grip more comfortable while helping to stop your fingers from slipping.
This is particularly useful for metal knitting needles, which are prone to slipping.
Some interchangeable knitting needles also come with needle extenders that effortlessly turn a six-inch needle into a seven-inch needle, for example.
Why choose interchangeable knitting needles over fixed circulars?
Interchangeable knitting needles share many of the advantages of circulars, allowing you to knit in the round or flat, and being ideal for larger yarn and big projects.
The big advantage of interchangeable knitting needles over circular needles is convenience. Rather than having to buy (and store) a large number of needles in different sizes, or compromise by using a needle that is not quite right for your project, you'll have everything you need.
FAQs
In this section, we'll address some of the most common doubts and concerns knitters have when it comes to interchangeable knitting needles.
Are interchangeable knitting needles universal?
No – every range of interchangeable knitting needles has its own connection system so you are very unlikely to be able to use tips or cables from different sets. However, some products like the Knitter's Pride Ginger Deluxe Interchangeable Needles Set are interchangeable with other sets from the same brand.
How do you use interchangeable needles in knitting?
You use interchangeable knitting needles in exactly the same way as circular knitting needles. The only difference is that the tips can be detached and re-attached to the cables depending on the size needle that you need.
Are interchangeable knitting needles worth it?
Interchangeable needles are the best choice for anyone who wants to knit multiple types of projects requiring different needle sizes. If you're only ever going to work with worsted weight yarn, you'll probably only need one circular needle.
However, for most people interchangeable needles will work out to be much more cost effective in the long run, as you don't need to keep investing in new circular needles of different sizes for every new project.
Wrapping up
Interchangeable knitting needles are an asset to any knitter, whether you're a beginner or any experienced and enthusiastic hobbyist. With the right set, you'll have the right tools at your fingertips to tackle any project.
If you've enjoyed this review of the best interchangeable knitting needles, please share it with the other knitters in your life!
If you're new to knitting, check out our guide to the best knitting books to develop your skills, or take a look at our roundup of gifts for knitters for more fun knitting-related products!