A Cricut machine is an incredible asset for anyone who enjoys crafting or DIY. Of the many models in Cricut's extensive range, which is the best for you?
The best Cricut machines
Cricut has a large range of cutting machines. At first glance, each of these models may seem more or less the same.
However, each Cricut model has its own features and strengths. Depending on what you plan to use it for, you'll find the perfect Cricut machine for you.
The Cricut Maker is our absolute favorite Cricut machine for a number of reasons. This versatile, reliable machine comes with a range of accessories, and lets you tackle just about any cutting project you can think of!
This cutting machine is very easy to use. So simple, in fact, that kids can use it, and they will delight in creating their own projects.
The Cricut Maker comes with an innovative new type of rotary blade that is specifically designed for fabrics. This makes it perfect for sewers or anyone who works with fabrics to create their craft projects.
The Cricut Maker's blades work with a gliding and rolling action, meaning they can quickly and easily slice through any fabric, producing perfect cuts.
Another advantage of this Cricut machine is that it comes with a range of accessories, including a pen and a scoring tool. This means that as your abilities develop, you can discover new crafts and grow your skills.
Buying this machine also gives you access to hundreds of digital sewing patterns and projects. You can then use your Cricut Maker to cut and mark all the pieces, so all you need to do is sew them together.
What we like:
User-friendly: The Cricut Maker is simple to use, with intuitive features.
Easy to change tools: You can quickly change cutting or drawing tools with the press of a button.
USB connection: Easy to connect your computer or smartphone, and you can even use the USB port to charge your device.
Docking slot: This will hold your device while you use the machine.
What we don't like:
Can cut on the mat only: The Cricut Maker can only cut with a cutting mat, limiting the cutting area.
Along with the included patterns, you can also use the Cricut Maker to make your own designs, meaning you are limited only by your imagination. You can create your own design on your computer or mobile device, or upload any image or font directly to the machine.
All things considered, the Cricut Maker is an easy-to-use cutting machine that is packed with features and can cut a wide range of materials, so we had to crown it as our best overall Cricut machine
The Cricut Explore Air 2 is an excellent choice for those who are mostly looking to work with paper and cardstock. It can be used to cut over 100 different materials, including specialty paper, cardstock, adhesive foils, iron-on vinyl, poster board.
This cutting machine can also cut some kinds of fabric such as premium vinyl and faux leather. However, unlike the Cricut Maker, it is not designed to slice through all types of fabric.
It is, however, an affordable alternative, being available for around $100 less than the Cricut Maker. This low price tag makes it a great choice for beginners, along with its easy-to-use interface.
The Explore Air 2 is very simple to use, letting beginners quickly learn how to use it to make their own customized projects.
This Cricut machine also comes with everything you'll need to get started. Included accessories are:
Cricut premium Fine-Point blade and housing
Cricut LightGrip adhesive cutting mat (12 inch by 12 inch)
Cricut Fine-Point pen in black
Design Space access (Cricut's design software)
The included LightGrip cutting mat is ideal for materials like vinyl and HTV. For some materials, it is better to use the StandardGrip or HeavyGrip mats that can be easily purchased separately.
What we like:
User friendly: This machine is very easy to use and approachable even for beginners.
Affordable: The Explore Air 2 is available for a very reasonable price and is great value for money.
Versatile: This model can cut over 100 different materials.
What we don't like:
No rotary cutting tool: Lacking a rotary cutting tool, the Explore Air 2 is not ideal for cutting fabric.
An excellent choice for beginners, the Cricut Explore Air 2 is versatile, affordable, and easy to use.
Included with the purchase of the Cricut Explore Air 2 is a two week free trial to Cricut Access, allowing access to the Cricut Image Library of over 30,000 non-licensed images, 1000 projects, and 400 fonts.
The Silhouette Portrait 2 is an even more affordable cutting machine, coming in a little cheaper than the Explore Air 2. It also has most of the features and tools crafters look for in a cutting machine, making it the best budget machine.
This versatile machine can precisely cut a range of materials, from cardstock to vinyl and heat transfer material to vellum.
This is a very compact machine, meaning it won't take up too much room on your workspace. It is also easy to store and transport.
You can also connect this cutting machine to your device via Bluetooth, making it easy to upload patterns or your own custom designs from your computer or smartphone. It comes with software that is compatible with both Mac and PC systems.
What we like:
Small and compact: The Silhouette Portrait 2 is light and portable.
Affordable: This model is one of the lowest-priced cutting machines on the market.
Connectivity: You can connect your device to the machine via Bluetooth.
What we don't like:
Not very powerful: With 210 grams of cutting force, this model is not as powerful as others on this list.
Although small and portable, the Silhouette Portrait 2 is packed with features. This cutting machine comes with 50 exclusive designs, allowing you to make everything from greeting cards to iron-on projects on a range of different materials.
4. Best portable machine – Cricut Joy
The Cricut Joy is a compact and portable machine that is great for those who like to craft on the go.
It sits at just five inches by eight inches and weighs less than four pounds, making it easy to transport as well as to store between uses. It is also a budget-friendly model, being comparable in price to the Silhouette Portrait 2.
It should be noted, however, that the Joy has a limited cutting area when using a mat. This model can only take cutting mats up to 4.5 inches by 12 inches (compared to 12 inches by 24 inches cutting mats used by the Cricut Maker and Cricut Explore Air 2, for example).
This also means that cutting mats for this machine are not compatible with mats for larger models, though both LightGrip and StandardGrip mats are available for the Cricut Joy.
What we like:
Compact and portable: You can easily take this small model with you to other locations.
Mat-less cutting: The Cricut Joy can cut with or without the mat, meaning you can cut designs up to four feet long.
What we don't like:
Small cutting area: When using a mat, you are limited to a cutting area of 4.5 inches by 12 inches.
The Cricut Joy is a compact machine that can cut and draw either using a mat, or mat-less for cutting long lengths of materials. You can use it to cut very long designs, up to four feet long within its cutting width of 4.5 inches. This is useful for repetitive designs and larger décor projects.
The Cricut Cuttlebug is a manual die cutting machine that can cut and emboss a range of materials, including cardstock, tissue paper, foils, thin leather, acetate ribbon and embossables.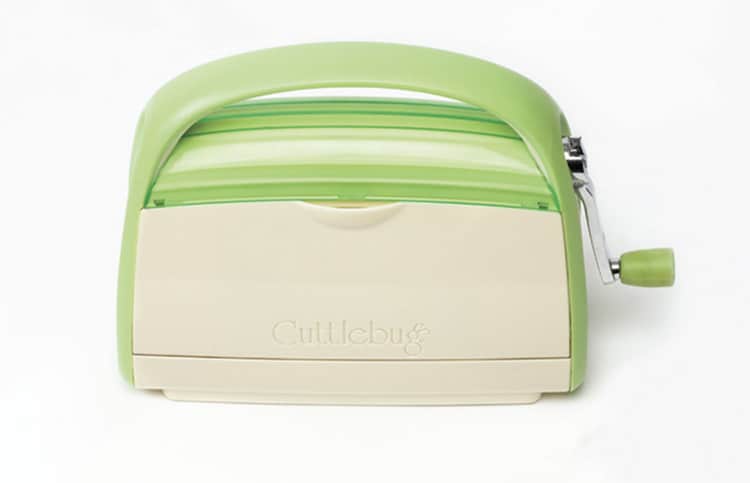 This machine works very differently from Cricut's electronic cutting machines. As a die cutting machine, it works with cutting dies, or templates.
Two basic cutting dies, as well as three plates and an embossing folder, are included with the Cuttlebug. Extra dies can be purchased separately, and the Cuttlebug is compatible with the entire range of Cricut embossing folders.
The nature of the Cricut Cuttlebug means the range of designs that can be cut is more limited. However, the quality is unmatched, producing cuts that are extremely precise and uniform. The Cuttlebug can also be used to create deep and even embossing.
This accuracy and precision make the Cuttlebug more expensive than the other Cricut machines on this list. It also makes it suitable for professionals and those who need extremely precise cuts on their projects.
What we like:
High degree of precision: This die cutting machine produces very precise cuts.
Included accessories: The Cuttlebug comes with two basic cutting dies, three plates, and an embossing folder.
Easy to transport and store: You can collapse the Cuttlebug's handle and fold up the whole machine for transport or storage.
What we don't like:
More expensive: You can expect to pay a little more for the high precision of the Cricut Cuttlebug.
The Cricut Cuttlebug is a die cutting option that offers a superior, ultra-clean cut, though on a more limited range of designs. It comes with all the accessories you'll need to get started with die cutting.
What is a Cricut and what can you do with it?
Cricut machines open up huge possibilities for crafting and DIY projects. However, if you have never used a cutting machine before, you may find the different models and features a little confusing.
Here's what you need to know about Cricut machines in order to make the right choice for you.
Cricut is a well-known brand of cutting machines. However, a Cricut is much more than just a cutting machine. These machines allow you to cut intricate designs and create amazing crafts from virtually any material.
Every model also lets you draw designs with a marker, and some have special attachments for embossing materials as well as creating fold lines for three dimensional projects.
Cricut machines connect to your computer or smartphone, letting you select from a range of designs or create your own. This means you can have your Cricut machine cut virtually any shape or alpha-numeric script.
Cricut machines are beloved by crafters and DIY enthusiasts, as they are ideal for making greeting cards, invitations, iron-on details for shirts and bags, and craft foam projects. They can also be handy for anyone who needs to cut a large volume of paper, cardstock, or other materials.
Depending on the model, these machines can cut a wide range of materials such as paper, card stock, adhesive foil, faux leather, balsa wood, and vinyl, among others. Models like the Cricut Maker are also great for accurately cutting fabric.
Cricut brand overview
Cricut machines are made by the Provo Craft & Novelty Inc. Company, who are based in Utah and own the Cricut brand. The company was founded in 2003 and has since become the most recognizable name in cutting machines for crafters.
The brand makes simple yet precise cutting machines that are aimed to support the user's creativity to make virtually any DIY project from a large range of materials.
Since producing their first cutting machine, Cricut have been known for their innovation, which has seen them bring out a range of models to suit different materials and price points.
The Cricut brand not only produces a range of precise and innovative cutting machines, they are also responsible for their own software. The company has created Cricut Design Space software that allows users to create their own designs for their DIY projects, and access is free with purchase of a Cricut machine.
For additional images and projects, users need to subscribe to Cricut Access. The subscription costs are quite reasonable, however, at around $5 per month for fonts only, or $10 a month for the whole range of fonts and images.
What are the differences between each Cricut machine?
Cricut offer a range of machines suitable for different uses. Although most models are able to cut a wide variety of materials, so are designed with more specific purposes in mind and so are more suited to certain materials.
The current Cricut models, that is, those that are compatible with the latest Cricut Design Space software:
Cricut Maker
Cricut Explore Air 2
Cricut Joy
Cricut Cuttlebug
There are also a number of "legacy" Cricut machines: older models that are no longer compatible with Cricut Design Space:
Original Cricut
Cricut Expression
Cricut Expression 2
Cricut Imagine
Cricut Mini
There are certain features and functions shared by all Cricut machines. As you might imagine, every Cricut has a cutting function. Each model also has the ability to write or draw designs, with all being compatible with Cricut pens and markers.
Every Cricut machine needs to be connected to a computer or smartphone to set the design to be cut or drawn using Cricut's Design Space program. On each model, the device can be connected either by USB cable or Bluetooth.
Although all Cricut machines have the same basic underlying function, there are some differences between the various models.
Each Cricut model comes with a standard Fine-Point blade, suitable for the greatest range of different materials. Some Cricut machines are also compatible with alternate blades and tools that open up the possibility to cut additional materials such as fabric, leather, and wood.
Some models, such as the Cricut Maker and Cricut Explore Air 2 are equipped with a double tool holder. This means that they can cut and write or draw at the same time. On Cricut machines with a single tool holder only, the project needs to be put through the machine twice: once to cut and once to write or draw.
Most machines require a cutting mat. Using a clean Cricut mat makes cutting more accurate as it prevents materials from shifting. But some models like the Cricut Joy can be used with or without the cutting mat. The Joy does have a smaller cutting area, however.
The Cricut Maker and Explore Air 2 can cut materials up to 12 inches by 24 inches, whereas the Joy can cut on a cutting mat to a maximum of 4.5 inches by 12 inches.
It should be noted, however, that the Cricut Joy can cut without a mat on continuous pieces of material up to 4 feet long.
There are also differences in the size of the different Cricut machines. There are larger models such as the Cricut Maker and Cricut Explore Air 2, which are designed to sit more or less permanently on a table or desk. On the other hand, there are much smaller and portable models like the Cricut Joy.
Learn more about the main differences between Cricut machines in our comprehensive Cricut Maker vs Cricut Explore Air 2 and Cricut Explore Air vs Cricut Explore Air 2 reviews.
Cricut alternatives to consider
If you're looking for a machine to support your crafting and DIY projects, Cricut is not the only option. There are a couple of alternatives to Cricut when it comes to cutting machines.
Silhouette
Silhouette is another leading branding in cutting machines and these machines are also popular with DIY-enthusiasts. Like Cricut machines, Silhouette has a range of models that can cut a large number of materials in precise, intricate designs.
However, Silhouette machines are not as user-friendly as Cricut machines, and can be confusing to beginners. Novices who have never used a cutting machine before will likely find Cricut models much easier to use.
Another key difference between Cricut and Silhouette machines is the design software. While Cricut uses cloud-based software that users can access online from their device, Silhouette's own software needs to be downloaded to the machine.
Sizzix
Sizzix produces die cutting machines that cut manually, compared to Cricut's electronic cutting machines.
With a Sizzix machine, the initial investment to buy the cutting machine is a lot cheaper. However, as each die needs to be purchased separately, crafters who want to make a wide variety of projects may find that the price of buying many different dies quickly adds up.
Sizzix machines can also generally cut thicker materials. Some models, for example, can cut up to five pieces of paper at the same time.
However, users are much more limited in terms of design with Sizzix machines, compared to the limitless designs they can create on a Cricut machine.
This type of die cutting machine also takes some practice to get right. Users will probably find they need to try a few times to achieve good, clean cuts on the more delicate dies.
Wrapping it up
Cricut produces a range of user-friendly cutting machines packed with features. Our absolute favorite overall is the Cricut Maker, a powerful machine that is capable of cutting fabrics as well as a large range of other materials.
A close second on our list is the Cricut Explore Air 2, another reliable and versatile Cricut machine that is an excellent choice for beginners. Crafters on a budget will also find the Silhouette Portrait 2 appealing, whereas the compact Cricut Joy is the most transportable and easily stored.
What's your favorite Cricut machine? Let us know in the comments below!